IT'S HERE! THE 2020 HOLIDAY GIFT GUIDE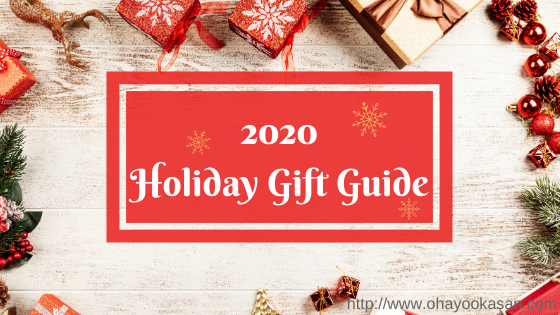 Fall is here and it's time to start planning for the holidays.  Of course the major shopping Holiday that is Christmas but I know there are many others. So for that, any gifting holiday is game here!
With that…
Ohayo Okasan is pleased to announce that we are now accepting submissions for our 2019 Holiday Gift Guide.
This gift guide will be promoted from October 1st – December 30. (Your product information and links will remain on the site indefinitely.) Items will be promoted at minimum once biweekly.
If you'd like to get your product in front of our active and engaged 40,000 social media followers on Facebook,Twitter, Pinterest, Instagram, and YouTube  we'd love to talk.
*Disclaimer: We are sent items in exchange for review, and some links are affiliate links – Thanks*
Family-friendly categories include
Autism Friendly items.
Children & Teen items. (Clothes, books, toys, bedding, anything you can imagine!) (Boys and girls)
Women
Men
Grandparents
Pets – Specifically cats and birds.
Household and Outdoor Products
Health and Wellness
Subscription Boxes
Technology
Clothing
Arts and Crafts Supplies
Video Games and Accessories
anything else you can think of? Think we'd love it? Send us an email!
What you receive
A slot in the 2020 Holiday Gift Guide
Item photos and links to your site
Price points and/or coupon codes included in post
Social media promotion for the duration of the guide
Gift guide will run on OhayoOkasan.com home page
Featured full review and giveaway- please inquire.
Submission guidelines
Products must be received by December 20th
Must have a retail value of $50 or a combination of payment to meet this minimum (subscription boxes do not have to meet this requirement.)
Must be a full-size item
Items are not returnable
OhayoOkasan.com has the right to reject any product that is not a good fit for our audience
Send your submission requests to kisa@ohayookasan.com. We look forward to working with you this holiday season!