IT'S HERE! THE 2020 HOLIDAY GIFT GUIDE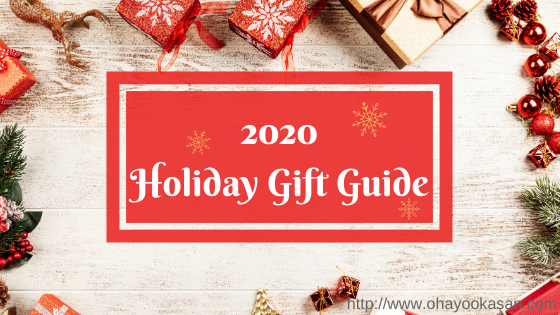 Fall is here and it's time to start planning for the holidays.  Of course the major shopping Holiday that is Christmas but I know there are many others. So for that, any gifting holiday is game here!
With that…
Ohayo Okasan is pleased to announce that we are now accepting submissions for our 2019 Holiday Gift Guide.
This gift guide will be promoted from October 1st – December 30. (Your product information and links will remain on the site indefinitely.) Items will be promoted at minimum once biweekly.
If you'd like to get your product in front of our active and engaged 40,000 social media followers on Facebook,Twitter, Pinterest, Instagram, and YouTube  we'd love to talk.
*Disclaimer: We are sent items in exchange for review, and some links are affiliate links – Thanks*
Family-friendly categories include
Autism Friendly items.
Children & Teen items. (Clothes, books, toys, bedding, anything you can imagine!) (Boys and girls)
Women
Men
Grandparents
Pets – Specifically cats and birds.
Household and Outdoor Products
Health and Wellness
Subscription Boxes
Technology
Clothing
Arts and Crafts Supplies
Video Games and Accessories
anything else you can think of? Think we'd love it? Send us an email!
What you receive
A slot in the 2020 Holiday Gift Guide
Item photos and links to your site
Price points and/or coupon codes included in post
Social media promotion for the duration of the guide
Gift guide will run on OhayoOkasan.com home page
Featured full review and giveaway- please inquire.
Submission guidelines
Products must be received by December 20th
Must have a retail value of $50 or a combination of payment to meet this minimum (subscription boxes do not have to meet this requirement.)
Must be a full-size item
Items are not returnable
OhayoOkasan.com has the right to reject any product that is not a good fit for our audience
Send your submission requests to kisa@ohayookasan.com. We look forward to working with you this holiday season!
GAMES and MORE
 Reign – The Final Battle Royale
Which player will be left standing as the victor?!
Four factions of warriors battle to survive on a doomed land that will be destroyed piece by piece, taking its occupants with it.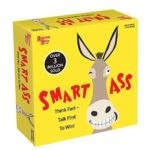 Smart Ass
Who's the Smart Ass among your friends and family? Find out with this fast-paced party game! The first player to yell out the correct answer wins the round and gets closet to becoming the ultimate Smart Ass!
Check out Smart Ass by University Games today, recommended for ages 12+
 Stupid Deaths
A game designed to celebrate the stupidest deaths over the centuries. Players race against the Grim Reaper around the game board before he can catch and kill you. Stupid Deaths is full of dark fun, where the player who is dead right will win!
Recommended for ages 12+  with 2 to 6 players
Find out more about Stupid Deaths
Dumb Criminals
A hilarious game of bungled burglaries, fumbling felons and other crimes gone wrong. Be the first to nab $50,000 in cold hard cash and be declared the winner!
You have the right to remain laughing!  Recommended for ages 12+ with 2-4 players
Check out Dumb Criminals today!
 Murder Mystery Party: Case Files
Want to be your own crime solving detective? You can be with this game of Murder Mystery Party! Don't just want this kind of thing on TV and wish you could play too. Now you can! Grab your detective hat and find out the Motive, Means and Opportunity to figure out the killer of this murder mystery.
Recommended for ages 14+ with 1 or more players, this game is perfect when you have older kids in the house who like crime shows just as much as you do. Which I do!!
Check out Murder Mystery Party: Case Files today!
HEALTH and BEAUTY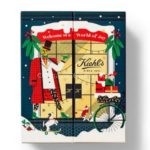 Limited Edition Skincare Advent Calendar
Featuring one of a kind designs by renowned artist Maite Franchi, this collection includes our customer favorite skincare products. Surprise & delight with our formulas, one behind each door, featuring cleansers, face masks, facial serums, moisturizers and more!
Packaging is made with 100% recyclable, FSC certified materials using zero plastics.
 Flora Organics CBD Beauty Products
Flora Cher Organics currently offers an even tone skin brightening cream, a lip enhancer, and a sleep aid oral spray.  CBD is anti-inflammatory,  helps with nourishing and moisturizing skin, and aids in healing cuts, cracks, peeling, or rough skin, which gets the best of everyone in the colder months.
ARTS and CRAFTS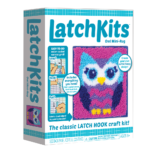 LatchKits from PlayMonster
Choose from a variety of colorful designs like a rainbow or unicorn. Then loop, hook, and pull the yarn through the color-coded grid. It's simple! And there's no cutting, sewing, or clean up. Make your own mini-rug art with LatchKits!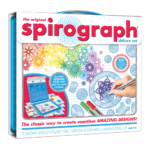 Spirograph Deluxe from PlayMonster
The Original Spirograph Deluxe Set features all the iconic wheels and rings of the original, re-engineered and updated for today. The kit features a high quality, durable carrying case with snap-in storage and a built-in drawing surface.
KITCHEN and COOKING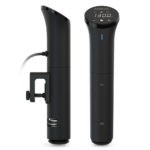 Anova Precision Cooker Nano
They say good things come in small packages, and the Anova Precision® Cooker Nano is no exception. Nano makes it easy to achieve fine dining results at home with a price point that won't break the bank. It even connects to your phone via Bluetooth, allowing you to cook amazing meals with the touch of a button and monitor progress from any room in the house.
 Anova Precision Vacuum Sealer Pro
Consider the Anova Precision® Vacuum Sealer Pro the more robust, older sibling to our best selling "minimalist" Precision® Vacuum Sealer. You can expect a high power vacuum, reliable double sealer, built-in bag storage and cutter, an accessory port for sealing containers, and the ability to seal wet foods without worry – all with just one hand.