It's time to check out another yummy Japanese treat subscription box!
Today we're checking out ZenPop.jp sweets box.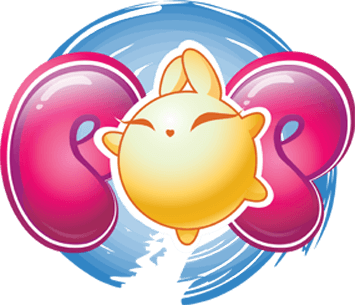 Disclaimer: I was sent this ZenPop jp sweets box to check out, I'd signed up to try and review one who knows how long ago, and got a response after so long! I  was pretty excited. ♥
ZenPop offers four different varieties of subscription boxes. Sweets Pack, Ramen + Sweets Miz, Ramen and a Stationery version. I opted for the ZenPop Sweets Pack at this time, because I was in the mood for a treat. I am a little behind on reviews, and this one showed up earlier this month. I've had a job out of the house for a bit to make ends meet because of some work struggles for Aussie, but things are finally mellowing out.
Most boxes appear to be $30 if you pay monthly, with discounts for prepaid longer plans available. With $3 savings for 3 months, $12 savings for 6 months, and $36 savings for a year.
The sweets box offers 15 different Japanese sweets, each revolving around their current theme.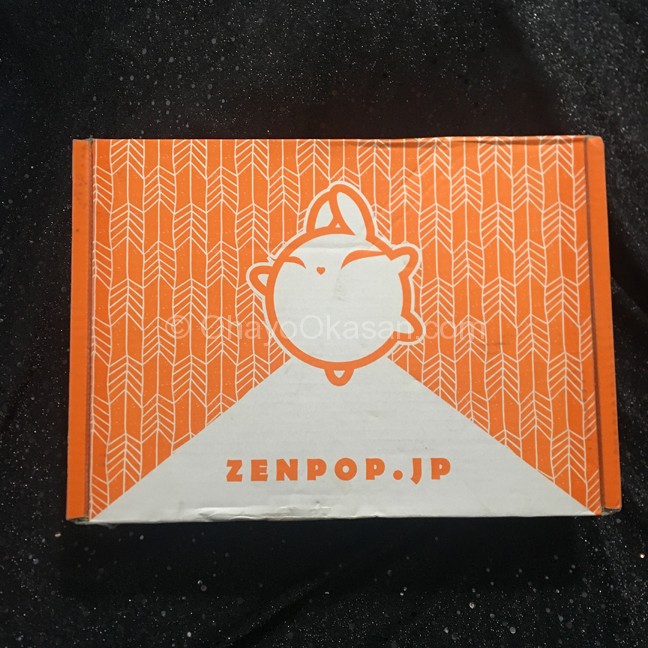 I got the summer Movie Date themed box, though I don't really have someone to go on a movie date with. I usually take a kid or two or all of them out to a movie when we do go. I like movies at home, as movie theaters are just so expensive. @_@ I have seen more movies in the past few years in theaters than ever before though.
Not really relavent! hah anyhoo.. On to the inside of the box!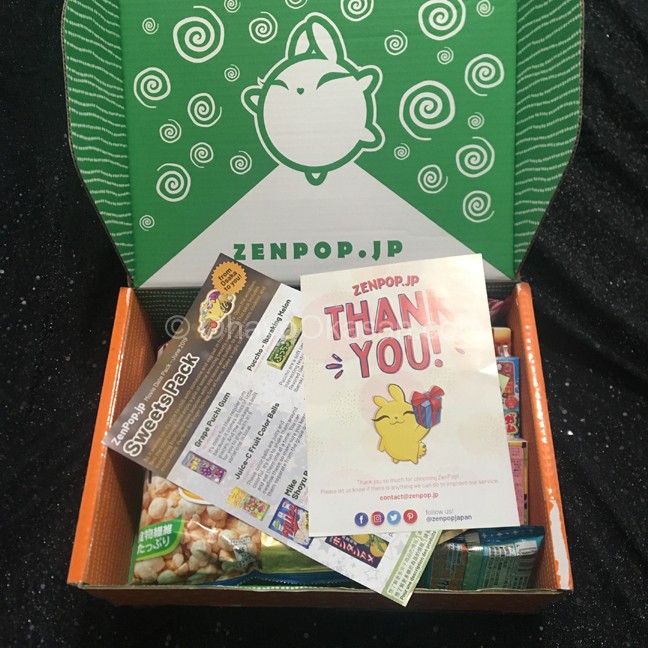 The inside and outside of the box are.. interesting. I wouldn't particularly pick the color scheme, but I'm not really here to comment on that. XD
We got a Thank You little flyer that tells us about the ZenPop jp social media channels. Under that, a sheet that talks about the theme and tells you about the candies. Included are details about any common allergens that are included in the candies.

Here you can see the lineup of treats we got in our sweets box. As it's warm we didn't get a lot that could melt, we did get two things that easily melted.. One being the chocolate bar that was bent in half, and the Puku Puku Tai mint flavor, that was crushed and melted.. I still managed to find enough of a piece to try. Some of these I have tried before, and others I didn't take individual pictures of. Many of them I left for the kids to enjoy.
Some candies I didn't individually picture from our ZenPop jp sweets box, and some notes on them;
Poiful – These are pretty much jelly beans, these particular ones are soda flavors, Japanese soda flavors to be exact. I don't super love most soda flavors as candies.
Caplico – I prefer chocolate, this is strawberry, plus we get these and I already know I like them. They're fun Aerated chocolate inside a little cone. They're like a fun little ice cream cone that's not ice cream but it's worth trying!
Juice-C fruit candy – The kids like these way more than me, they're easy little balls of not super hard but still firm fruit candy.
Mike Butter Shoyo Popcorn – I should have taken a picture of this, but the kids are currently devouring it. Who know BUTTER and SHOYO (soy sauce) can be so good on popcorn together?! I sure as heck didn't! This combo is a total winner here and I will have to have some again!
Ume Sugar Senbei – Ume is a Japanese plum, and… well.. you may or may not remember my reaction to Umeboshi Poprocks in a different subscription box, but these had less of a sharp sour flavor. I didn't mind the Ume flavor of it, but I didn't like the mouth feel of the coarse sugar granules. In the end, I think I prefer more savory senbei over sweet types?
Mini Melon Pan – Melon Pan is called Melon Pan because of the way it looks on top, and not because of the flavor. Still I have to note there was for sure a melon twinge to these cookies. They're a somewhat crisp, but not overly dry cookie. A good crumble and enjoyable mouth feel, overall these are rather nice.
Puccho Melon – Puccho is similar (to me) to Hi-Chew, but perhaps a little softer? They have a variety of different flavors, and they tend to be pretty nice. These ones are Melon, though typically I prefer (oddly enough for me) the Ramune flavor. Risiel really likes these!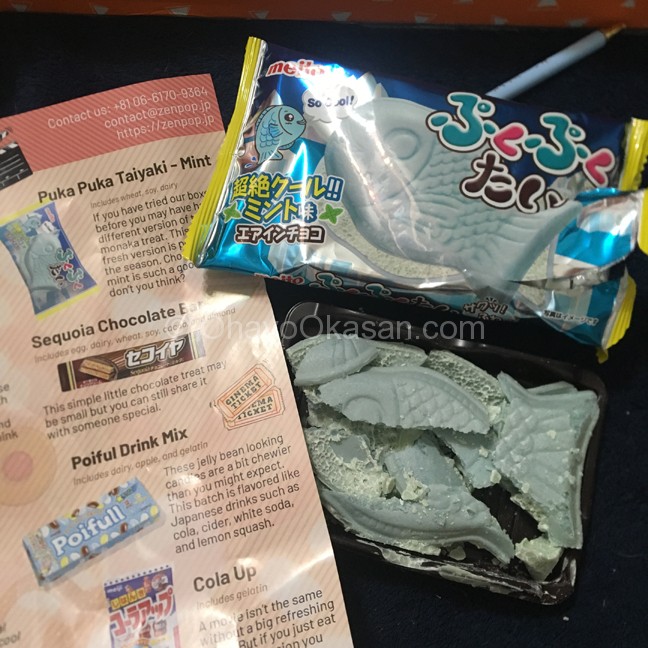 Although the ZenPop jp info sheet calls this treat "Puka Puka" Tai, I think it's a translation error, as the package says Puku Puku Tai in hiragana. I like the chocolate version of this, as I can sometimes get it at one of the few Asian food markets the next state over that I get to every now and again. This one was good, even with it being white chocolate and mint. Usually the inside chocolate/filling is aerated and bubbly, it's a fun texture and feeling. The mint was strong, but not awful strong. I hope someday I can get to try one that isn't broken up.
For these little candies I had to try them because I had no idea what to think with their description. They're Ramune Ice candy, meant to cool your mouth. You anticipate that something saying it would "cool" your mouth would be minty somehow, or.. at least I did? I love the way this melted in my mouth and actually did manage to make it feel a bit cool! These a bigger than other little ramune flavored candies that are meant to sort of dissolve in your mouth than I've had before. I have to say that I actually like these much better than ones I've tried before.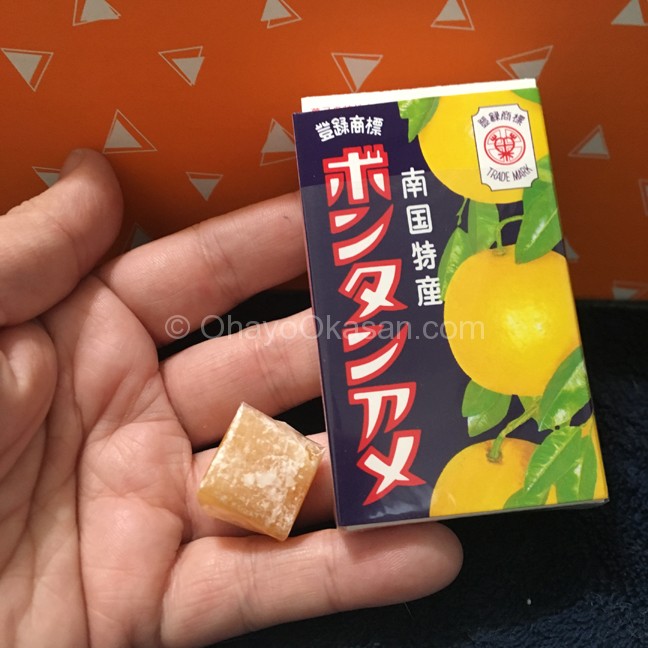 Botan Ame – You've probably seen Botan rice candy before. They're (I believe) the same company that makes these. Ame just means candy, and these particular ones are a lemon-orange flavor, and smaller square pieces. They're still covered in that well known rice paper that dissolves in your mouth, but I have to say I love the mild citrus flavor in them! These are way better than the regular rice candies I've had since I was little!
I love the various selection of boxes that you can get from ZenPop jp! I think perhaps next time I want to try the Ramen and Sweets mix, because I do love Ramen.. but I also love sweets!
Do you have a favorite Japanese sweets box? Have you tried any? I love that there are so many different ways to try treats from so many countries!