I received a bag of Fancy Feast Gourmet Savory Chicken & Turkey Cat Food from Chewy.com in exchange for my honest review.
For a bit now the cats have only wanted kitten food. It started because I was trying to find a cat food that didn't upset all their tummies but I notice the cats have been gaining a bit of weight. So, I needed to change, I tried a couple of different foods from the store, and one ended up causing two of the cats to have blood in their stool. So… we ended up off of that one.
This month, Chewy had this Fancy Feast Gourmet Savory Chicken & Turkey Dry Cat Food available to review and wow the cats are in love!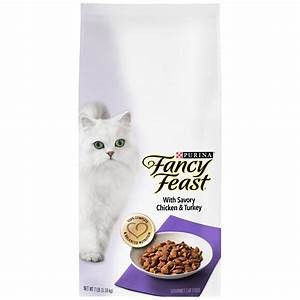 What's annoying is that I can't find a big bag locally, it's always sold out. What's good? Is that I can easily get it on Chewy.com since I'll be stocking up, a LOT. There's not always a lot I can say about dry cat food. My goal is to find one the cats all like, that doesn't cause them to throw up or have bowl movement problems.
So far, the Fancy Feast food has been just that. For right now I'll continue to buy it unless the cats start boycotting it. I have a couple of cats that if they don't like the food they will actually decide just not to eat at all. Particularly Skoo-gi and Freyja.
Now if they made bigger than a 12-lb bag, I'd be happy. We go through a fair bit of dry cat food, yanno 9 cats at all, and we'd be better. For now though, 12-lb bags it is.
Do your cats have a favorite dry cat food?