I received a bag of Frisco All Natural Grass Clumping Cat Litter from Chewy.com in exchange for my honest review.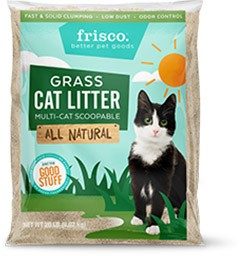 One thing that happens when you have a fair bit of cats is sometimes, they start to hate the cat litter that you use. Which… isn't fun. Granted, sometimes cat litter I've used as love has changed and that's why they no longer like it, or one of us ends up sensitive to it after awhile. Either one of the cats, or one of us humans.  I ended up wanting to try out this Frisco All Natural Grass Clumping Cat Litter, that of course needed to be the multi-cat scoople kind. With a lot of cats, I'm not wasting my time with a non-scoopable litter at all. Nope.
So while I don't change litters too often, I do like to see if I can sometimes use something else to soften issues we might be having with a litter, or change our litter entirely.
I usually try and mix up a new litter with an old one, to see how the cats will take the change. So that is what I did when I got the 20lb bag of Frisco All Natural Grass Clumping Cat Litter from Chewy.com
So far, the cats have been liking it just fine, though I am only using it in a couple of boxes because I don't want to give any of the picky cats a reason to not use a box and start going outside the box. Blahhh.
Overall, I have to say I am impressed with the lack of scent, and the fine job at odor control this litter has. A couple of the cats are just very… pungent, when they use the box and this has helped keep me from gagging the second it happens. I try and keep up on the boxes, but I don't always get to them as fast as I should. I'm responsible for a few of the cat boxes in the house, with other people having the job of other boxes as well.
Needless to say… sometimes we need something that can handle a few days of mess even if most litters say scoop daily. >.> Bad humans…
It's.. not always easy to write posts about cat litter. So, to break it down about the Frisco All Natural Grass Clumping Cat Litter?
Yes, the cats like it okay, yes it's good at what I needed it for, I don't notice a weird smell and there's no fragrance.
Even better? Right now you can get 30% off your first bag, one per customer, at Chewy!