I know that I said I would update after my surgery, and at this point I'm almost 2 weeks out from having my thyroid surgically removed.
I have to be honest that the scariest part of the surgery was the IV. I hate needles that much and I had to be awake for it. >.> Yeah…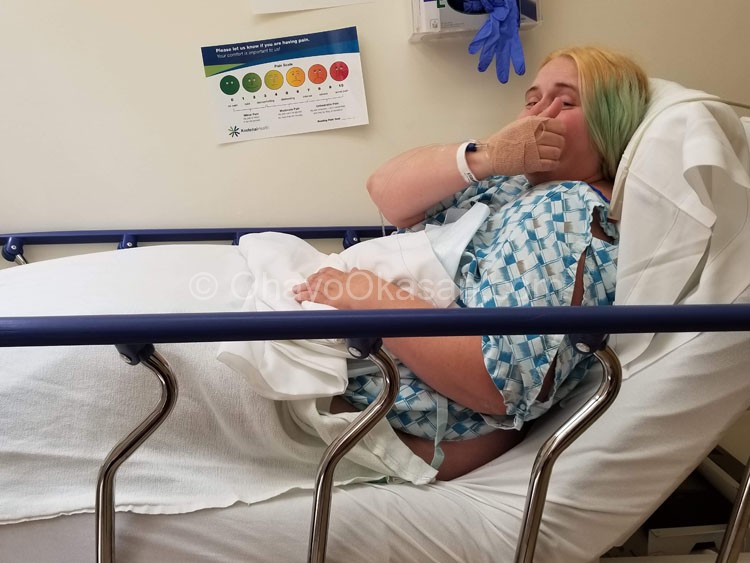 I did survive the IV of course, and they were nice enough to wrap up the tube and stuff so I didn't have to be aware that it was there. I didn't like the feeling of it still, but it was better than it could have been.
I drifted off to sleep as we talked about what I was going to eat and drink after the surgery. Since it was nearly lunch time before it finally started and I hadn't been able to eat OR drink all day at that point. I just wanted water so badly.
I ended up talking about going to get an iced coffee after surgery. I figured it would feel good on my throat, considering what all they were doing. Which if you're curious, you can see a picture of it: yucky thyroid you've been warned!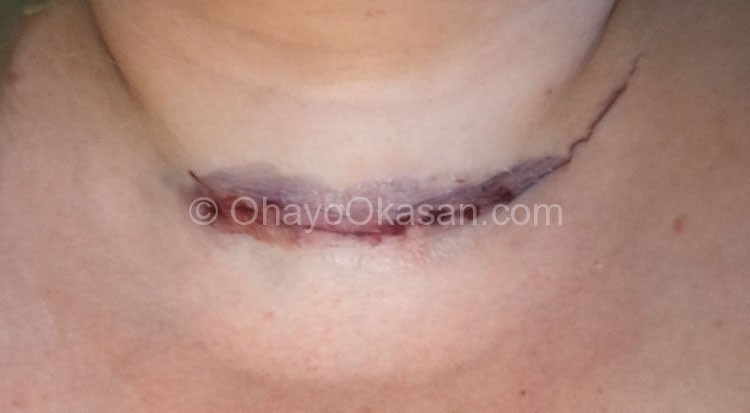 Directly after my surgery I decided to take a picture of how my neck and scar looked. To be honest, it really wasn't too bad! The glue made it look worse than it really was. I didn't feel too bad, thank goodness, but I was also pretty darn drugged up!
The worst part of that all was that I couldn't really do anything. No driving, no lifting, no talking! Ahhhh.. I didn't have much of a voice anyway, as there was some pain and unhappiness from the swelling and the breathing tube.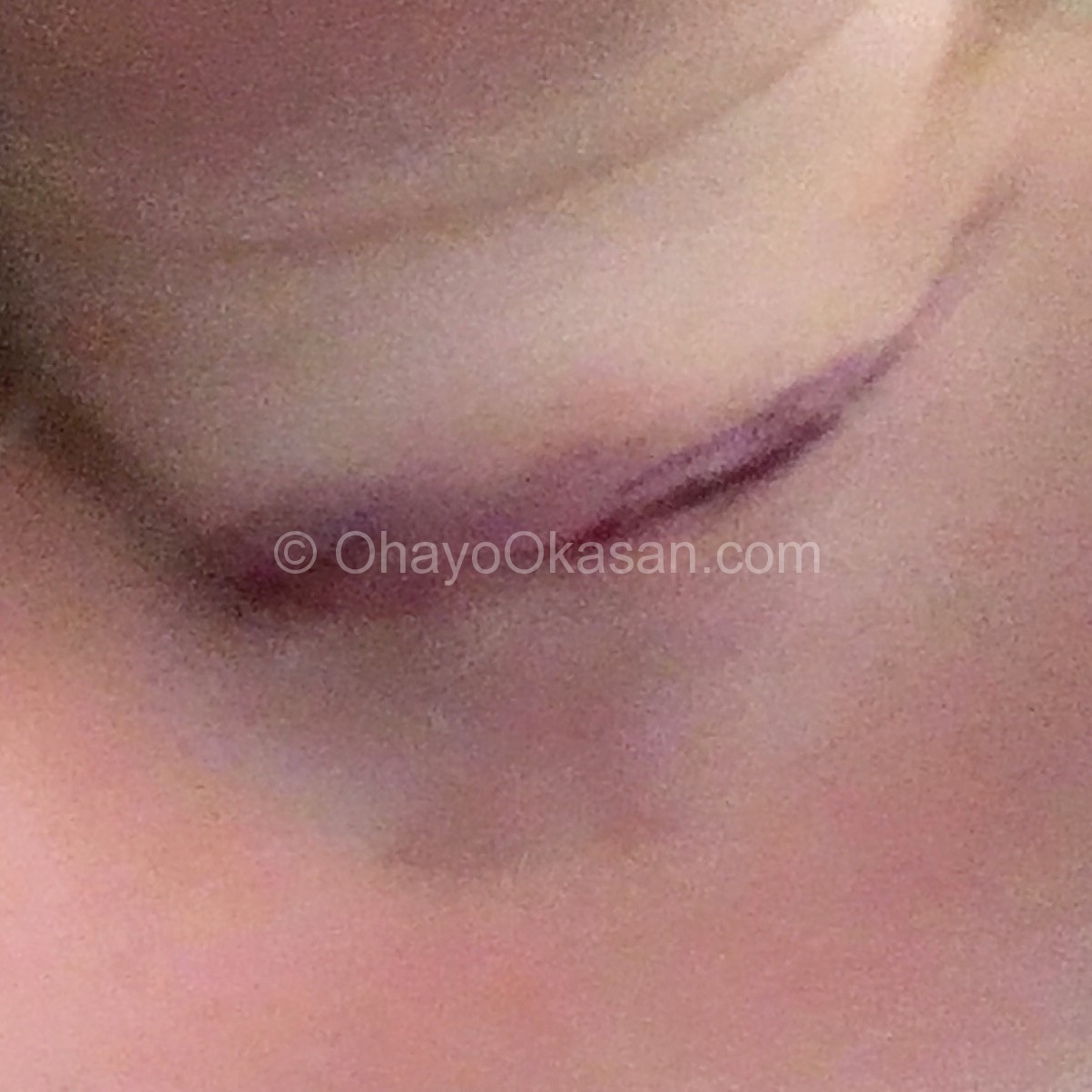 The next few days I had some bruising, and I was still too sore to manage without the prescription pain killers that gave me. So I spent more than one day in bed, though it was frustrating trying to get people to help. Aussie ignores his phone and Skype.. and… kids are kids. There's only so much they're willing/able to do. Plus my oldest started working so she wasn't around either. It really wasn't great at all.
Once I started to do things I had a different problem…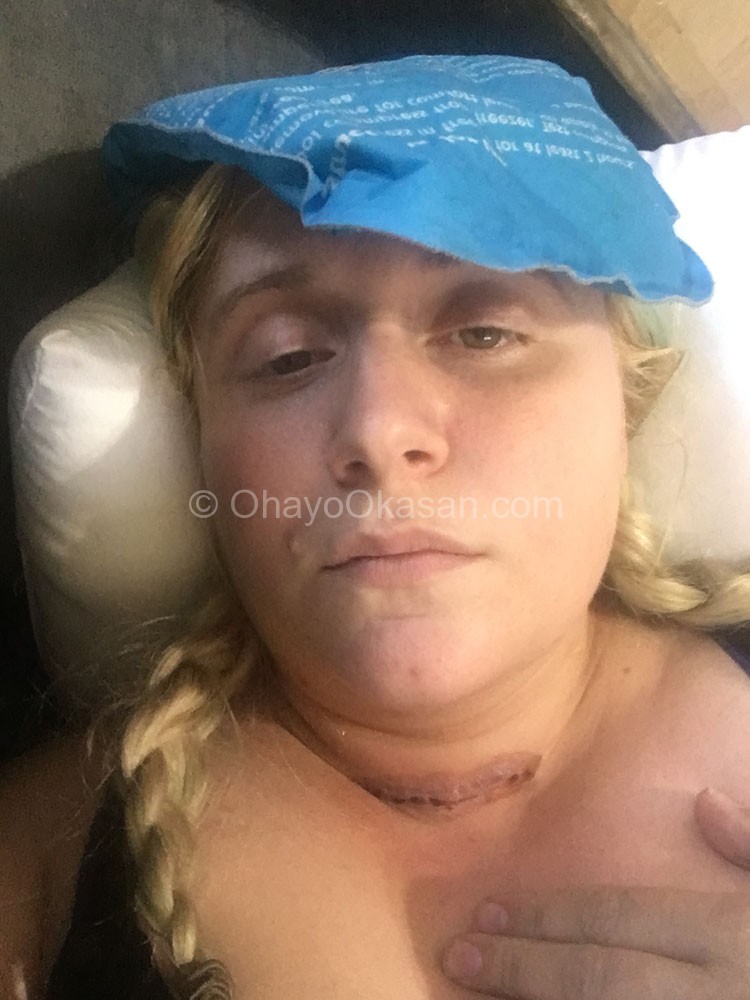 I was getting tired just too easily! It's hot, my thyroid hormone was given at too high of a dose (they do it by weight and all that jazz so I'm not too surprised) and I was pushing myself to do too much too soon. I kind of had no choice. With kids and people who were helping at first having to work and such… I just had to suck it up. But I tire easily and my voice was not lasting even half a day. Not surprising considering the swelling and everything else.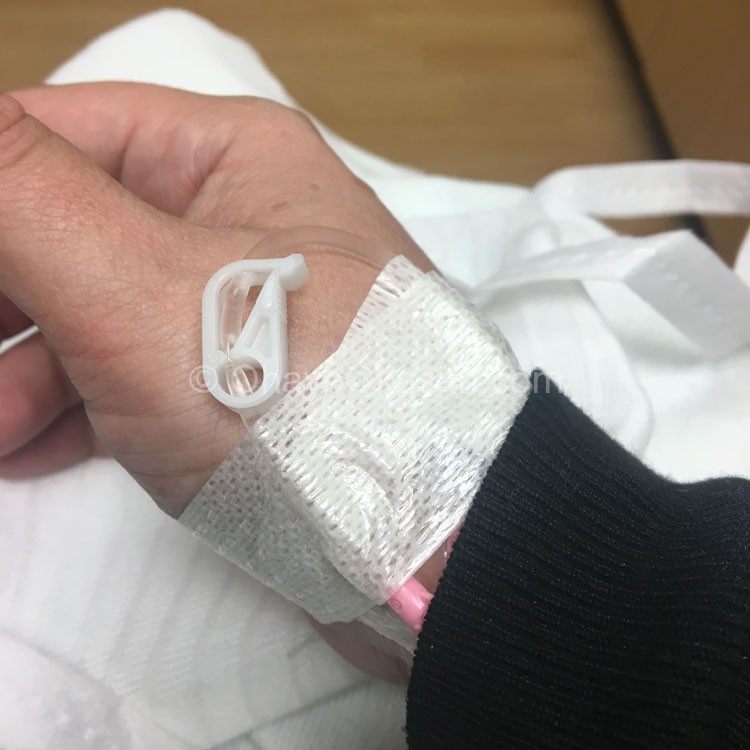 At a little over a week out, I ended up having to go back to the hospital because we couldn't figure out why my hands, feet, lips, chin and tongue are burning and tingling. We were worried that my calcium levels were way to low despite being 2000mg a day. I even took 5000 the day leading up to going to the hospital again.
It wasn't my calcium though, my calcium was just fine. Actually on the high side of fine, but my thyroid hormone was waaaaaaaaaaaay too high. Still didn't fix or explain the tingling problem. Which I still don't have an answer too and pretty much just have no choice just to suffer through until I see my surgeon on Monday (the 16th) morning.
Needless to say, that actually really sucks. Still, I'm surviving and I've lost weight because I'm not overly hungry. It's nice to loose weight, I've needed to lose some!
I don't know if it's my blood pressure, which started hating me right as my thyroid was giving me massive issues.. or… what? I just have no darn idea to be honest. I hope we can figure it out, because I really hate feeling this way. It's awful.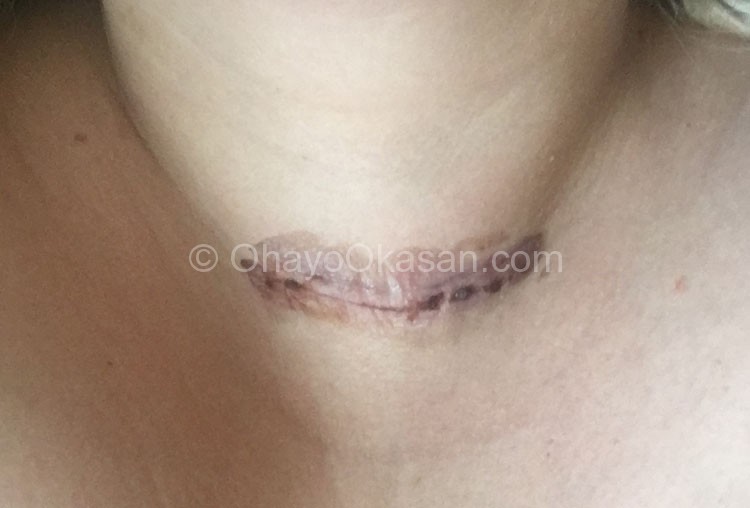 Here's my scar and my neck as of the other day. To be honest not a lot has really happened, and the scar is starting to look better. I can't wait until I can shower without a massive bandage to cover it so the glue can come off and those little stitch balls too. I hope that it heals up well and someday no one can really tell.
The looks I've been getting have ranged from "wtfh?!" to "omgggg???" and a lot of double takes.
For being almost 2 weeks post op, only one person has actually asked what happened. Most just look and I wonder what they're thinking might have happened to me?
Still, I'm not going to just wear a bandage anytime I have to leave the house. They press on the swelling from the healing in my neck, and it's really uncomfortable and somewhat painful. So meh.. I'm not gooey, bleedy, or pus-y or overly nasty. So I guess people can talk.
I hope I can sing again. Some people say my voice hasn't really changed. I think it has, but I don't know. I want to sing. There are so many good songs and I just want to sing them again. I know, it can take a month or two, but I'm not exactly known for my patience!
I'll keep everyone updated to how I am doing. Plus I have more products I need to review but I can't actually use a few of them because of lifting and moving restrictions! Ahhhh…. *whimper*