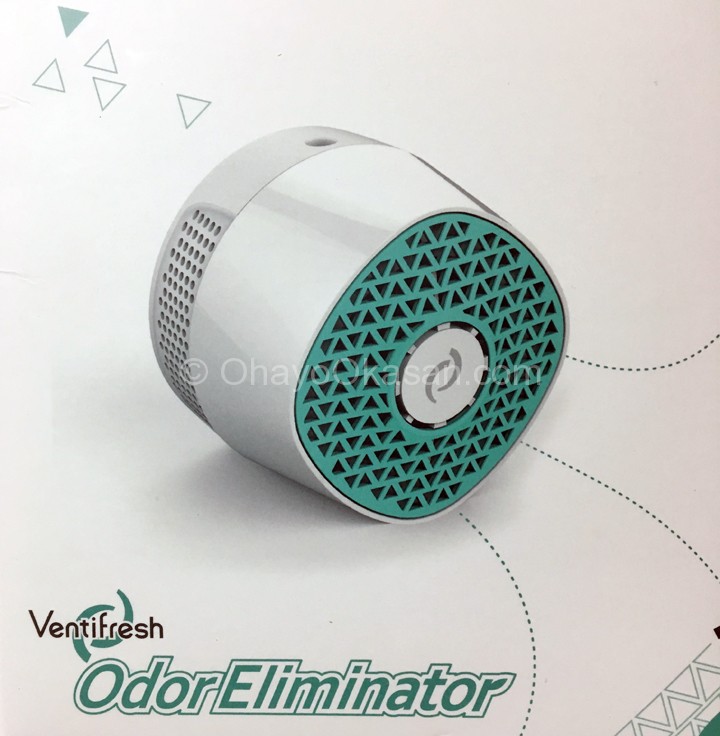 Ohayo Okasan received VentiFresh in exchange for an honest and unbiased review and all opinions are 100% my own or those of my family members as stated. Regardless, I only review products that I am actually interested in for myself and my family and of course for sharing those reviews with my awesome readers. This post contains affiliate links as well, and I might make a small commission used to support this blog and our family if you make a purchase from them. Thanks for reading!
Having a lot of cat boxes means that there can be lots of smells. Plus we have the trash and recycling, and… yeah.. it can get funky fast.
One problem I have is that one of the cat boxes, while lidded, is right near my desk just behind me to the right. So… if it's not fresh, or the cats are particularly stinky that day… it can be, bad. So this is where VentiFresh comes in! What it is, is a small air purifier that's perfect for trash cans, litter boxes, and small rooms. It plugs in, and the flat cord means you can plug it in to small places that have enough of a gap for it to fit in to.
You can get 25% off your own VentiFresh unit with the code OHAYO25 on Amazon until June 30th! Don't forget to enter to win one below!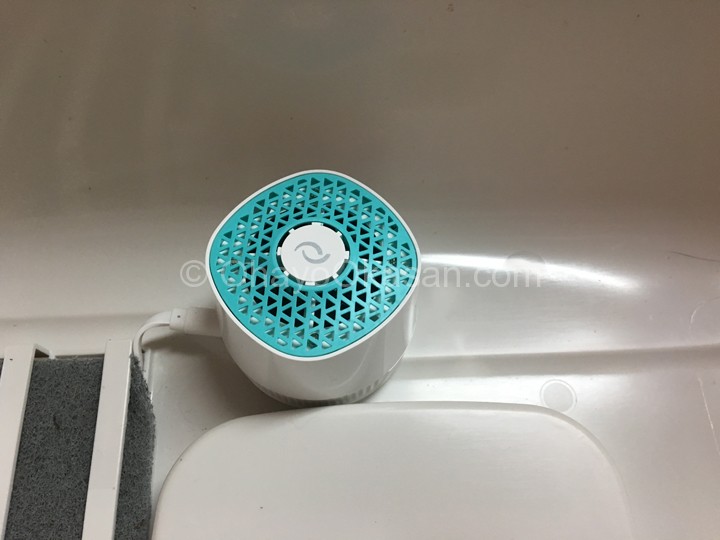 The VentiFresh unit has a magnet, and a small magnetic piece that you can put on the opposite side for plastic containers. You can see above that it's connected and on the inside of the lid of the cat box nearest me. Sadly, since it runs constantly if the light is off (which of course it's not on inside a cat box like this..) it was running all the time and the cats didn't want to go in the box. They're insanely picky. So I just put it on top of the unit over the little meshy vent that came with the box. It's working like a dream and the cats will use the box even if the unit is running. They just.. didn't want to when it was in the box. That's.. a little annoying. I didn't want to have to unplug it during the day or anything so I didn't have to hear the fan running constantly and so the cats wouldn't be bothered.
VentiFresh is a lovely little eco-friendly, chemical-free, filter free way to keep it fresher over here. Even when the cats get some food with cheese (why are any wet cat foods made with cheese?! Why?!) which accidentally gets purchased here sometimes in multi-packs. The smell isn't something that makes me gag the second it's done in the cat box.
I plan to get another VentiFresh someday for my fridge, and one for probably our laundry room too since it smells funky in there no matter what I do. Blech. So thank goodness for this little purifier helping me combat the stink!
You fan find VentiFresh online at:
WEBSITE♥ FACEBOOK♥ TWITTER ♥ AMAZON
Now for the giveaway!
The giveaway is sponsored by VentiFresh and not affiliated with Facebook, Instagram, Twitter, or any other social media. For ages 18+ in the USA only. VentiFresh will ship the prize themselves.  Thanks! Email addresses collected as part of this giveaway will be shared with VentiFresh.