I didn't bother to really write a post on my birthday this year. I've been stressing out over various health concerns with me and the kids and still feeling really run down. It took awhile to finally get a surgery consult date, but I finally have one! April 16th. I can survive until then of course, waiting and wondering when that was going to happen was frustrating anyway.
My birthday went.. okay. My son forgets about my birthday and then wanted to invite a friend over (who has random violent outbursts at times, not something I was ready to deal with on my birthday, or at the last minute either.) Aussie, who used to orders\ a cake for me, didn't.. at all… not even when I waited for a couple of days. In the end I got myself a cake a couple of days late, sang with the kids, and we had cake. Aussie doesn't seem to get or really care about the significance of any holiday, and to be honest I'm rather tired of caring. So I'll just take care of my own damn self on holidays.
What can I say? Lisi's dad spoiled me on holidays, my birthday and the like. Well at least things like Christmas, Valentines day, my birthday and Mothers day anyway. Which isn't a complaint, it was just really nice to feel important to the guy in my life. *sigh* Yes, I really am at the end of my rope with this marriage.
My oldest graduates high school this year, she's still trying to pass the written exam to get her driving permit and I'm so frustrated about it. She's rushing through the test and missing simple questions that I know she should know the answer to. I wanted her to get this done shortly after her birthday in September, and then she wasn't ready so I waited. She's read the manual and has taken enough practice tests, so we're going on a non-school week day to see if the problem is just being too tired from having to wake up at 6am and then get right from school to testing. I don't know…
Lisi needed a CT scan recently to see why her eyes are "wobbling" it's a nystagmus and it can be all sorts of things, ranging from a migraine symptom, to just a thing you have to suck up and deal with, to brain tumor issues to… I've not let myself delve too far into googling everything it could be, so I can remain at least somewhat calm about it.
Sis is tired, sore, and a bit fussy lately. She worries she has food allergies and possible asthma since she's so easily worn out. I know she's chubby and such, but she's had PE all school year and so I'm not sure it's because she's completely out of shape or anything. Part of it I'm sure is posture and such, not sure on the other parts. I guess in the end we'll see.
Risi is fine, still hates most food but has started to eat a few more things. She's currently sick. Sisi was sick first, then Var, then Aussie, now Risi. She's been getting to spend a lot of time with her cousin (my niece) D, and D has spent the night here a few times lately. It's good that Risi has someone she gets to play with so well, she was even invited to (and went to!) D's birthday! Yay! D just turned 5, and Risi as you know turned 4 in November. Risi is taller though, and I sometimes forget that D is the older of the two. Since Risi isn't feeling well she's hiding out in my bed watching YouTube videos with some ice water. She's not really up for eating or playing too much right now. Which is okay, laying down and drinking water is one of the big things she needs.
Var is doing okay now that he's feeling better. This sickness lasts for around two weeks and his version of "resting" was sitting on the couch, playing video games, refusing to drink water, coughing without covering and complaining about coughing. He didn't want to take cough meds, drink fluids or actually sleep many times, it got frustrating fast. I am so glad he's better now, he rarely gets sick so him getting sick was hard on him emotionally. He's having some trouble with a boy at school and it's frustrating, but we're handling it with the help of the school and if it continues the school's on duty police officer will have to get involved.
Aside from that I've just been trying to take care of life and the kids, do more art with my mom (I'll share some in another post soon) and try to remember to keep up with blogging. Which… as you can tell I'm still struggling with.
My sleep isn't so great with the way my left thyroid lobe and its giant nodule press on my Trachea, so it's hard to feel awake most days. I need do best if I get 11-12 hours of sleep and that's not really doable as a mom. 😛
Tomorrow Lisi has a doctors appointment with the Pediatric Ophthalmologist to check on her nystagmus at 8:15, it's in the next state over though. She also has a thing for Orchestra that I hope we can get back in town in time for. The appointment might take 1.5-2 hours so if we're done by 10:30 and able to get into town by 11:30 she'll be okay as long as I can drop her off at the right place. Wish me luck on that because she wasn't want to miss it, but I can't really have it wait another month to get her looked at when their appointments are already hard to get in for.
Oh!! Look what I got for Christmas (I put them on my list of course hahaha)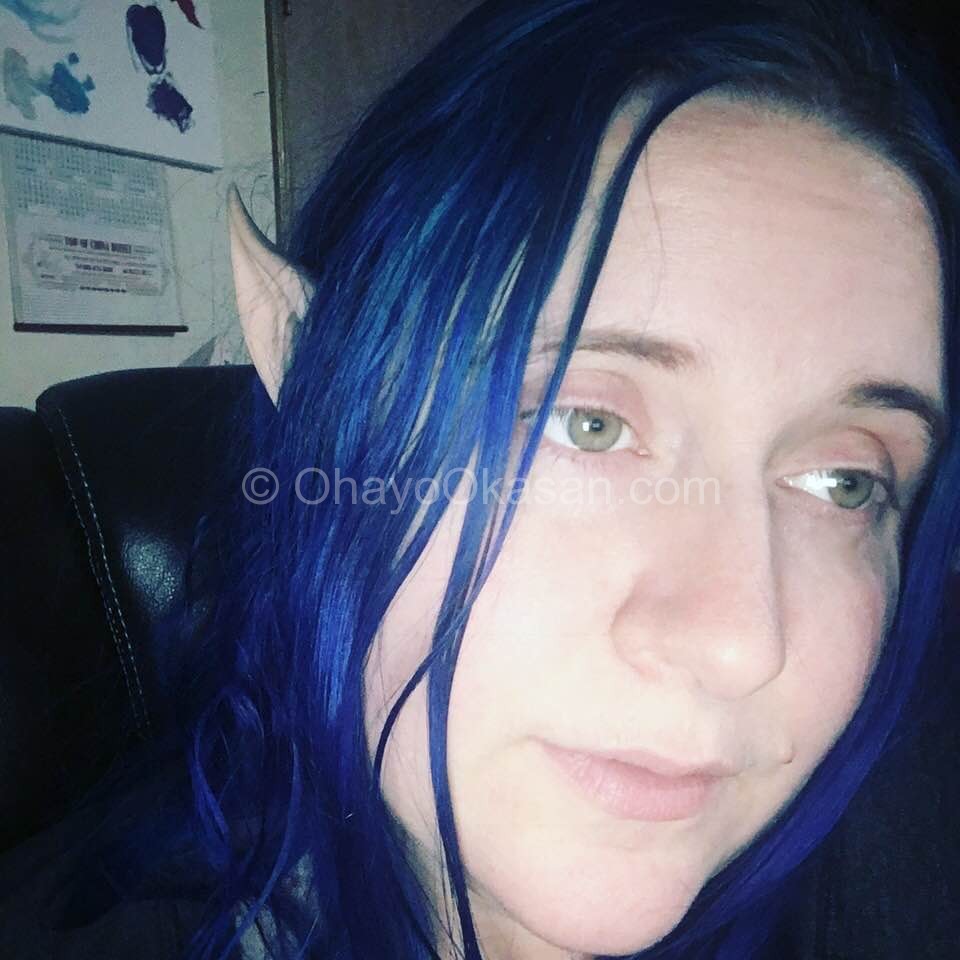 Pointed ears! They're the best pointed ears I've ever managed to get and they don't require me to use spirit gum and accidentally get that junk in my hair. Plus last time I bought spirit gum off amazon it arrived with the bottle open and having leaked all over my package, but the remover of course was fine. >.> Thanks Amazon.
Anyway, I've wanted pointed ears since I was ahhhh… 11? So this is pretty cool I don't wear them all the time, but I really do love them anyway. 😛
Well for now I feel as though I've rambled enough. I'll catch up on some more life happenings soon. 2018 doesn't look like it's going to be all that nice to us, but I am trying my best to make it through surviving more than I managed in 2017. Wish me luck!