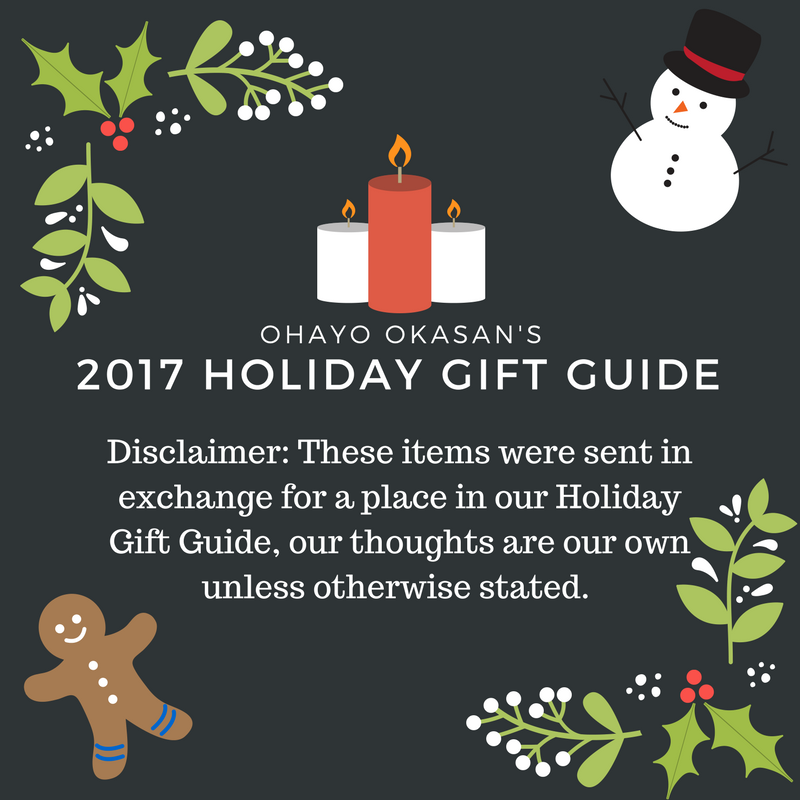 As you guys know I LOVE caramel corn. So this year I got to try the deliciousness of Funky Chunky Cafe!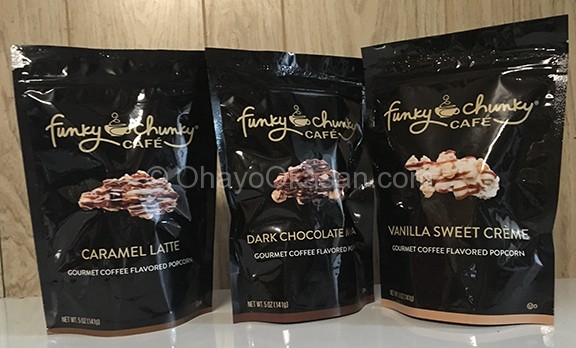 We were sent three flavors to review; Caramel Latte, Dark Chocolate Mocha, and Vanilla Sweet Creme.
I'm sure you can all guess which one I tried first…
What do you think….?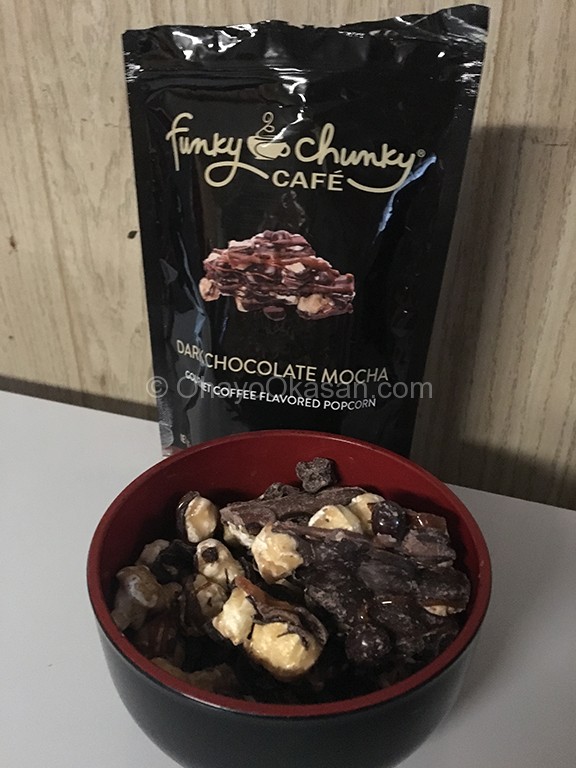 Dark Chocolate Mocha of course!
I liked this flavor a fair bit, the only thing I didn't super love was the portion was a little small. I mean the caramel corn portion, there was a lot of dark chocolate, and as you can see in the picture one piece is really heavy on the dark chocolate. There wasn't enough caramel corn to topping for me in this flavor. On the pieces where the topping was more proportionate to the caramel corn it was much better for me. The inclusion of dark chocolate covered espresso beans added an interesting flavor and texture element to all of the flavors we got to try from Funky Chunky Cafe. 
Caramel Latte – This was the second flavor I tried, and I didn't super love the extra caramel on top. It wasn't bad enough that I didn't finish, it was just a thick chewy caramel that took away from the texture and crunch of the caramel corn for me. Not too much though, as I did finish the entire bag. It just wasn't with the same amount of love and enjoyment as the Dark Chocolate Mocha flavored.
Vanilla Sweet Creme – It was actually Var who wanted this flavor, I did insist that I got a picture first and tried a little bit. He really seemed to like it, and was surprised at the inclusion of the white chocolate coated espresso beans. Thankfully caffeine helps stimulate him and calm him down with his ADHD. Not that I let him have espresso beans all the time or anything. 😉
I liked this flavor too! Actually more than I liked the Caramel Latte flavor, which is interesting because I don't tend to like white chocolate too much.
You can buy Funky Chunky Cafe products on their website. I'd love to try some of their other flavors that I didn't get to try yet, but I think the bags we got would be great for stocking stuffers or included in a gift basket!
They offer more than just what you see here, some varieties even include pretzel bits, peanut butter cups, or other inclusions. What flavor would you like to try?