While I got most of the kids mattresses not too long ago, Lisi struggles to get comfortable enough to sleep. She hasn't officially been diagnosed with RLS, as the doctor just seemed to keep blowing off our concerns about her sleep issues. So I hoped a new mattress would help.
That's where I was glad I found out about My Green Mattress, my search for something other than what I was currently using for Lisi having fueled my search I mean.
The mattresses are all GREENGUARD Gold certified too! They're certified for low chemical emissions which you'd hope all mattresses would be but realize that they.. aren't. Yikes.
MyGreenMattress.com is a small family owned business founded by Tim Master, who's been working on mattresses for awhile now.
We got the Pure Echo in twin size, and like most mattresses you buy online it came rolled up in a giant box/cardboard roll that was much heavier than I anticipated. I had a hard time getting it into the house. Eeek! It came in a ton of plastic that took awhile to cut off. But it was well worth it. The mattress was nice and protected against the elements and being on a delivery truck.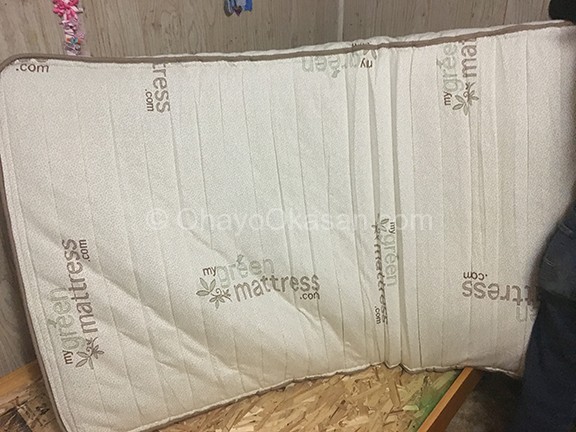 This is a fantastic mattress using All -Natural American Eco-wool, heavy-weight organic bottom batting, and a 3-zone pocketed coil spring system. I was worried about going to a spring mattress for Lisi, but she sleeps much better on it now compared to the cheap memory foam mattress I bought off amazon. It unrolled quickly and settled in next to no time. It didn't take the typical amount of time that a memory foam mattress takes, and didn't have as much of a smell either. Which is nice. I usually don't like the smell of mattresses after they come out of the packages, this one didn't bother me at all. I did wonder if it was going to be too firm, but Lisi found it a good fit.
The mattress wasn't settled just yet when I took the above picture sorry. But it settled into the bed frame just fine. This wasn't in the bed frame just right yet either, I was trying to set stuff up, keep cats out of pictures, keep a toddler in line and take pictures. It's.. not always that easy for me.
The My Green Mattress Pure Echo is available in Twin, Twin XL, Full, Full XL, Queen, King and Cal King. Pictured is a standard sized Twin, is 9 3/4″ thick and it weighs 57lbs. No wonder I struggled to get it in the door.
I've been keeping an eye on Lisi and asking her from time to time how she's sleeping, and she loves her new mattress. It's medium-firm so not to my liking firness wise, but she loves it. I think the pretty worried at first if she'd find it comfortable enough. Perhaps she just needed a firmer mattress than she had before and this has fixed the problem.
All I know is that since she's happy, I'm happy.
What is your favorite kind of mattress? Do you prefer a firmer mattress or a softer mattress? I personally like softer mattresses myself.