I should mention right off the bat that we were sent a regular subscription pack from Freedom Japanese Market to try out and review. It'd been a long time since we've tried a box from these guys and I was excited when they reached out.
Three box sizes are offered:
Puchi Pack: $14.99 with 5-8 full and sample sized snacks
Original Pack: $24.99 12 – 16 full size and sample snacks – Supposed to have DIY candy (ours did not, it was not even listed..)
Family Pack: $45.99 24-32 full and sample size snacks – Double snacks without double the price.
All plans come with an English content list with pictures, and a handmade origami. April's Origami was a sword! Very neat!
Sign up and put OHAYOOKASAN in the order notes, and get a FREE BONUS CANDY!
Like always Risiel was excited when a box of Japanese snacks arrived in the mail!
This is the April box, which we got not too long ago for review purposes.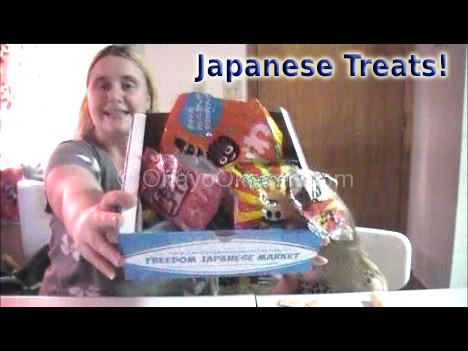 Yet again I got caught up in doing the unboxing video that I forgot to take my own decent picture of the contents. Darn it. I get all into the video and forget to pause, take a picture, and start recording again. @_@ Please forgive me!
Our April Freedom Japanese Market box came with 14 items total. Some we've tried before, and some we have not.
You can jump to the bottom of the video to watch our unboxing! Or read on through to get a full idea of what we thought without watching. Or you can do both, we'd appreciate it. XD
Included were…
Ume Paper: Umeboshi (pickled plum) as a paper thin candy. Sweet and sour. Risiel liked this.. I did not. >.>
Mix Fruit Mochi: Adorable tiny pieces of mochi candy with light fruit flavors, the pack includes a little toothpick to each them with. Adorable and yummy! Risiel and I enjoyed them, we let Sisi eat the rest.
Premium Umaibo (cheese): Before getting this Freedom Japanese Market box, I didn't know they had PREMIUM Umaibo! Whaaaaaaaaaaaaat?! This one was a Mozzarella and Camembert cheese flavored one that is larger than typical Umaibo. Risiel LOVED THIS and I was lucky to get a single darn bite!
Shimi Choco Corn: I'm not sure why it's called.. Choco corn. This was strawberry flavored candy coated puffed corn int he shape of stars. Yummy, but not really for me. I guess white chocolate gets classified as "chocolate" to some.
UFO Ramune: These little hard candies are fun and dissolve in your mouth. They're shaped similar to a little UFO, and remind me of a candy I had as a kid here in the states, the candy I had as a kid didn't dissolve so easily, but it was still yummy. They had four flavors, we got two packs, and honestly.. I couldn't tell you what flavors we got. >.> Both were kind of fruity flavored to me.
Nagewa Beef Consommé Chips: These are one of my favorite little chips! I am so happy that the folks at Freedom Japanese Market sent these in our box! These are fun little ring chips that are "Beef Consommé" flavored. Yummy, even if I don't believe I've never had beef consommé.
Teriyaki Umaibo: After trying out the Premium Umaibo, this became my 3rd favorite Umaibo. It used to be my first, then I had the chocolate coated one, so it was my second. Premium takes the cake for savory Umaibo though! I still love the Teriyaki flavored one.
Caplico Mini: I love Caplico, my favorite is the chocolate. They're little little astronaut ice cream cones but way better than any astronaut ice cream I've ever had. We got a Strawberry one.
Pizza Umaibo: This one was a "no thanks" from all of us. Pizza flavored chips and things have never been a bit hit with us.
Umakai: These were ramen chips (they seemed more like corn puffs again?) flavored like Champon, which is a noddle dish from Nagasaki.
Kabuki Cracker: I've had this little Senbei cracker before, that's okay, because I love it!
Un-Choco: Again not sure why this is called chocolate. Or called chocolate balls. They were candy coated (but not chocolate just a hard shell) fruity candy that were somewhat powdery. They were grape flavored, and still good. Just not "chocolate" in the slightest.
Tohato Caramel Corn – Sweet Rare Cheesecake: Tohato makes some good chips… but I don't like their "Caramel Corn" series of snacks usually. Maybe I just get a lot of bad bags? Because I liked this seasonal exclusive Sweet Rare Cheesecake flavor! Even the texture wasn't bad this time.
BONUS ITEM- Chewing Straw Candy: Freedom Japanese Market gave us a bonus candy this month in the form of these straw shaped grape flavored somewhat sour candy straws. They're similar to sour punch straws here in the states, but I like this grape flavor more than I like American candy's grape flavor.
Over all we really enjoyed our fun little Freedom Japanese market box. A few of the candy were on the lower end of the price scale (Umaibo) but they are still yummy anyway. Plus I can'y easily get them here in the middle of Northern Idaho. I can't even get them if I drive over into WA unless I go all the way over to Seattle. Soo…
You can see our first impressions of things with our unboxing video!
Thank you so much for checking out our review of Freedom Japanese Market's subscription box! Don't forget to put OHAYOOKASAN in the order notes when you sign up to get a free bonus candy!
What do you think of this box? Do you have a favorite Japanese snack box?