Disclaimer: We were sent the following in exchange for our honest opinion, no further compensation was gained for writing this post. All opinions are our own unless otherwise stated.
Risiel is so happy to get to show off her newest toy! The Playmobil Ice Cream Truck from their City Life collection!
You can buy this adorable and rather easy to assemble toy from the company website (with free shipping!) or at a store near you that carries their products.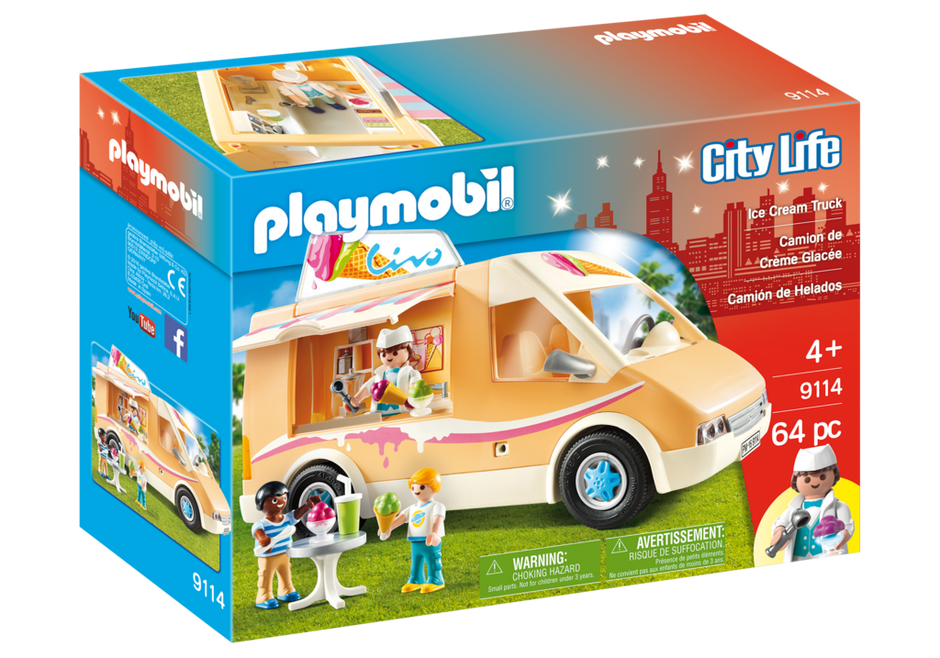 One thing I love about this set is that even the cups are able to be held by the characters! Risi fell in love with the little kid figures, and it was most fun to put the stickers on the truck and put all the little cups and ice creams together.
The only thing I wish was different in the Playmobil Ice Cream Truck is that I wish there was a door from the drivers part of the truck. Instead, you just take off the entire wind shield set up and pray that it's not someplace you don't notice in the middle of the night because that thing does not feel good to step on. Plus, it's not super easy to take off without some effort. Meaning that for now Risiel just keeps that off so he ice cream man can drive the truck and give treats to her kids.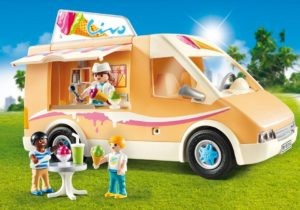 I love that there are a variety of ice cream flavors too! Is the green one mint? Is it matcha? Risi says it's mint some times, and then she doesn't know the others. She likes to pretend that the magenta ice cream is actually watermelon or cherry ice cream.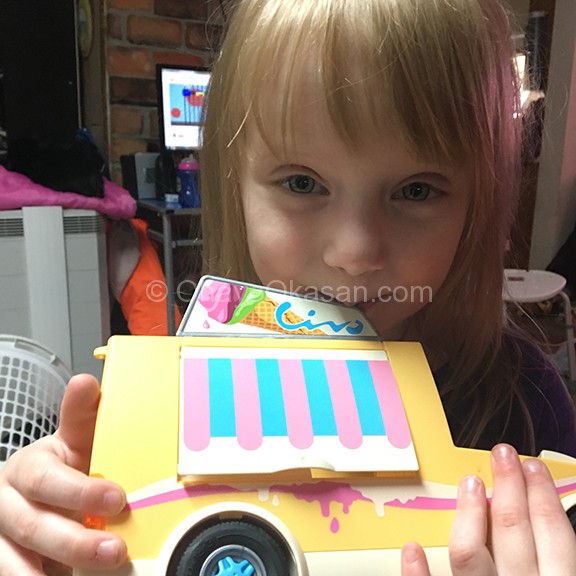 Right now Risiel is playing with her Playmobil ice cream truck and having her Blaze and the Monster Machine toys take turns getting ice cream. Of course crusher is being mean to the other Monster Machines.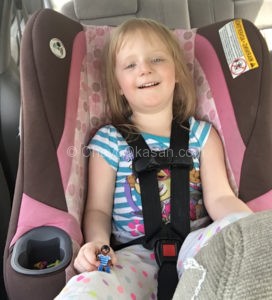 At other times, Risiel just likes taking the little kid toys out and about with us. Usually they have an ice cream in one hand and a drink cup in another! Of course that causes the occasional "Mommy the ice cream!" while I'm driving, but thankfully she hasn't really had a fit about waiting until we're at our destination for me to rescue the missing piece.
Even though Risiel is technically younger than the recommended age limit (they suggest 4+ and Risiel is 3 1/2) she does just fine with the toy and isn't the type (anymore!!) to put random stuff in her mouth and attempt to eat it. I would say that if you watch someone her age carefully with the toys they'd be just fine, or if you have a kiddo that's not particularly oral exploring still. Of course I'd recommend always using your best judgment, some kids even above the 4+ rating might not be good around small pieces.
As for us, I really enjoy getting to play with the Playmobil Ice Cream Truck with Risiel! Do your kiddos have any fun Playmobil toys? What's their favorite?