Disclaimer: we were sent these yummy Otis Spunkmeyer treats to try out and review. All opinions are our own unless otherwise specified.
If you asked me what my favorite pre-made cookie dough was, I'd tell you in a heart beat it's just the chocolate chunk cookies from Otis Spunkmeyer. Even better that I can get them at Costco. One of the best things about Kat's old orthodontist's office was that they always had fresh, warm chocolate chip cookies available.
As you've probably guessed, they were Otis Spunkmeyer cookies. So. Dang. GOOD.
So the opportunity to try some other treats from them was an absolute no brainer, OF COURSE we wanted to try some!
We were sent four products, and I loved three of them. The kids loved all of them. I'm just a little bit more picky. 😛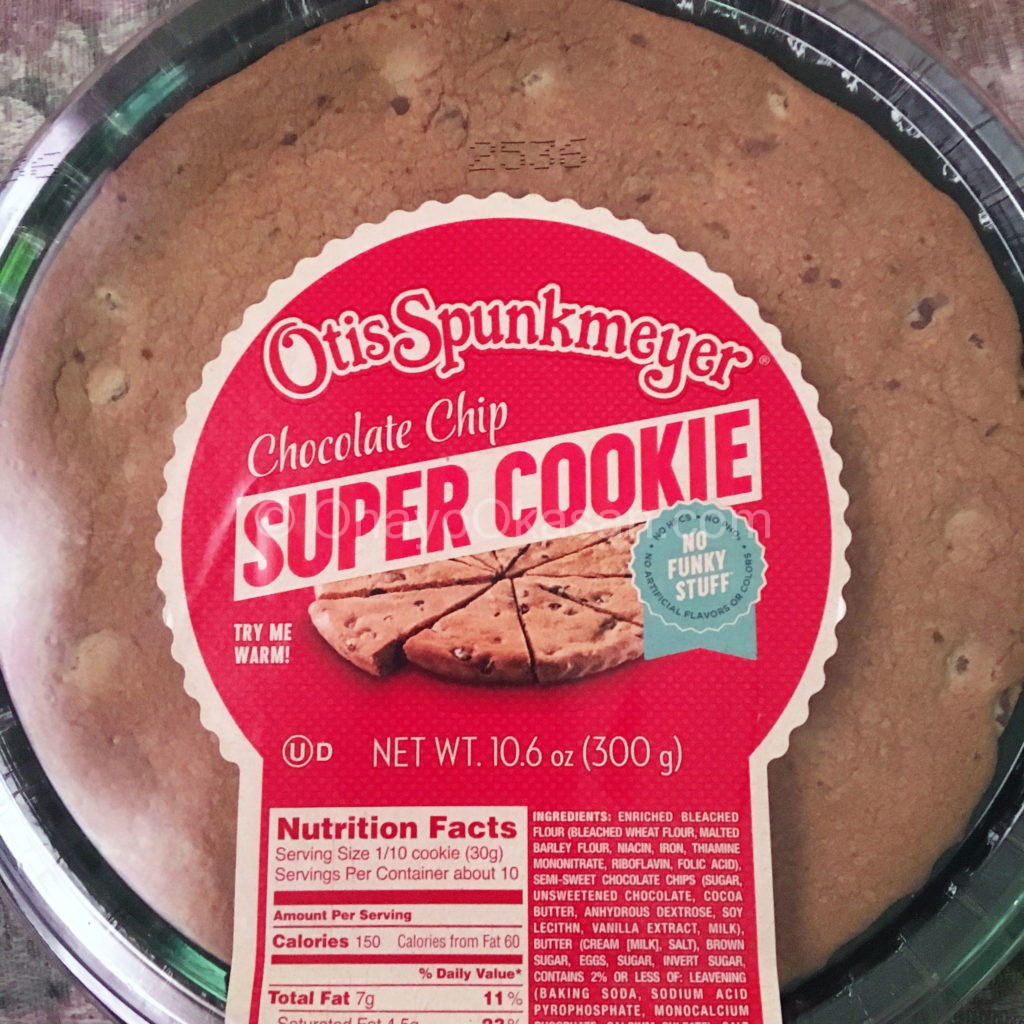 Chocolate Chip SUPER COOKIE:
This one wow a bit "Woah!" right off the bat. I've had giant cookies from various grocery stores and most fall flat of being.. yummy enough. I warmed this one up, and it was amazing. I think I still prefer regular sized cookies to giant cookies, but it was still a delicious slice of Otis Spunkmeyer cookie heaven.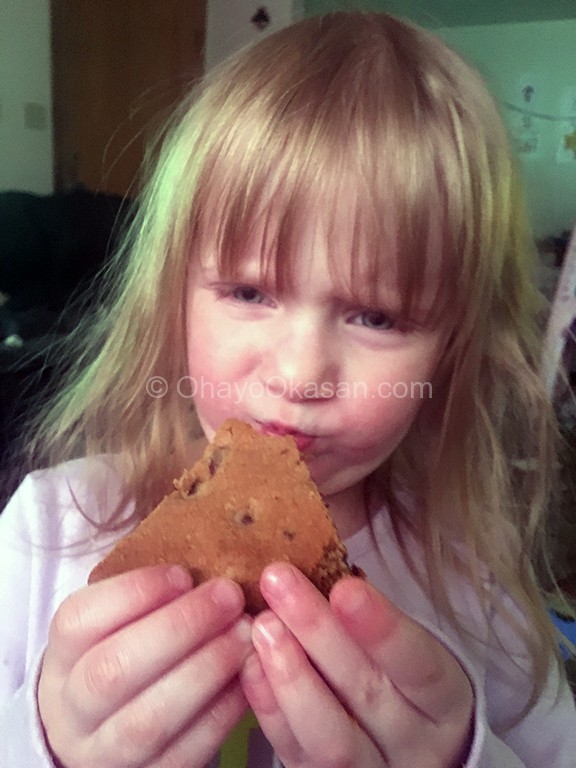 Don't mind Risiel's face, she just likes to make funny faces for the camera. She really did love the cookie. She actually kept begging for more.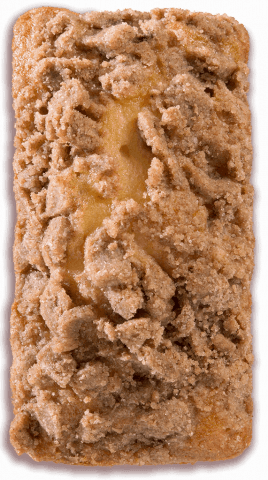 Cinnamon Crumb Loaf Cake: 
This was the one I didn't super love. I don't really love crumb toppings though, do I'm not really the one to give a good opinion here.
The kids though? Well let's just say the box of these didn't even last half a week between the kids and Aussie. That's the sign of a love treat for sure!

Golden Creme Cake: 
What's not to love about this kind of cake? ohhh.. aside from the fact that Otis Spunkmeyer's version of this cake is hands down the best cake like this I've ever tried. And yes, I know there is an iconic brand name of these, I've never been a huge fan. These though? I gobbled mine up in a heart beat… and yeah… yeah… snuck a couple when everyone else was in bed!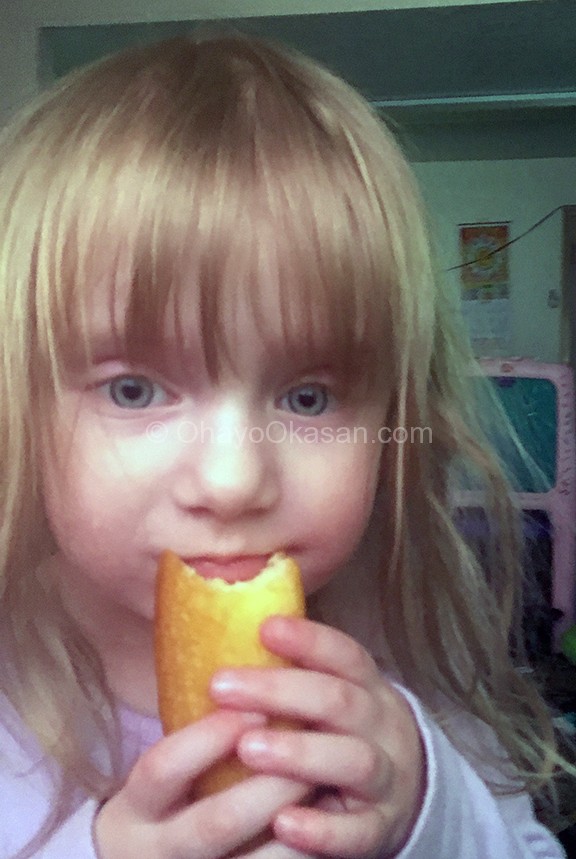 Risiel agrees, these Golden Creme cakes are a hit!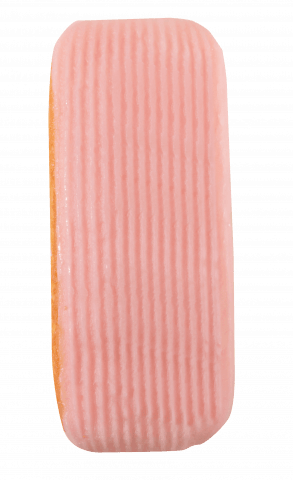 Strawberry Frosted Creme Cake:
I'm not a huge Strawberry… anything fan. Let's be honest. If I'd picked out the treats to try all you'd be seeing in this post is everything chocolate. Which, btw, they have a ton of amazing looking chocolate treats that I need to get my hands on.
That aside..
Woah.
Like… seriously. WOAH. Now THIS is a strawberry treat I can get behind! I actually ate two of these, and they were delicious. I didn't take the chance to try one warm, but really want one warmed up with a scoop of vanilla ice cream. That'd be amazing. Well.. more amazing than they already are.
Did you know it was just in 2015 that Otis Spunkmeyer started selling cookies, cakes, and muffins directly to consumers in stores? I wish it would have been sooner, but I'm happy it has at least happened!
These snacks have no HFCS and no artificial flavors or colors. That's probably a large part of what makes them so darn delicious!
Man… now I want some cookies.
What Otis Spunkmeyer treat would you like to try? Check out the delicious lineup on their site and let me know in the comments below! I love to hear from you. ♥