Disclaimer: This is a sponsored post for the Turtle Beach RECON CHAT ps4 headset. All thoughts are my own, but clearly technical information is directly from the company in regards to this product.
I'll admit right off the bat that I don't know a ton about gaming headsets. Well, I mean I didn't before checking out the headset I'm about to talk about today. I don't really game a lot, but the kids do. So when we got our PS4 (used btw) it didn't come with a headset. I'm not sure if that's standard or not, but a lot of games require an online subscription to be able to play. One of the cool things about that is getting to chat with other players via voice. So that's where headsets come in.
But… darn a lot of headsets aren't comfortable when you have glasses! The Turtle Beach RECON CHAT headset has the SpecsFit glasses friendly design, meaning no pressure from the headset pushing on your glasses. Which even after a few minutes with other headsets is a giant pain in the patootie! The special channel in the ear-cushion of this headset makes that a problem of the past. In fact, the ear cushion holds the ear-piece off your head instead of pressing into your ear, so you don't have that painful "I've been wearing a headset too long" ache when you take it off after a long gaming session.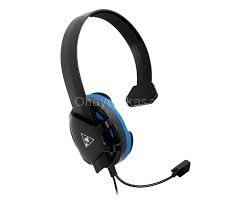 Plus, you want to be able to hear people around you when you're gaming. Because who wants their mom to be annoyed when she's trying to get your attention from the kitchen but you're hunkered down with a double eared headset?  Not me. XD
Granted I don't live with my mom, I just don't want to BE that mom. So I was pretty thrilled to find out about Turtle Beach's RECON Chat headset! Even if your console came with a headset, if it's time to replace it, you'll get more for your money with this headset. It's available for both Xbox One and PS4, and it's only $20. Seriously though, it's awesome compared to a lot of $20 headsets I've ever purchased. You can even use it for your tablet/mobile phone if they have a 3.5mm audio output.
One feature the Turtle Beach RECON CHAT headset has is a open ear-cup, it lets you hear the game audio from the TV or home theater system (or your parents/spouse hahaha!) while at the same time hearing chat audio clearly. It's an easy to set up (only took a couple of minutes to make sure we had chat turned on on our PS4) chat only headset at an amazing price.
Turtle Beach is a category leader in console gaming headsets and gaming audio accessories. Var was thrilled because some of his favorite YouTubers use Turtle Beach products and he was so about having something similar to what they have! From beginners, casuals, Pro's and hardcore gamers, you can find the headset for you from Turtle Beach.
The speaker included in the Turtle Beach Recon Chat headset is a high quality 40mm speaker, with crystal clear chat audio. The high-sensitivity mic picks-up your voice (and your moms, people could hear me talking to Sis from across the room!) and ensures your every word is loud and clear.
I was really impressed when I played a game and was able to chat too. Granted I don't game much when the kids are awake/around because they'll need me every 2.5 seconds if I have anything close to a phone near my ears. Yep, headphones count. Var doesn't seem to notice if I'm doing things that require me to listen and starts talking even if I'm in the middle of stuff. So it doesn't happen all that frequently here. Late nights are moms gaming time! XD
Oh, I should also mention that I'm glad the PS4 version is blue and black, my favorite color. Aside from the awesome quality, inline controls and great feel of this headset, having it look good is nice as well.
What's your favorite gaming headset? Have you ever tried a Turtle Beach headset before?
You can enter to win your own Turtle Beach RECON CHAT headset for either PS4 or XBOX ONE today in this giveaway!! Good luck all who enter! <3