YouCopia has a neat selection of space saving items to make your kitchen a happier place.
You already know that I love my spice rack from them. Omg, having it has made cooking so much easier for me, I'm not having to dig around the cupboard for my spices. They all have their own little spaces and it's awesome.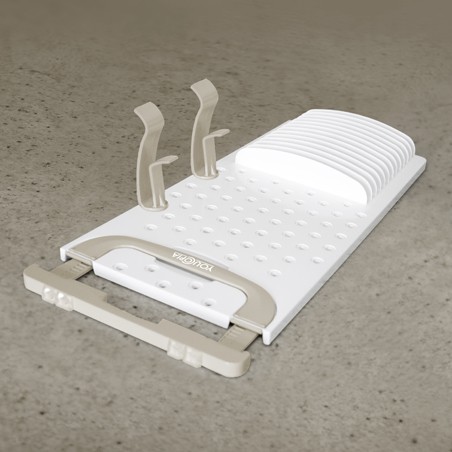 This time around I had a harder time picking what I might want to review. So I went with the Drawer StoraStack, which of course I picked before we tossed a lot of gross things in plastic ware because they'd gone really bad in the fridge and just… ew. No.
Anyway, so it's a neat little thing that goes into your drawers and allows you to stack your plastic storage containers and stand up your lids nice and neatly. Sadly, my drawers ended up all being too shallow to even hold the lids of the couple storage ware things we do have left.
That didn't matter too much though, as I also found it's pretty nice for helping me organize a fair bit of our bento boxes and their lids. … plus the random extra bits and pieces we have from things that have lots pieces over time and have just sort of sat awfully in the drawer.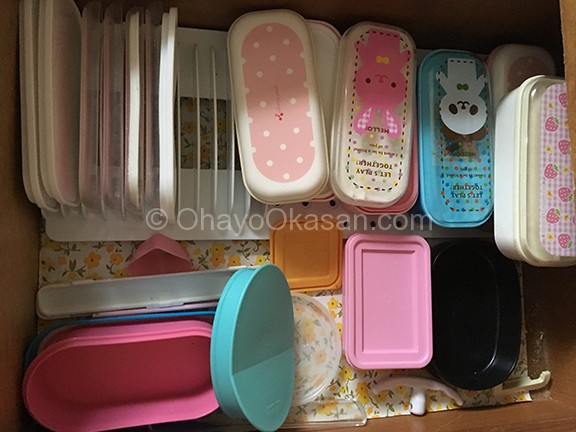 I was really pleased how well I could organize the little inner lid pieces as well as the top lid pieces that we have extras off. Also the area to stack plastic ware is also great for stacking ready to pack bento's nestled happily together. Very nice, two points for YouCopia! (they got a point still for my spice rack/shelfy!)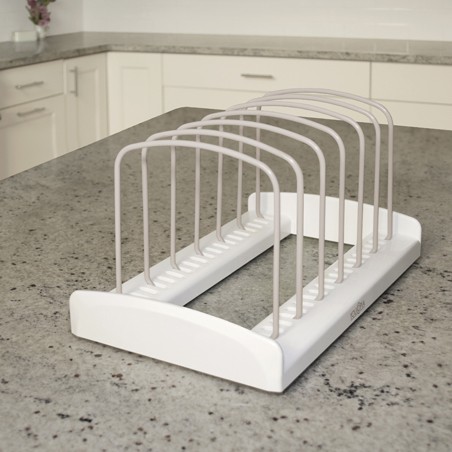 Next up I got the Storemore Backware Rack. Now… the situation with the bake ware in my kitchen wasn't too horrible. Yet again shortness came into play as my shelves in the cabinets aren't adjustable at all (really old house issue maybe?) but that's okay. I did have some things I really wanted to store better and this did come into  handy.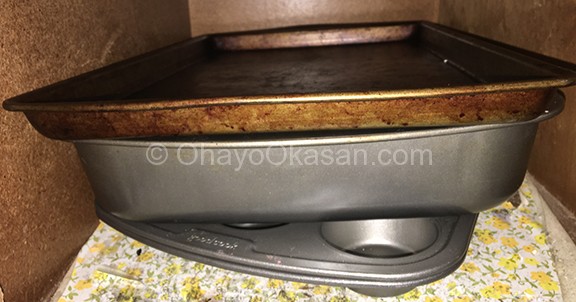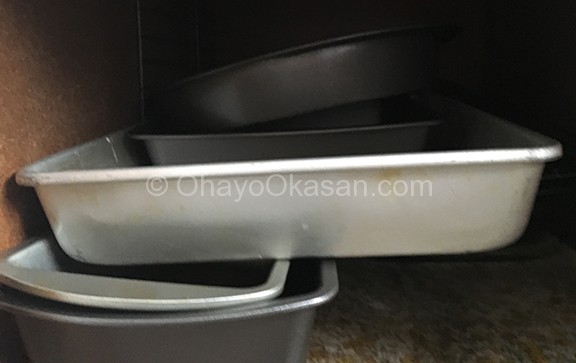 The two pictures you see above (if my formatting isn't being bratty) are before. I know it doesn't look bad. But I don't like having to try and dig around through all that mess for my cake pans, cookie sheets and wire cooling wracks. Yep, all that's in there just really awkwardly. Also in the first photo, that fat darker grey roasting pan doesn't even belong in here. It doesn't go in our out well and I can't get Aussie to learn where I want it so I have to keep moving it. >.>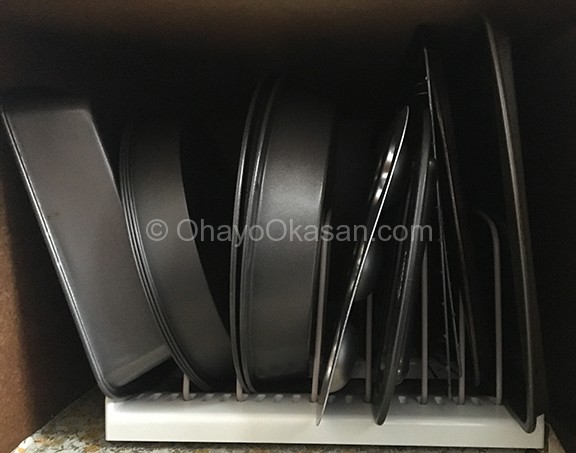 Most of the cookie sheets were to darn big to fit on this unit and go sideways in my cabinets. Which is annoying. I think of the base of this wasn't so thick, I mean even just half as thick as it is now, they'd have fit perfectly! Still, I was able to put my wire wracks in, my heart cookies pan, bone cookies pan, and nest together my different sized circle and square pans and get them easy to find and use. So.. for me that's a win.
These pans fit well like this. I couldn't use another YouCopia Storemore wrack here because I wouldn't have room for the items that wouldn't fit. That's okay. As long as I can get Aussie to understand I need things to stay relatively organized so it's not a battle of "where the F*** is that pan now?!" every time I need to use one.. I'll be happy. With a 3 year old who pretty much wants to be attached at my hip, cooking is a little more frustrating than it needs to be already. >.>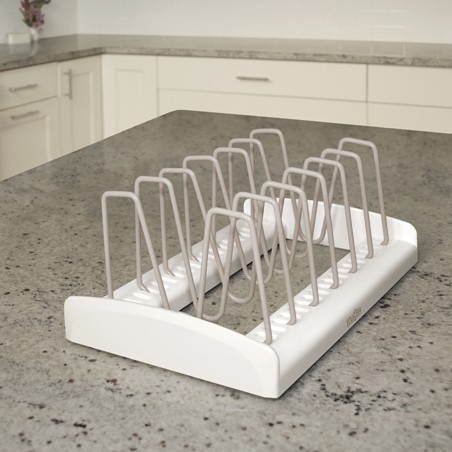 I also got the Storemore lid holder from YouCopia, however.. this was another thing I requested a bit ago and it was before I just decided to put all the lids in the useless drawer at the bottom of my oven. Yes, mine isn't a warming drawer. It's just sorta… there? *shrug* I'm okay with that, because with how many pots and pans I have, there's no room to have the lids anyplace other than behind all the pots and pans. No thanks. >.> So.. I haven't personally used this one. However, just like the one for the bakeware you can decide where you put the little beige holder bits based on the thickness of your lids. I think if I reorganize the kitchen entirely (I've got places I don't use because of where we have our portable dishwasher.. and places not utalized as well as they could be) I could actually really use this for my most commonly used lids.
How's the storage/organization situation in your kitchen? Would you like any of these YouCopia products?
Well, through March 7th you have the chance to enter to win one right here! :3 Yeah buddy! I am already eyeing different products on their site that I'd love to have right now.
Good luck on the giveaway! <3
Win a YouCopia Product of your choice #54