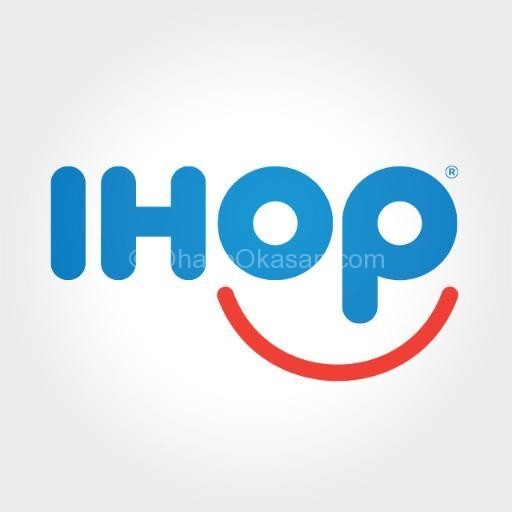 With the Holidays often comes seasonal foods. Be it Pumpkin Spice everything or in the winter Peppermint everything. You know that you're going to find something festive to eat!
IHOP is no exception when it comes to seasonal noms!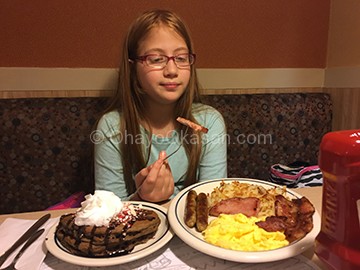 I was recently sent a gift card (that covered some of the meal, but not all.. so this is.. I guess a semi-sponsored post?) to try out some of the seasonal favorites at our local IHOP. I love their omelette's most of all, but I wasn't there to try that. Plus I just wanted something different.
Lisari and Risiel came along with me on the visit, and we got to experience their Dark Chocolate Peppermint Pancakes, which are new on the menu! Lis also had some Peppermint hot Cocoa. I just had water. 😛 I don't need to drink the extra calories in. I did try a few drinks of her cocoa though, and rather enjoyed it. But Peppermint and Whipped cream is generally how I enjoy hot cocoa when I do have it. So I'm not too surprised there. XD
As you can tell. Lis was really enjoying her meal. 😛 No, she didn't end up eating ALL of that. She finished most of it the next day.
I am not sure what makes the pancakes dark chocolate, maybe the drizzel? The pancakes themselves weren't very chocolatey. They looked it, but they didn't really taste like chocolate pancakes. I ended up wanting the Pumpkin Spice ones, but I hate being a bother so I didn't say anything. They also had, for me, just a little too much candy cane in globs and not really sprinkled evenly enough not to be weird at times. So I scraped some of it off.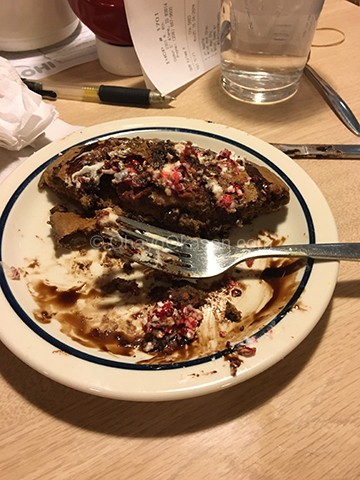 Overall, I did actually eat a fair bit of IHOP's Dark Chocolate Peppermint Pancakes. I think they could have used a little more whipped cream, better distribution of the crushed candy canes (they melted and globbed together in places even before I got them) and… I think I'd prefer regular chocolate chips on them.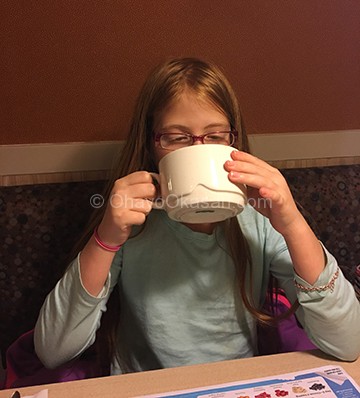 For sure the meat, eggs and peppermint hot cocoa were Lisari's favorite things on our visit to IHOP. I don't blame her, they have really yummy sausage and eggs!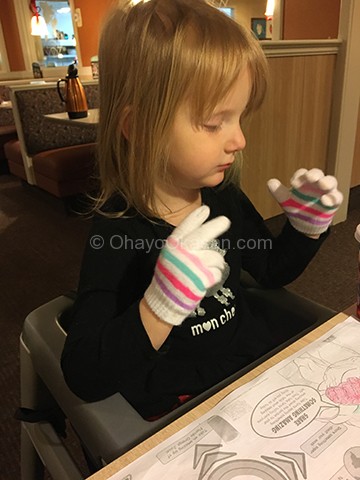 Risiel was apparently a little cold at first while she colored her placemat and we decided what to order. Lisi and I took awhile. Risi doesn't really like to eat out much.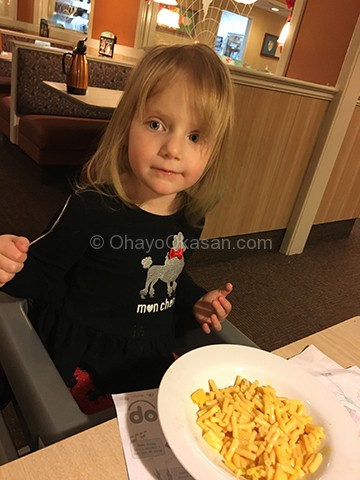 Thankfully IHOP has Mac and Cheese she enjoys! Otherwise the night wouldn't have gone well at all. >.>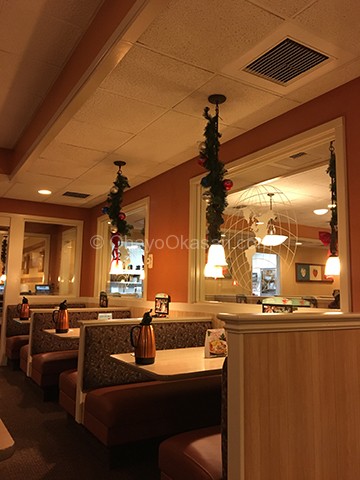 While we were there enjoying our seasonal favorites (and other yummy foods) we got to watch them decorate for the winter holidays! I don't really get around to decorating much (mainly because it'd take me forever to get around to getting it all taken back down…) so it was nice to watch and very pretty.
In the end we had a lovely little dinner and enjoyed getting to try some things we hadn't before. We don't drink a lot of cocoa before, so I don't even think Lisi has had peppermint hot cocoa before this! Maybe she has… my memory isn't always the best.
I think if you love crushed candy cane a bit more than I do, plus a bit more mild of a chocolate flavor in your pancakes that you'd love the Dark Chocolate Peppermint Pancakes now available on the menu!
Of course, if not, there are always the Pumpkin Spice or Eggnog options. Hmm..
Which flavor of seasonal pancakes would you pick from the line up? What is your favorite thing to get when you go to IHOP? I'd love to know in the comments below! <3