I've had and killed a lot of blenders in my time. Okay okay, my husband has killed a couple of blenders too. Usually by way of destroying the glass blender cup/container/whatever. I had a Ninja blender for a couple of years before now. Just a basic inexpensive model with no real frills at all. Still, it was hands down my favorite blender ever. Until now…
Why until now? Well, because now I have the Nutri Ninja blender system!
Yep, not just a basic blender here. This thing has bells, whistles, and then some! It's a blended coffee lovers dream! Plus, it makes hiding fruits and veggies in foods for my picky picky.. oh my goodness OVERLY PICKY toddler a dream!
Oh, and I can make cookie dough with it!

The Nutri Ninja system came with one large blender pitcher, a smaller blender pitcher for pureeing vegetables and fruits or making cookie dough, a dough handle and standard bladed insert for the smaller pitcher, THREE different sized travel cups each with their own lid, and a special blender attachment to go on the cups so you can make your own little on the go drink. There is only one blade to share between the three cups. But that's totally cool with me.
This blender has Auto-iQ! This lets the blender help you know which setting to blend your awesome goodies on! Also, wow. The strength behind this thing is better than anything I've ever used before. You can break down ice, whole foods, and seeds! You can get excellent nutrient and vitamin extraction using the Nutri Ninja cups. Or the whole blender pitcher if you wanted.
This blender was able to blend strawberry lemonade (using frozen strawberries in lemonade instead of ice cubes) and make it smooth enough that even I could drink it. I have pretty bad texture issues, which means a lot of fruits and things are totally out because the texture is just too much for me. With the Nutri Ninja, I can blend things so strongly that my texture issues are like "yeah, no big deal here" meaning I can finally get better nutrition without trying to throw a bunch of supplements and vitamins at myself to try and make up for it.
Plus, how seriously nice is it that I can hide vegetables and fruits in things for Risi too? It's hard to get her to eat much outside of a few certain foods that she's willing to take, but I can easily hide vegetables in some of those things. Even if that means I'm throwing something liked blended to heck carrots into soup or something. The kids don't notice, and I feel better knowing that they're getting more in than they've gotten before. Without the hassle and price of buying baby food to throw into food. I can just blend it up myself and bam, there you go!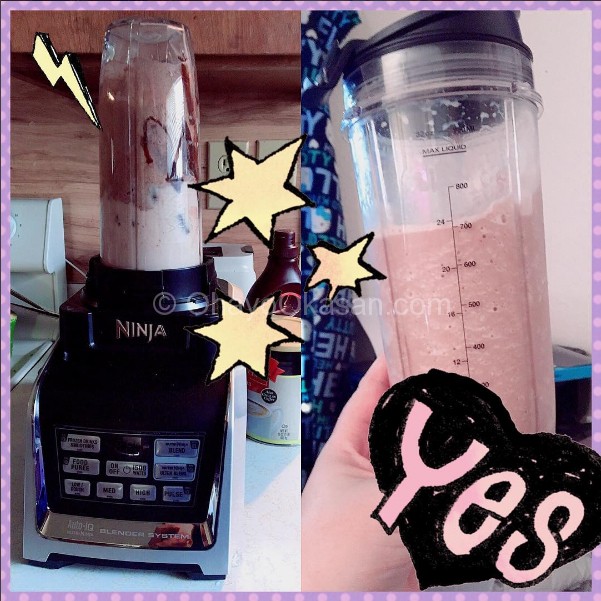 Of course I'm sure not going to say no to making myself coffee. Blended coffee is my favorite but doesn't always come out as nice as I'd like with previous blenders. My old Ninja blender was alright with coffee. It wasn't as blended and smooth as I wanted. But that's not a problem at all for the Nutri Ninja! Nope, set it to Frozen Drinks and let the system go! I've never had a better smooth coffee at home. Heck it makes my coffee smoother than Starbucks! Who needs $6 coffee drinks now?
I am so in love with the Nutri Ninja, my only regret is not getting one sooner! This is a fantastic system that is worth every last penny as far as I'm concerned, and would make an amazing gift for you or someone else you know who drools over blenders and making their favorite drinks at home. Or who really wants to make some awesome smoothies!