One of my goals this summer was to get out and do more even though I'm more of a home body than anything else. So, without too much grand thought on it. I decided to buy all of us season passes to our local theme park Silverwood.  Thankfully after 3 uses they paid for themselves so not going every single day isn't a bad thing.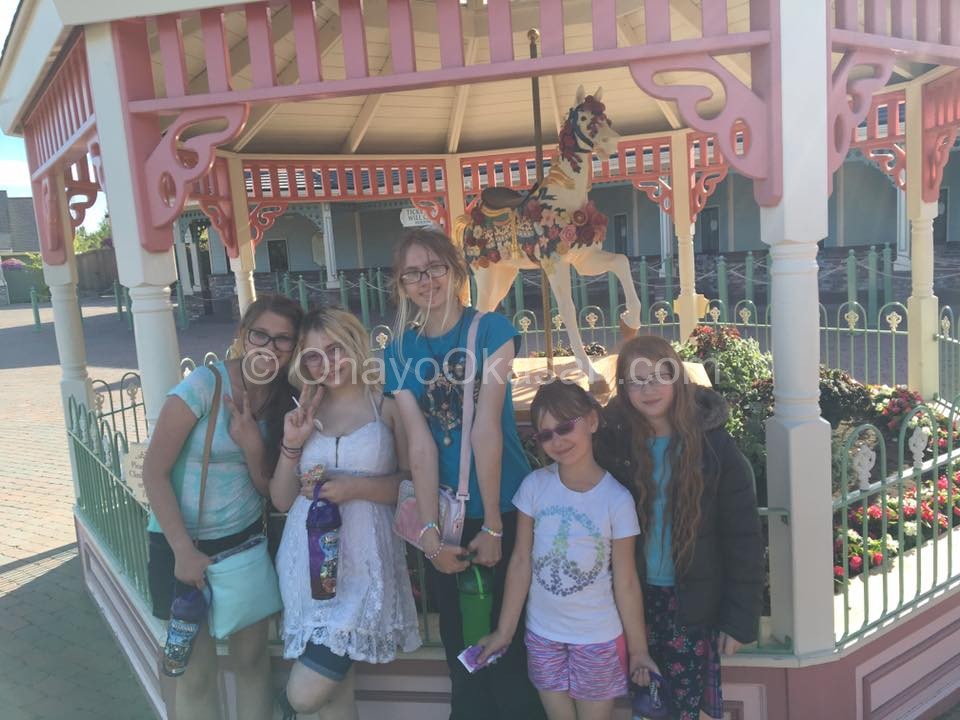 One day I had my mom watch Var (who'd gotten himself in big trouble) and Risi so Lisi could bring her cousin and Kat could bring her friend. So for the day we had 5 girls and could take them around doing whatever!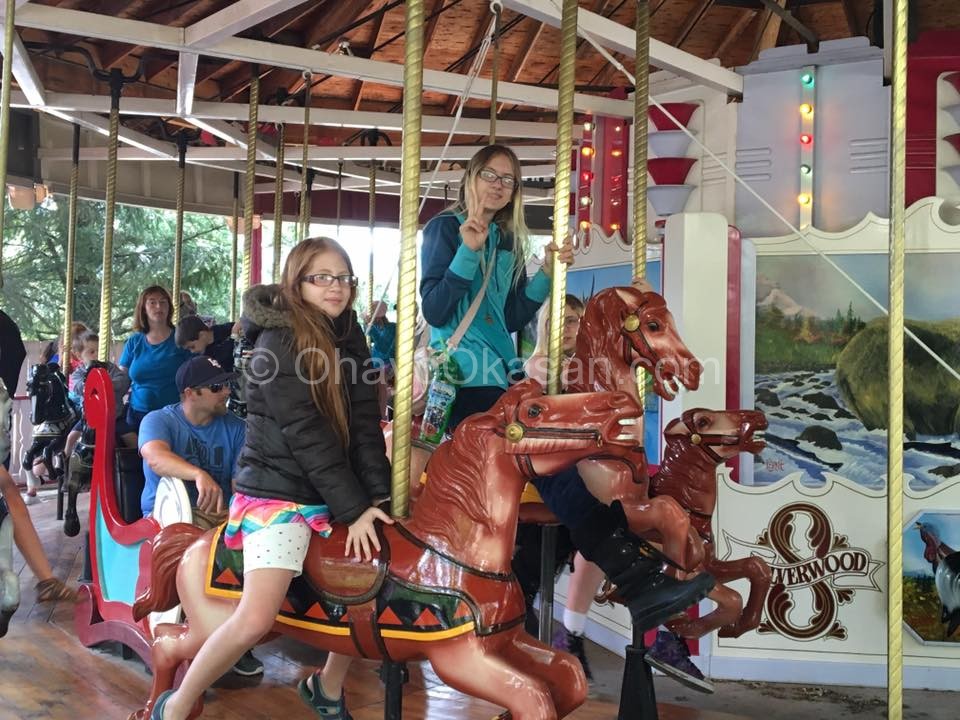 Almost every trip starts with a ride on the carousel. I used to like them when I was younger but this one has painful seats, no place to get your feet on, and for some reason goes faster than I remember any other one going. So I just hang back and watch to take pictures while the kids go on. I prefer the one at Riverfront park in Spokane to the one here at Silverwood in Athol to be honest.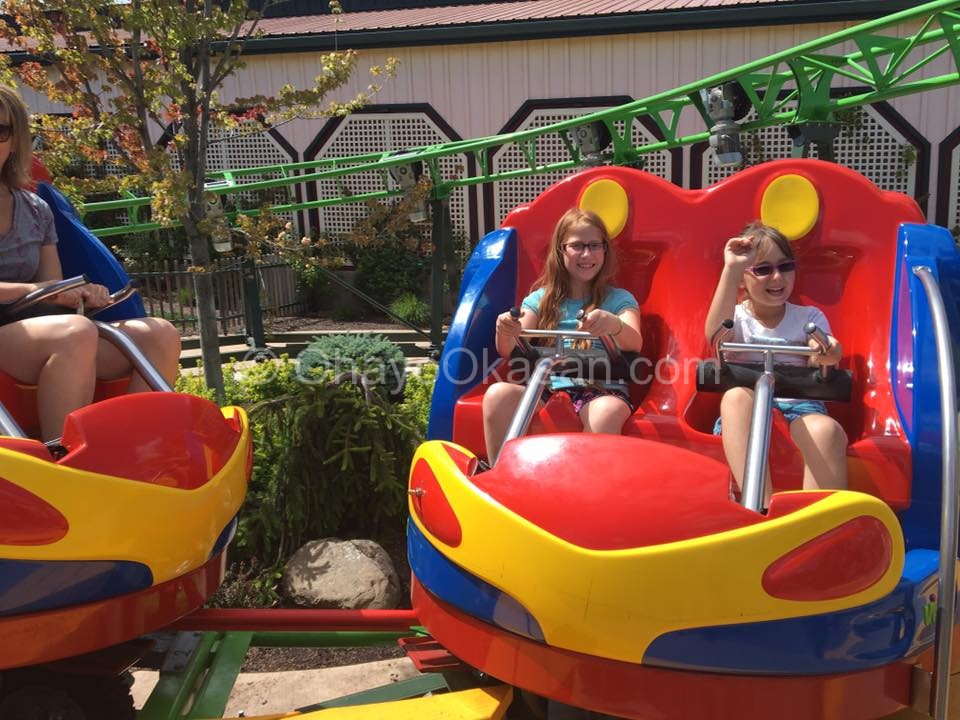 We had gone on some of the bigger rides before my niece was a little too shaken up, so we stuck to the kids area for the rest of that visit. Kat, Sis and K (Kat's friend) went off and did their own thing while I hung out with these two. This is one of Lisi's favorite rides here in the kids section. Risi likes it too, but I don't like the way the molded seats fit on my hips. I need to lose weight to fit on these rides a bit better.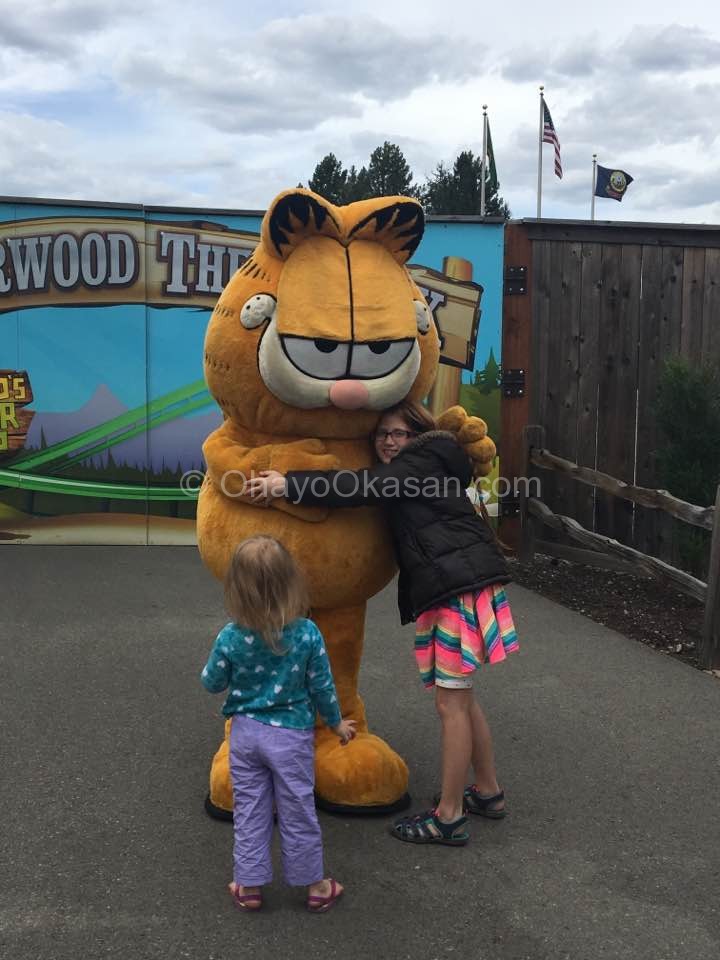 Garfield coming out is undeniably one of Risiel's favorite parts of going to Silverwood. She loves Arlene, the pink cat, as well. She'll spend 10-15 minutes every hour wanting to love all over Garfield. I make her move when other kids come up and want pictures and stuff. But if he's just standing there I really don't feel bad about letting her chill with the person in a giant fur suit. ;)w
Of course I make sure to get pictures of not JUST Risi with Garfield. I get the others in on it too. Even if they don't care as much because they're older.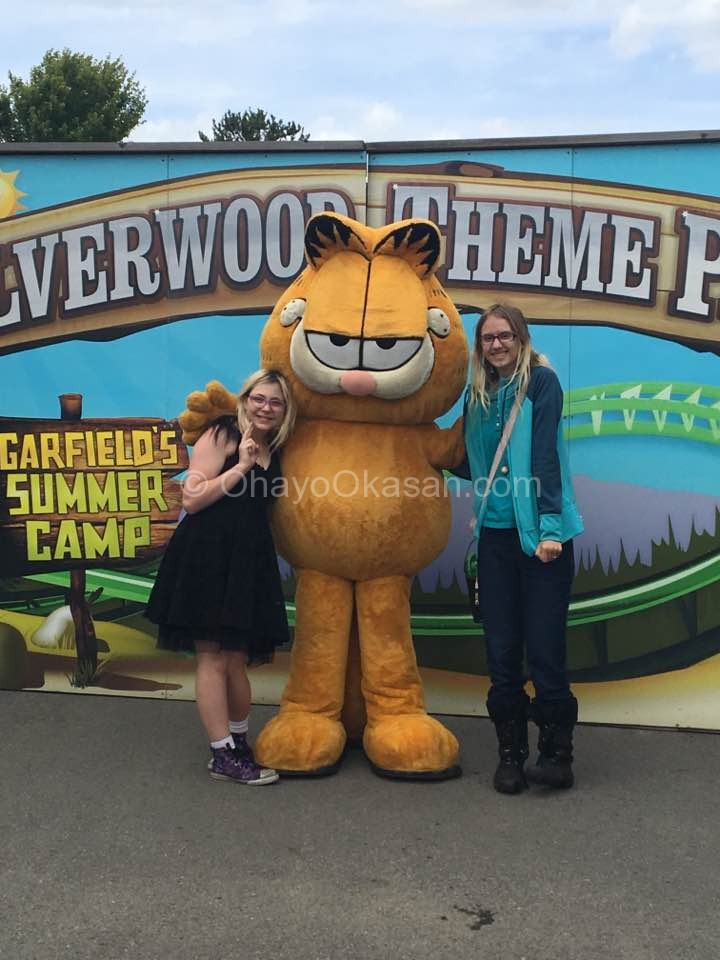 You can see and just feel Kat's teenage "ugh" over me making them pose with Garfield. Don't worry, I only will make her do it this once this summer! Hahah.

I noticed a lot of people like to take pictures by the sign on the way to the roller coasters. So, when I was taking Var and Lisi to them one day, I made them take a picture too! You can tell they're just done with my picture taking and want to go ride rides! Patience kids, patience!
My favorite coasters are After Shock and Corkscrew! I think I just liking going really fast and upside down!
I don't like wooden roller coasters. They seem rickety and like they're going to fall apart. More so since when I watch that awful Tremors the wood sways when the cars are going! No thanks!
I went on it a couple years ago with Sisi and our heads smashed together from all the shaking. I felt like I was going to die in a car accident with how much tremors shakes (no duh it shakes, but I forgot how awful it felt.)  So I wont go on it anymore.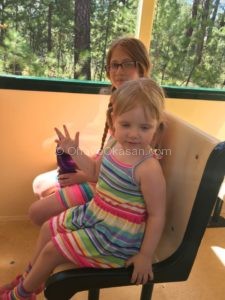 The most recent trip I took just Risi and Lisi. We rode the tour train that Risiel has been wanting to ride all summer so far, and she was happy to give the bandits a penny. I only had two pennies in my purse, so I gave one to each girl. Next time I need to go with more money to give the train bandits, as the money gets donated to charity.
I'm still kind of bummed that they have a whole "oh we're hunting Sasquatch" thing, but they don't have someone in a suit. They have some cheap plastic props that look like left overs from a 70's or 80's movie. Sorry. >.>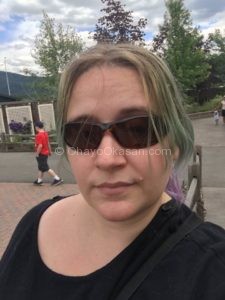 I rarely ever take pictures of myself, let alone in public. Usually it's pictures of Risiel because she's the one who actually WANTS me to take pictures of her. Still, I did take one of myself while at Silverwood! So we'll end the post at that. Sadly the kids were sick (well three of em) last week, and I'm not feeling good this week. So we haven't gone again.
Don't worry, we plan on spending as much time as I can  handle at the theme park before the season ends!