This post was sponsored by Meta Appetite Control as part of an Influencer Activation for Influence Central. 
Why am I using Meta Appetite Control?
A few years ago I managed to lose over 50 lbs. Then, I went on a medication to try and help my depression (we were using it off label, but the doctor I was using had success with it for other patients) that sadly had weight gain as a side effect. Well actually, it was an additional medication on top of my anti-depressant that also had weight gain as a side effect. Sadly, with those two stacked against me, I gained not only that 50lbs back, but 30 extra. I finally got off of it and gained another 10 extra while pregnant with Risiel.
Which.. isn't good. I went from being proud of myself to being not so happy. I had gotten down to a size 12 and now I'm a 22/24 depending on the brand. The medication combination made me constantly starving, or I was too nauseous and dizzy to function. I felt like if I didn't eat pretty much constantly I was going to throw up or pass out. It was the worst experience ever, but my doctor said it was helping depression wise (my mood had improved some in some ways, but less in others) but the weight gain wasn't worth it!
I've been off them both for awhile now (using different treatments instead) but haven't been able to shake the weight. My cravings were still there, just not as severe. I think if I'd stayed on them longer I'd have gained even more weight than I did! I've tried pill type appetite suppressants, but never something like what I'm currently using.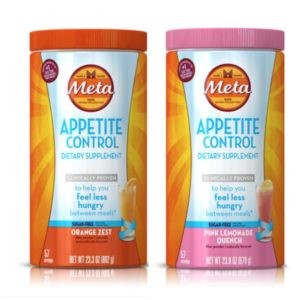 I started taking Meta Appetite Control in the Orange Zest flavor, and I've got to tell you it actually works without the strange jitters or mood changes I've gotten from various over the counter supplements and things you can find online to try and lose weight and curb your appetite. Meta Appetite Control is a clinically proven fiber supplement helps you get back in charge of your hunger while reducing your appetite for up to four hours so you can enjoy your busy days without feeling positively starving. Which is something my brain is still trying to do even though I stopped taking the second med three years ago.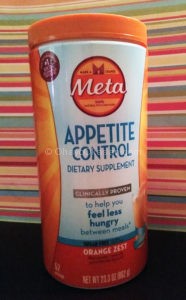 One of the things I had done better back when I lost weight originally was that I was able to eat more fiber, and cut off cravings with it. I also wasn't almost constantly hungry like the meds had made me. Then afterwards my brain equated feeling dizzy or nauseated as = we need to eat. That's a hard thing to fix even though I was on the med only about 8 months? Anyway, Meta Appetite control makes it easy for me to get in more fiber, without getting in a lot of calories. Plus it tastes pretty good for an appetite control drink. There's no sugar, and it's better than taking a gamble with some random appetite control pill off the internet. Please take my advice on that one. I've made that mistake far too many times!
How does Meta Appetite Control work?
Meta Appetite Control is 100% natural psyllium fiber and the #1 doctor recommended brand.   The psyllium fiber powder, when combined with water, thickens and forms a gel.  When consumed this creates a sensation of fullness. There are 45 calories per serving and 6 grams of dietary fiber and 5 grams of soluble fiber.  It helps curb hunger for up to four hours and can be taken up to three times a day.  Though it recommends that you start at once a day, so I did. Because I did get a little bloating after using it. But the back of the package warned against that. It only took a couple of days for my body to get used to it. I also used more water than the 8oz recommended. As for me it was too thick to drink with just 8 ounces, and with my texture issues it was off putting. I stick to about 10 – 11oz of very cold water, and then try and drink it quickly but not too bad.
I should warn that this is not something you want to sip. You want to drink it pretty darn quickly (but don't chug, the texture of it with chugging might make you feel gross like it did me!) because it will start to thicken up. Well, as it's supposed to, it forms a gel that helps you stay full.
Where can you find Meta Appetite Control?
I was able to find Meta Appetite Control in the Orange Zest pretty easily at Walgreens. Thankfully we have a Walgreens close by and it's a 24 hour one too! Aisle 9 is where I found it back near the pharmacy. I will be honest though I had hoped for the Pink Lemonade Quench flavor as it sounds amazing. I am not sure if Aisle 9 is universal for Walgreens to use as their Diet/Nutrition aisle, but just look for that heading and you'll find it there.
Get a Digital Coupon and Sample Op!

Influence Central is hosting a sampling and coupon opportunity for Meta Appetite Control. The first 100 eligible readers to enter will receive a sample of the product (Value $18.99).  Giveaway opens on Tuesday, June 7th and closes when all samples have been redeemed. The first 100 readers to receive their $5 digital coupon will also receive a Meta Appetite Control product sample.  If interested, please enter the giveaway on the form below, it'll also sign you up for the coupon!