Graze is a weekly subscription box that costs $11.99 a week.
You can get a trail box of four items for free, and then you'll start on the weekly plan. You can cancel at any time, and you get to customize what you might get by letting graze know your preferences.
There are over 100 snacks to choose from, and the graze team will send you eight every week. So you'll get lots of goodies sent to your door! I'm not sure I love the weekly aspect. But maybe if they offered a monthly one instead, I'd be able to afford that a little better. Edit: It looks like they DO offer different plans and I was just unaware of that. Sorry! Sometimes I don't always catch things I should. They have a bi-weekly, and a monthly option as well.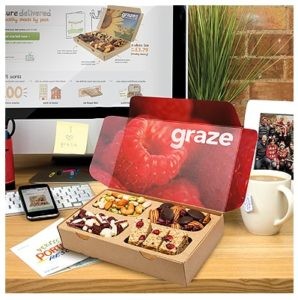 Overall I tried everything on camera, and it's a little hard to write a post after I did a full unboxing like that. Even though I had Var and Risi in on it this time (I don't always have the time to work with no one around. Actually, I very rarely do..) so it was a fair bit too chaotic. Overall I really would love the snickerdoodle dip and cinnamon pretzel sticks, and graze even offers the ability to buy things from the subscription box on their website on their own. So I could very easily just buy some of those wonderful little packs of dip and pretzel sticks to satisfy that craving. The sour cream and garlic crostini were absolutely awesome too. I think those two would be the ones I would buy the most out of the two in the graze subscription box we got.
I'll let the unboxing and tasting video take it from here!
Do you have a snacky subscription box that you love?
I think Graze is a great one if you want to try some new flavors without a huge commitment. Eight different things at once really allows you to get a good variety. Even if I didn't super love everything, I am glad we got to try it all!