As pet mom to eight cats, you better believe we've gone through our fair share of toys over the years. So I'm pretty much always on the look out for new and exciting things to keep our kitty loves happy, healthy and entertained. The Jackson Galaxy™ collection by Petmate® offers just what I was looking for!
Don't forget to check out the giveaway below to enter to win your own assortment of cat products like what we received!
This post is sponsored by Petmate® and the BlogPaws® Pet Influencer NetworkTM. I am being compensated to help create awareness about the Jackson Galaxy™ Cat Toy line available at PetSmart® but we only share information we feel is relevant to our readers. Petmate® is not responsible for the content of this article.
When I first heard of the Jackson Galaxy™ collection by Petmate® I was pretty excited. The cats could use some new toys, and the collection looked and ended up being awesome!
We were sent a selection of cat toys, accessories and some organic catnip from the Jackson Galaxy collection. Each of the products in this collection is designed to meet at least one of your cat's natural behaviors. Those are hunt, catch, kill, eat, groom and sleep. Did you know that cats who play are naturally more confident in their territorial ownership, and that means they're happier and better behaved? I know that Tori really does better behavior and temperament wise if she has time to play and enjoy herself. She's much less of a grump after she's played than she is if she doesn't get that time.
The Jackson Galaxy™ Collection uses product insights from Jackson's experience as a cat behaviorist, he's been at it for 20+ years! As well as with Petmate's 50+ years of leadership in the pet industry. The entire line puts the focus on cats as the heroes in cat play, and offers a wide variety of items to make your relationship with your kitties more fun and interactive.
From the get go Shadow was interested in the little fuzzy toy you can see at the bottom of my picture above.
The picture below shows Shadow and Kimi deciding that the toy is positively awesome.

This toy is actually called the Jackson Galaxy® Refillable Twisted Kicker, and when I say Shadow fell in love I mean the second I tried to put it back into the box after taking my initial photo he was in the box, pulling it out. I had to actually take off its packaging as he held it in his mouth and tried to run off with it. The moment it was free from its trappings he was off and giving it a good thrashing. Kickers like this are to meant encourage a cat's need to stalk and attack prey, and let me tell you the cats love to attack the heck out of it!
There is a section in the center you can see there, it's made of Sisal, and it opens with Velcro so you can put in some catnip. Some of the Jackson Galaxy Organic Catnip was included already, which is part of the reason the cats went after it so happily! Thank goodness we also got an additional bag of the catnip, as the cats went absolutely nuts over the kicker but it accidentally went through the wash and needed a catnip refresh.
The Jackson Galaxy® Organic Catnip included in our kitty toy kit was grown and packaged in the US, and it's great for sprinkling on toys or scratchers… You can also go about using in this next product which is one of my favorites. It makes making the cats interested in their older toys a lot easier for me.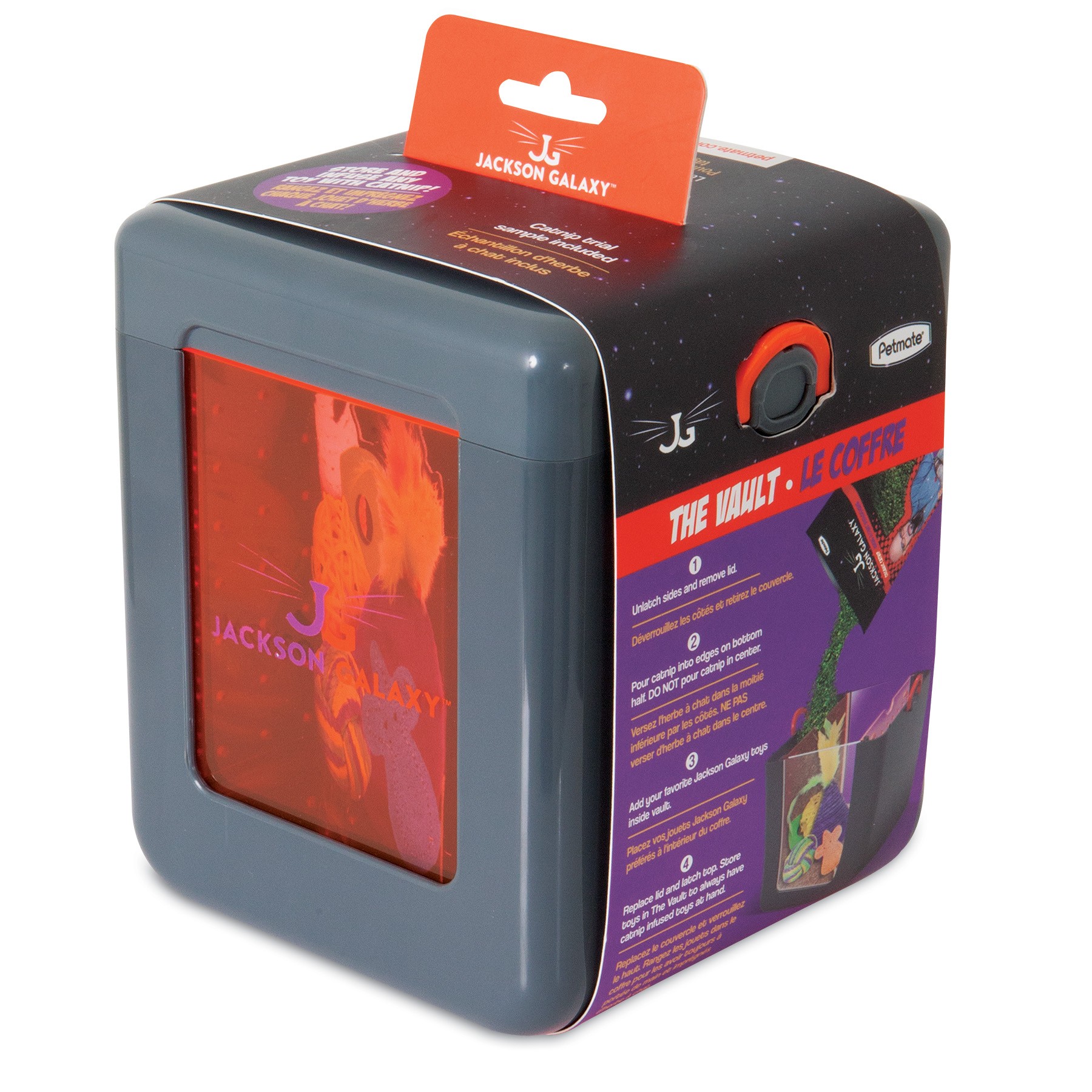 Now this little thing here is called The Vault Marinater. You put cat nip between the outer walls and the inner permeable walls. Those are the orange ones you can see through the side there? Then you put the toys you want infused inside the orange inner box. This lets you get that lovely cat nip smell cats love, without them being covered in the actual catnip. This has worked perfect for our smaller toys as I can toss them in, let em sit for awhile and switch them out as needed. No more trying to keep them in a baggy and causing a mess trying to take them out.
We were also sent a Laser Air Wand, which is used by the upstairs girls and Cupcake has fallen in love with. She's shy, but playing with toys is helping her finally break out of her shell. The laser comes off and can be played with on your finger and instead of having a button you have to hold down it has an On/Off switch! The laser helps get a cats raw instincts going and the retractable feather fluffy makes for a satisfying hunt. Cupcake loves to swipe up at the feathers and have them tease at her belly.
We also got a ground toy that sadly Cookie was a little too rough for. It's the one with the purple end above. Cookie was playing with it pretty rough, and I lifted it to move it to another spot for him to go after. He weighs a fair bit, and he pulled hard on the purple snake party right as I was trying to move it. Causing a bend in the wand. Sadly I didn't notice how bad it was, thinking it was just a small one that I'd be careful enough for, and kept playing. The weight of Cookie and his going overboard caused it to snap in half and I had to take it away. I've learned to not lift that type of toy now, and just keep dragging it. It was a fair bit of user error and heavy rough cat combination that caused it to break.
But it ended up alright, as Petmate working on a fix for that particular toy so that combo doesn't happen to someone else.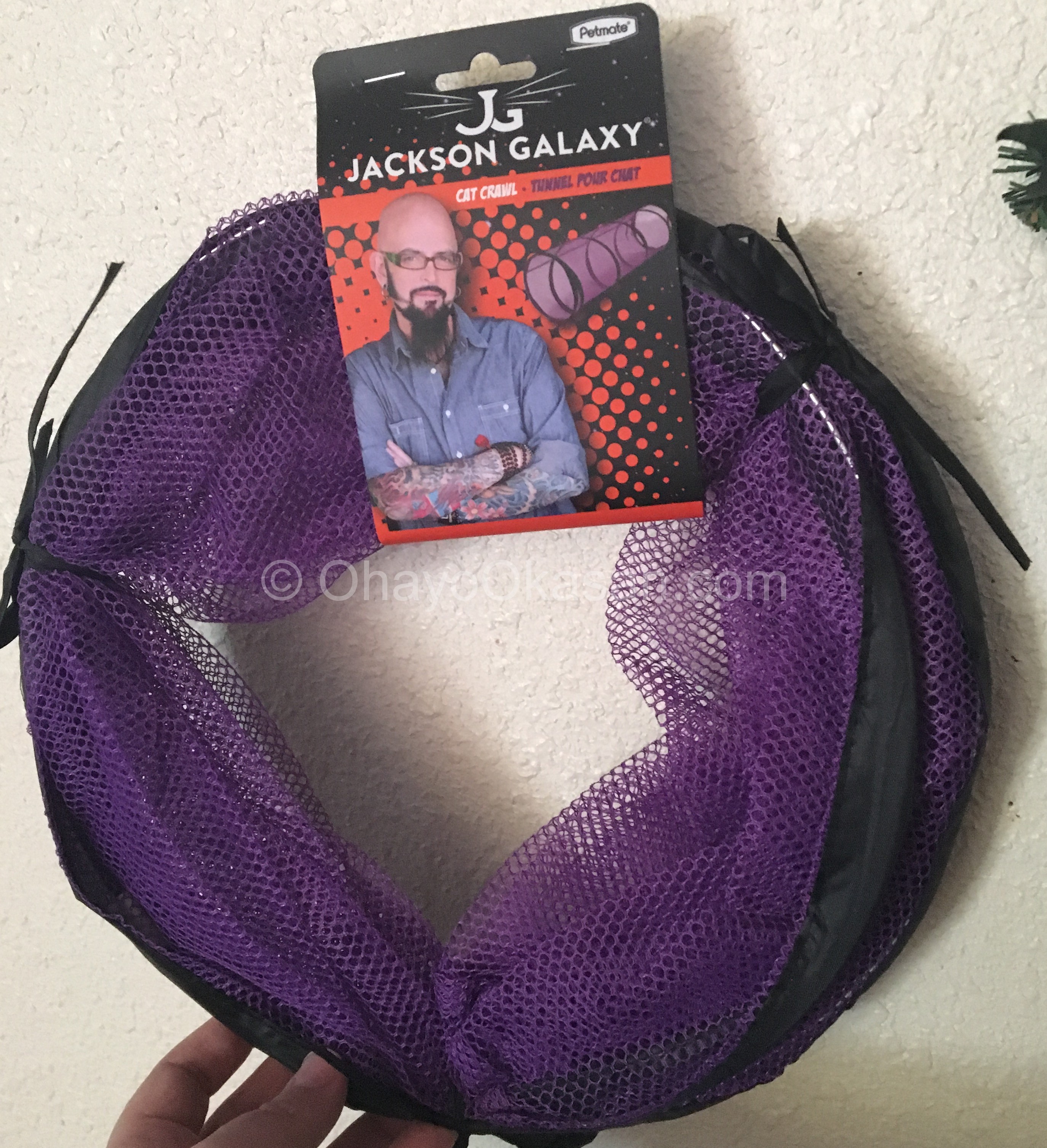 We were then sent this Jackson Galaxy® Cat Crawl Cat Toy to make up for the fact that Cookie broke the Jackson Galaxy Ground Prey Want toy we got. I was surprised to be sent something entirely different, but it ended up being a great thing!
It turns out that Risi, by the way, is the perfect size to get inside this and walk around. It's interesting, but the only way to have it out so the cats can play with it is to just deal with that fact. Hmm.. okay..
So far, Cookie, Kimi and Shadow are the most interested in the Cat Crawl, which has zipper parts so is likely able to attach to other tubes to make an amazing kitty crawl of awesomeness! Sometimes the cats race through the tube and chase each other, and other times they just go in there and veg out and relax. There are solid tunnels too, not just the mesh one we got. The solid ones I think would lend to a more vegging out than playing situation. Cookie loves to drag toys on through the tube, or to just plop down and roll around in it while looking cute. It just means I get my own little Cookie roll! XD
Shadow prefers to drag the Twisted Kicker in there and beat it up, as it gives him a spot where the other cats can't come and take it from him very easily. He's pretty possessive of the kicker!
You can find out more about Petmate by checking them out on Facebook, Twitter and Instagram!
Have you heard about the Jackson Galaxy™ collection available from Petmate®? What toys do you think your cats would like the most? You can go to Petmate and purchase the items in this post and more by Clicking Here!
GIVEAWAY TIME!!
Enter to win your own assortment of Jackson Galaxy Collection products from Petmate! Enter using the Rafflecopter below. Must be 18+ to enter and in the USA. Giveaway ends April 22nd 2016!
This is a sponsored conversation written by me on behalf of Petmate. The opinions and text are all mine.