This post was sponsored by Nature Made® as a part of an Influencer Activation for Influence Central.
My diet leaves a lot to be desired nutritionally. I didn't grow up eating the healthiest of foods, and it's hard to get into good habits the older I get and with the textures of certain things and my gag reflex of doom. From that I know I have various problems that are made more uncomfortable/worse/suffered in general due to lack of, or very low levels of, certain vitamins and minerals. Still, I think it's never too late to start thinking about healthy habits one can adopt easily. Even though March is well underway, so soon! You can join the 30-Day Healthy Habit Program through Nature Made one habit at a time!
A general flu/coldy type thing has been off and on through us all, dragging through a couple of us in particular. I know I don't get a lot of Vitamin C, which is said to support your Immune System. Stress, sleep issues, age and genetics can play a role in how much you need.  I know I don't get enough, and so one of the vitamins I decided to go with from Nature Made is their 1000 mg Vitamin C.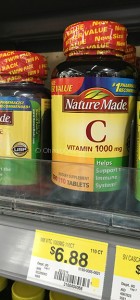 There's no need to wait for sales, no hunting down dusty untouched bottles, and no real fuss. They're easy to find, priced great, and can help with various health needs.
Did you know that Nature Made is the #1 best-selling brand of quality vitamins, minerals and supplements* in the nation? These things can help support nutritional gaps that many people, such as myself, have.
I also decided to go with Super B-Complex, to help with my energy and metabolism. My energy levels are super low, have been for far too long, and I need whatever help I can get. Sometimes the easier I can get it the better. Feeling tired is common too, stress, on-the-go eating, work and family demands, and so many other things. B-Complex is said to help convert the foods you eat into cellular energy. I need energy. Badly. Super crazy badly.
Living in a place that has gloomy weather many months of the the year, my final choice was Vitamin D3, in my case I bought the 5000iu, since I've had problems with far too low (measured by blood tests) Vitamin D. My doctor pretty much recommends that I take this regularly. Vitamin D is also great for bone health support. Vitamin D is said to aid in the absorption of calcium, and is supposed to help with immune health as well. Things I really need support with! Vitamin D3 is said to be more effective than Vitamin D2, and Vitamin D3 is what Nature Made uses in their Vitamin D supplements. I don't get enough sunshine, so I'm glad I can get Vitamin D3 another way!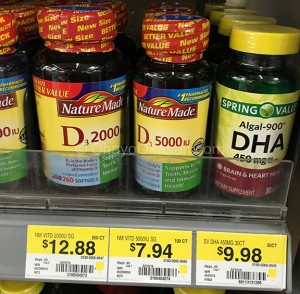 Nature Made is doing a special 30-Day Healthy Habit Builder Program!
It's really easy to join too. Just go to NatureMade.com/Challenge and join the Nature Made® Healthy Habit Builder program. Here you can get motivation and tips around your specific health goals. Mine are losing weight, gaining energy, and taking care of my health in ways that I can (taking supplements and vitamins to help with nutritional gaps due to texture issues, and food dislikes…) On top of that, you'll also be automatically entered to win a grand prize of $5,000*.(*For full rules and regulations visit NatureMade.com/Challenge)
You can also win one of 20 $50 Walmart Gift Cards through I-C! The contest closes on March 26th, and I-C will randomly select 20 winners from all program entries and will handle fulfillment of winning prizes. You get to enter right here! Just pick a social media sharing option from the social media amplification tool below and you're entered!
*NO PURCHASE NECESSARY. A PURCHASE WILL NOT INCREASE YOUR CHANCES OF WINNING. LEGAL RESIDENTS OF THE 50 UNITED STATES (D.C) 18 YEARS AND OLDER.VOID WHERE PROHIBITED. Enter by 3/31/16. Internet access required. 1 Grand Registration Prize (actual value $5,000) and 30 Challenge Prizes (each actual value $250) available to be won. For Official Rules, prize descriptions and odds disclosure, visit HealthyHabitBuilder.com. Sponsor: Pharmavite LLC, 8510 Balboa Blvd. Suite 100, Northridge, CA 91325.
The sponsor of this sweepstakes is Nature Made. WebMD is not related to or responsible for the sweepstakes.
So don't forget to also visit and sign up for the Nature Made Daily Boost program (http://www.wellnesswithnaturemade.com)! Get inspiration and information to further your health goals and to get a sneak peek at what other Nature Made fans are doing to stay or get healthy and improve their lives.
*Based in part on data reported by Nielsen through its Scantrack Service for the Vitamins Category for 52-week period ending 1/02/2016, for the xAOC Market. Copyright © 2016 Nielsen.Nature Made is the #1 Pharmacist recommended supplement brand in 9 categories**
With the footnote: **Based on US News & World Report – Pharmacy Times Survey, Nature Made is the #1 Pharmacist Recommended Brand in Nine Categories – Letter Vitamins, Omega-3/Fish Oil, Coenzyme Q10, Flax Seed Oil, Herbal Supplements, Cholesterol Management-Natural, Garlic, Diabetic Multivitamins and Mood Health Supplements