The CuteBox is a brand new subscription box (just started January 2016) that offers 10+ cute things every month for $18/monthly shipped in the USA.
Right now, you can save 25% on your first subscription plan payment. That includes the 1 month plan, 3 month plan OR 6 month plan. For now shipping is only in the US, with plans to expand to other countries before 2016 is over, but everyone has to start somewhere. Right? 😉
January's The CuteBox's offerings..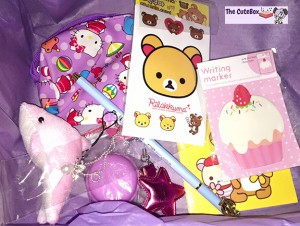 Rilakkuma stickers (four sheets per pack), Rilakkuma notebook, Hello Kitty coin pouch, cute sticky notes, a pen with crown detail, star hairclip, Totoro key charm (can't see in this picture), Little Dolphin Plush, Macaron case, Hello Kitty pin (also can't see in this pic) and a butterfly necklace with simulated pearl. 11 items in total. :3
---
February's The CuteBox offered..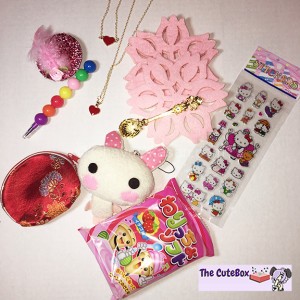 Four Sakura Coasters, Bunny Plush, Brocade coin purse, Hello Kitty stickers, DIY Ice Cream candy kit Strawberry (pictured) or Cider, Vintage style dessert spoon, Japanese Emoji 7-color pencil, Heart Necklace, Heart Bracelet, and a cute little feathered Fascinator Hat! 10 items in total.
March's box will also include a cute candy treat from Japan, and a lot more cuteness!
So, the code right? You can use cutie8 to save 25% off on whichever The CuteBox plan you use, but it expires March 18th 2016. That's the last day to get in your order to be in on March's box.