I was pretty excited at the idea of trying all of the Quest Bars that I was sent from Supplement Source in Canada. I could use something that's a healthier snack but has a texture that isn't going to be… awful for me? I have texture issues and certain bars and things work for me, when more 'natural' real food things… don't because of said texture issues.
High in Protein and offering a ton of delicious sounding flavors, I thought for sure I was going to find at least a few I would positively love!
I mean, Mint Chocolate Chunk? Cookies and Cream? CHOCOLATE BROWNIE? The names and attractive packaging of the Quest Bars knew how to speak to my inner (and outer heh) fat girl and make me sooo interested!
Some flavors were not so good sounding to me, but I had Aussie try those. He doesn't have texture issues and likes a lot more than I do. XD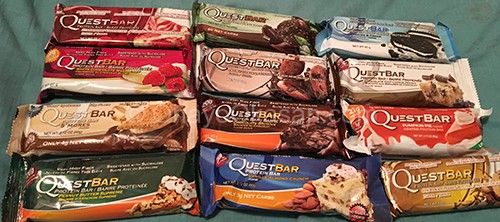 Here are our initial thoughts. When I stop commenting, is where I just couldn't handle them anymore. 🙁 It turns out they all use Stevia, which I apparently have a sensitivity too even just nibbles of the ones I tried made me feel like I'd thrown up, my throat and tongue burned and I had this sweet stomach acidy taste in my mouth for about 3 1/2 hours. *shudder*
Quest Bars first thoughts:
Chocolate Chip Cookie Dough
Aussie – Not bad, reminds him of a childhood snack.
Me – "It's.. okay… but… aftertaste!! What?!"
Strawberry Cheesecake
Aussie – "You can taste the strawberry, it's okay. But I like the cookie dough better".
Chocolate Brownie
Aussie – "No flavor?"
Me – I don't like the texture, and there isn't much flavor.
Chocolate Peanut Butter
Aussie – Flavorless
Mint Chocolate Chunk
Aussie – It's okay..
Me – smells good, not good flavor wise. The aftertaste is like I threw up stomach acid.
White Chocolate Raspberry
Aussie – Pretty good, easier to chew.
Pumpkin Pie
Aussie – Looks and smells like a candle! But it's.. actually really good. Like… REALLY good. Until you take more than a couple small bites, and then there's this… after taste?
Vanilla Almond Crunch
Aussie – "That is foul. That is actually awful."
Cookies and Cream
Aussie – "Well… it's bland? It's an improvement over foul, but it's bland."
Peanut Butter Supreme
Aussie – "Alrigt… let's see. Oh this is gonna break my teeth.. Oh god damnit! Oh fuck! God dammit ugh!" "This is a ration bar, tastes a little bit good, minus like.. hard tack or something."
Double Chocolate Chunk
Aussie – "Other than the pumpkin pie one, it's the best one of the lot. Easy to chew."
Smores
Aussie – "Another good one! Easy to chew, tastes good!"
Sadly, they all ended up having an eventual aftertaste for Aussie as well. So the ones he liked for a time, ended up in the trash after he tried a few more bites.
These are SUPER well rated on Amazon though, which means that if you can handle Stevia you'll likely be alright with the Quest Bars if you're looking for a protein bar. For me, I'll go back to the one favorite I had in the past, it didn't have Stevia but I'd been hoping I could expand my flavor options and the high protein was a super plus for these.