BoCandy sends you treats from around the world, every month!
You can get a Half Size (3 or 4 candies or snacks) or Full Size (6 – 9 candies or snacks) and try a little piece of the world from the comfort of your own home.
Disclaimer: I was sent the following item in exchange for my review and honest opinions. No further compensation was gained in writing this post.
The Half Size price starts at $8.50 for a monthly payment plan, $25 3 month prepay ($8.33/box), $46 6 month prepay ($8.17/box), or $97 one year prepay ($8.08/box).
The Full Size price starts at $15 for monthly, $43.99 for 3 month prepay ($14.66/box), $87.59 for 6 month prepay ($14.60/box), or $175 for 12 month prepay ($14.58/box)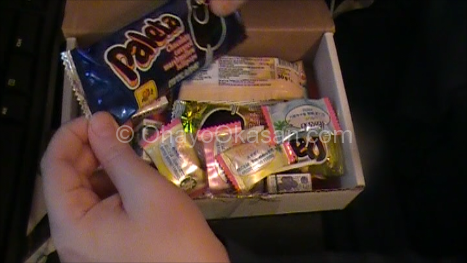 I got candies from Japan, Mexico and Bulgaria in my BoCandy box! For a total of 8 pieces.
My favorite item in the box I got (a Full Size one) is the Waffi from Bulgaria! I also received some Japanese gum, Japanese hard candy, two chocolate marshmallow lollipops from Mexico, some Tamarind soft candy from Mexico, a strawberry chili coated sucker from Mexico and a chocolate covered cake from Bulgaria.
You can check out everything in my unboxing below!!
Overall, I've got to say the BoCandy box is a nice little mix of items that is fun to experience! Shipping is included in the price, and it's nice to experience some new things. Eh?