Blueberry Cove Beads is a monthly subscription service sending you lovely beads every month to help you make something wonderful! You'll get a wide selection of beads for $27 a month ($22 plus $5 shipping.)
Disclaimer: I got the following product in exchange for my honest review. No further compensation was gained in writing this post of making the video.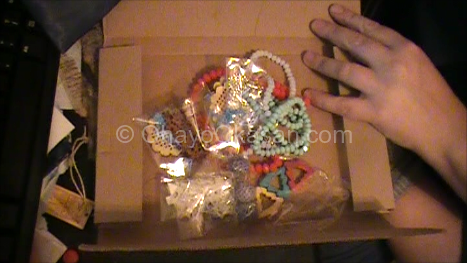 This box is the Scandinavian Christmas inspired with a great mix of snowflakes, Christmas trees, pretty colors (blue, red and white beads) and just an amazing assortment of pretty things that made me so happy to see!

You can check out the unboxing video for my Blueberry Cove Beds box! You can see better everything that came in the lovely little box.

Overall, I think that the Blueberry Cove Beads box is a great subscription box if you want to get into making jewelry or just love beads. Subscription boxes are so neat don't you think? Often you get things you'd probably never think to buy for yourself, or maybe you'd see and you just… aren't sure. So then you get them this way and figure, well.. why ever not?
In this box, I love the silver snowflakes, and the red white and blue beads! I hope I can create something very pretty soon thanks to Blueberry Cove Beads! :3