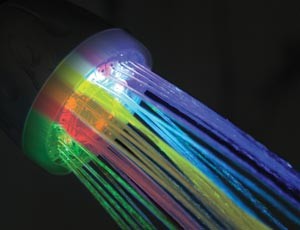 I like showers, I don't know many people who don't of course. But I love how they help me relax and can help me settle even on my most difficult nights.
Though I love my shower even more now with the Shower Wow!
Disclaimer: I received this product in exchange for my thoughts. No further compensation was gained.
It's an LED lit shower water color changer. You don't need anything special to use it. Just take off your shower head, put on this one, and use it!
No special hardware, no batteries, and it's got a chrome finish too. So it isn't some strange looking eyesore that will make people think "the heck is up with this?!" Well. I mean, until they turn on the shower!
The Shower Wow automatically switches between orange, red, purple, blue, light blue, teal and green! Making showers magical and more colorful. Risi is fascinated with lights, and on the occasions I bring her in the shower with me (she's two, chill :P) she's been positively IN LOVE with the colors! "You turn on a light?!" She exclaims at us turning on any light (unless she turns it on, in which case it's "I turn on a light!") and having them in the shower time to get all clean? Is positively amazing to h er.
I've noticed that even Var spends a little extra time in the shower since I've installed it! And he's… well he doesn't like to do things that aren't what he wants to do. 😛
This is another one of those great little things that makes a perfect last minute gift! You can get the Shower Wow online, or at Walmart, RiteAid and Bed Bath & Beyond! It's a great little "White elephant" type gift, or for that person who seems to have 'everything' or you just want to give something fun to.
Or for you, or your kiddos. Because who doesn't need some fun lighting to brighten up their day?
You can follow Shower Wow on Facebook and keep up to date with any special offers or promotions they may bring out. Or just anything else cool that they show. 🙂