Disclaimer: I was sent the following Yonanas Classic in order to facilitate this review.
I love ice cream, okay I love cold treats in general. Warm food, cold drinks and treats. That's me!
So when I first heard about the Yonanas machine I wanted one, but I have a (mild, but still there) allergy to bananas! What a bummer. 🙁
But when I found out that you can use different fruit with the machine, and didn't have to use banana at all? I jumped for joy!
I asked if I could try a Yonanas Classic and.. well, here we are!
The Banana Free Yonana's recipes  include things such as Apple Sorbet, Melon Sorbet, Mixed Berry Sorbet, as well as a Perch and Cherry Sorbet. Yes yes, there are more flavors of course, but those ones just sound amazing don't they?
Of course the banana included recipes are far more than the banana free versions, but… well.. I'll survive yes? Plus if I take allergy meds I can live through eating bananas. So at times, I'm going to make some Banana Yonanas recipes to enjoy!
The Yonanas Classic is super easy to use! You add your fruit, push it in with the plunger, and out comes the healthy "ice cream" style dessert! This is going to help with my resolution to somehow manage to lose weight despite loving food. And the fact that I don't really love most fruits….
Texture wise I know I can handle what the Yonanas Classic machine makes, meaning I can get fruit into my diet without feeling like I am going to die from texture issues. *shudder!*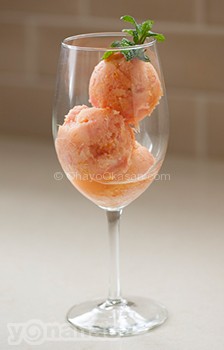 I did try one recipe while no one was around. I had to still wrap the machine up for Christmas after all. As I want the kids to be excited about the Yonanas as well!
This is the Citrus Sorbet, and… yummy! A mix of orange, grapefruit and lemon! Thankfully the lemon and orange masked the grapefruit, as I don't like the smell of the stuff at all. >.>
I love orange juice, and lemonade, but the texture of oranges and lemons (pulpy…. blargh!) isn't so great. Somehow it works really well in the Yonanas Classic though! So it's proof that I can manage somehow!
You can enter to win a Yonanas Machine on my Holiday Gift Guide Giveaway!
The machine is slightly noisier than I anticipated, but it's alright, it works well and does what I need. So it's livable. 🙂