The Fresh Fiction Box sends you Paperback books, eBooks, Author Keepsakes and more for $24.95 a month delivered!
disclaimer: I was sent this box in exchange for my review. Amazon links are affiliate links, so if you buy a book I get a small bit. Thanks! <3 
I received 3 paperback books, which by the way are romance books so if you're not lovin the romance books like I do, that's aokay! This is perfect for me! Swag items from Rose Gordon, Caramel Apple Pop, Squishy Pumpkin, and ebook codes! I don't usually read ebooks and there's some strange mental disconnect for me when I am attempting to read books on a computer. But I do have an ereader app on my tablet that I've been meaning to try and use anyway.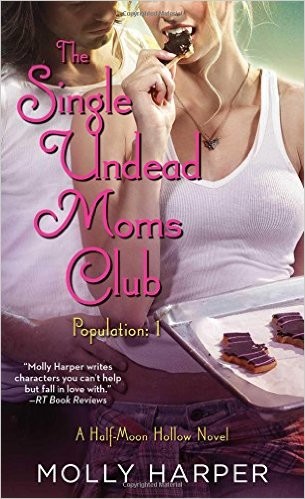 Vampires? Cookies on the cover? Wife beater shirts? Sure! Why not! This book reminded me how badly I wanted to get a new set of fangs since I broke my favorite pair many years ago. >.> Thank you Fresh Fiction Box!! hehehe You can buy Single Undead Moms Club on Amazon for $6.47
Quoting Amazon…
In the next book in Molly Harper's Half Moon Hollow paranormal romance series, Libby (a widow-turned-vampire) struggles with her transition, and finds out it sucks to be the only vampire member of the PTA…

Widow Libby Stratton arranged to be turned into a vampire after she was diagnosed with late-stage cancer. It wasn't the best idea she's ever had, but she was desperate—she's not about to leave her seven-year-old son to be raised by her rigid, overbearing in-laws.

On top of post-turning transition issues, like being ignored at PTA meetings and other mothers rejecting her son's invitations for sleepovers, Libby must deal with her father-in-law's attempts to declare her an unfit mother, her growing feelings for Wade—a tattooed redneck single dad she met while hiding in a closet at Back to School Night—and the return of her sire, who hasn't stopped thinking about brave, snarky Libby since he turned her.

With the help of her new vampire circle, Libby negotiates this unfamiliar quagmire of legal troubles, parental duties, relationships, and, as always in Harper's distinct, comedic novels, "characters you can't help but fall in love with" (RT Book Reviews).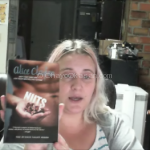 NUTS by Alice Clayton is the book that really had me bringing out my 'inner pre-teen' with a giggle fit over the name.. >.> This is one of the books included in my Fresh Fiction box. You can buy it on Amazon for $8.98!
Here's what is said on Amazon about Nuts *giggling*
The New York Times bestselling author of Wallbanger and Rusty Nailed is back with Nuts, the first in a brand new series set in New York's beautiful Hudson Valley.

Roxie Callahan is a private chef to some of Hollywood's wealthiest, and nastiest, calorie-counting wives. After a dairy disaster implodes her carefully crafted career in one fell ploop, she finds herself back home in upstate New York, bailing out her hippie mother and running the family diner.

When gorgeous local farmer Leo Maxwell delivers her a lovely bunch of organic walnuts, Roxie wonders if a summer back home isn't such a bad idea after all. Leo is heavily involved in the sustainable slow food movement, and he likes to take his time. In all things. Roxie is determined to head back to the west coast as soon as summer ends, but will the pull of lazy fireflies and her very own Almanzo Wilder be enough to keep her home for good?

Salty. Spicy. Sweet. Nuts. Go on, grab a handful.
This is the book I plan on reading first, when I'm not too busy to actually slow down and try and read a book. Which is hard with five kiddos, one of them being a toddler.
Last but not least of the 3 included paperback books in my Fresh Fiction Box would be…
Breaking Bailey's Rules by Brenda Jackson! Which you can buy on Amazon for $5.25! This will be the last one I read, because the first two paper-backs caught my interest a fair bit more. Hehehe.
Of course there are the ebooks as well, so I have a lot of reading material. This would have been perfect during the end of my pregnancy with Ris, as I was 'supposed to rest more' which was somehow my doctors half-arsed way of saying that I needed to be… yanno.. on bed rest?! whatevs…
Here is what Amazon says about Breaking Bailey's Rules
Rule number one for Bailey Westmoreland: Never fall for a man who would take her away from her tight-knit family's Colorado home. So why is she following rancher Walker Rafferty all the way to Alaska? Bailey tells herself she owes the sexy loner an apology, and once she gets there, it's only right to stay and help him when he's injured…isn't it? Before long, Bailey realizes home might be where you make it—if Walker is ready to take all she has to offer.
You can check out my Fresh Fiction Box unboxing video here, where I read a page from each of the included books, and giggle like a fool over the name Nuts. Because I'm great like that. 😛