Zoku Home offers an awesome array of products that remind me of my childhood, and help me here in my adulthood!
Though adulting is not something I would say I highly recommend. 😉 Growing up is so overrated after all!
Still, I got the chance to try out some cool Zoku products and wanted to share about them! Don't forget you can enter the Holiday Gift Guide Giveaway to win one of the Ice Cream makers!!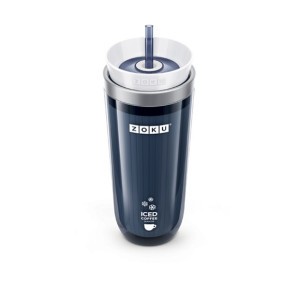 For me this Iced Coffee cup is perfect! Warm coffee makes me awfully sleepy (and makes my tummy hurt) but ice cold coffee and I are very very good friends. Still, there is the downside of using actual ice cubes in my coffee and them melting and watering things down. It's.. a bit of a bummer! Bleh..
With the Zoku Iced Coffee Cup, I just need to add coffee, milk, and chocolate syrup and wait 7-8 minutes and I'll have iced coffee, no ice cubes needed!
You do need to freeze the inner core of the cup for at least 8 hours before use, but hey, I can do that. I just wash it, toss it in the freezer overnight, and I have cold coffee in no time as needed. Without having to bust out my blender!
Which is noisy, and ice cubes… we already mentioned the problem with ice cubes.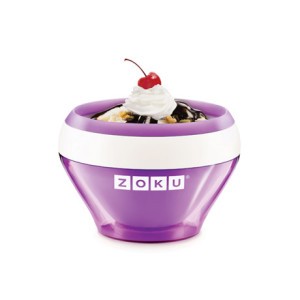 When I was younger I used to have this thing that you put the inside in the freezer for what felt like omg for-freaking-evvveeeeeerrrr before you could pull it out, put things in, and stir them up with a special paddle and handle combo to make whatever you wanted.
I often used it to make ice cream or slushies, and I wish I still had it to be honest!
But Zoku has something just like it! And it's their Ice Cream maker!
Well okay, this doesn't have the complicated handle and gears (that liked to stick and have issues when I was little) set up as when I was younger. Still, there is the 'put in the freezer' core, you place in your ingredients, and in as little as 10 minutes if you letting it be there and you stirring it with the special included spoon you've got your own ice cream, slush, sorbet, froyo, you've got it!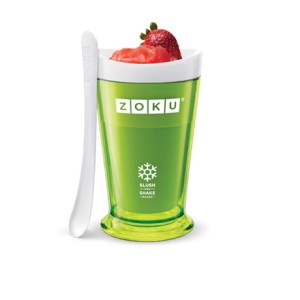 This last one is similar to the ice cream maker, but it's cup shaped, and meant for slushies. Lisi REALLY REALLY wanted this "as seen on tv" slushie cup that had really negative street (review lol) cred, so I told her it was really not the best idea.
But when I came across Zoku and found out that THEY have their own Slush Cup??
Oh heck yes! Of course I am hiding this from her until Christmas It works like the ice cream maker above, in that the spoon is a special handle you can use to scrape and mix your slush/milkshake/drink mix as it freezes up so you have something special in about 8 minutes
I can't wait to see her face when she gets this Christmas Morning.
They also say you can make frozen alcoholic drinks! So you know, there is that too. 😉
Overall I am very happy with Zoku's products that we got to try out!
TWO lucky people will get a Ice Cream Maker (a $25.99 value) in the Holiday Gift Guide Giveaway!