The RLB Art Box Studio is a monthly subscription box that costs $25 a month!
That price is for a month to month subscription, less for multiple months purchased at once.
Disclaimer: I received the following product in order to facilitate my review.
The RLB Art Box is a monthly subscription box service, and inside you'll get everything you need to make your own piece of art! You'll get written instructions with pictures and everything needed to create that months project. You don't need any experience to do the project, and the regular box is great for people ages 12+. They also offer a kids box meant for kiddos ages 5-10, just in case you have a budding artist in your home.
Here are some pictures of what I got in my art box! As well as the YouTube video unboxing as well.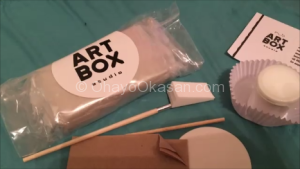 This months RLB Art Box included everything I needed to make a beautiful coiled vessel! Clay, Tools, Pain, Clean Up supplies even! Everything came lovingly packaged and ready for me to get to work. Drying times and working times were even added so you know just how to do everything you want to do with this piece.
I love getting to try new things, and new art things are even better! This is a great subscription box if you like to create, want to be able to create, or just need some art therapy in your life and really don't know where to start. Here is where you can get that start. :3
One lucky person will win the above shown project for themselves! I have one RLB Art Box shown here just to ship to the 2nd place winner of my Holiday Gift Guide Giveaway!
You too can make your own special coiled vessel!
**GIVEAWAY COMMENT TASK – Check out the RLB Art Box Studio website's special limited editions page, and let me know which is your favorite past product!**