YummySnack Bars™ are the "better-than-candy" bars.
They're made of wholesome, real-food ingredients like flaxseed, almond butter, coconut, natural peanut butter and cocoa—yet still taste like favorite candy bars!  All YummySnack Bars are gluten-free and contain only 8 grams of sugar (and no starch), are high in fiber, and contain 100 mg of Omega 3s.  They do not contain hydrogenated oils, trans fats, high-fructose corn syrup, artificial colors, artificial flavors or preservatives of any kind.   YummySnack Bars are available in six delicious flavors:  Peppermint, Brownie, Coconut, Cookie Dough, Peanut Butter and Chocolate.
Disclaimer: we received the following product in exchange for our honest thoughts.
This is what I heard about YummySnack's Bars the first time they were introduced to me. Hmmm. Well. I do like candy bars. I do also need to watch what I eat a little better, learn to make better choices, but not completely deprive myself of the things that I really love… you know? Heheh..
So, I jumped for the chance to go ahead and try out each of the six flavors. Of course the kids have gotten to try them as well. Those of them who were willing anyway!
The first of the YummySnack Bar's flavors that I tried was a Peppermint Bar. Unfortunately mine had experienced a little bit of chocolate bloom, nothing serious, it doesn't do anything much other than change appearance. I was pleasantly surprised at the taste of the bar, and though it did have a little of that 'this is healthy and not junk' type of aftertaste, it wasn't extremely unpleasant like most bars I've tried of the 'health' variety.
Though I'll have to admit I found the inside just a little too try for my liking.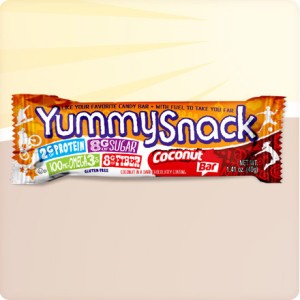 When I got home from getting Sisi (I ate the Peppermint one on the drive to pick her up from school) we sat down and tried the Coconut and Chocolate versions. Which, to our delight, both offered a good coconut flavor. Though obviously the Coconut one was more overly coconut.
The Coconut YummySnack Bar we both agree is like a "Mounds" candy bar! But… I feel far less guilty about eating one!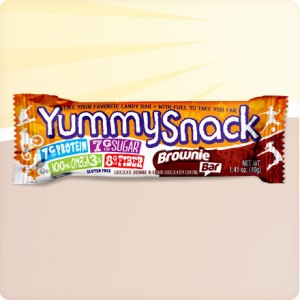 Sis and I tried out the Brownie bar, but also found that too dry for our liking. Though Var, Lisi and Risi don't mind the Brownie bar at all. No one was all too in love with the Cookie Dough variety of the YummySnack Bar… or the peanut butter one much either. Well.. Aussie liked them okay, but he is a lot less… picky than the rest of us. >.>
Var fell in love with the Peppermint bar though! So I will say that 4/6 really isn't that bad as far as variety enjoyment goes.
YummySnack Bars are something I plan to start having in the house, at least the Chocolate, Coconut, Peppermint and Brownie variety!