The Lucky Tackle Box is a monthly subscription box that sends the best brands and baits to you every month!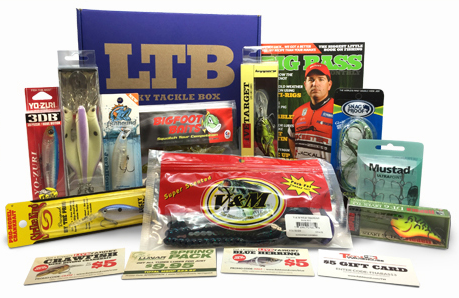 Disclaimer: I received the following product for review purposes. Thank you for understanding!
This subscription box is a lot different from what you're usually used to seeing here on Ohayo Okasan, that's for sure! But Lisi and her dad have really gotten into fishing this last summer. So I wanted to check out some cool things and get him interested in something cool too. So I picked this out to look into, and gift to him.
The folks at Lucky Tackle Box are also giving away one box to the winner of my Holiday Gift Guide Giveaway!
So, I'm awkward as usual, but I did do an unboxing and thought video. I will leave it to the video to give most of my thoughts. But first, I'll let you know that there are three different versions of this subscription service! A Bass Fishing, Inshore Saltwater, and Panfishing version. You'll get different things, and pay different prices, depending on what you do and what you're looking for!  It's so awesome to see a box with such detailed little options like this, and it's perfect!
I would highly recommend the Lucky Tackle Box if you have someone on your life that is into fishing. This would be the one subscription box they'd love! I can't wait to see Max's face when he opens his it! I hope he enjoys it as much as I think he will!
For $15 or $19 a month, depending on your choices, you can get great fishing supplies to your door monthly!
**GIVEAWAY TASK – Would you keep the Lucky Tackle Box for you? Or is there someone you'd give it to? Let me know in the comments below!**