Disclaimer: I received the following box from Glitter Guilty in order to facilitate my review, all opinions are my own unless otherwise stated.
Subscription boxes GALORE this year folks!! Are you as excited as I am? I freaking hope so! Because HOT DANG so I love me some subscription boxes. I mean, how could I not? Little surprises each month? This is so cool. Like when I was a kid and got The Baby Sitter Clubs books and special stuff every month because my parents signed me up for a subscription through one of those book forms from school and it was SO DARN AWESOME!!
So here is Glitter Guilty! A subscription box that sends you one full sized polish, one mini polish, and 1-2 little surprises each month. This month had CHOCOLATE!!!
Actually this month had a chocolate that was the owners favorite because November is her birthday month. Also Risi's birthday month, also my MOMS birthday month! November is a very busay month!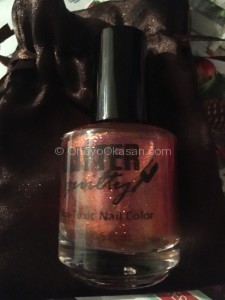 All the polishes in Glitter Guilty are actually made by the box owner, Tammi, which is awesome because these are some awesome polishes that you can even have customized! This month of course I didn't get something custom made because I am a reviewer, so we usually get sent whatever we get sent. That's actually okay, because the color this month was a perfect color for my mom. So I gave it to her for her birthday. I did keep the mini-polish, a beautiful blue… because you know me and blue. Totally in love there.
The chocolate in this months box was a caramello. Holy crap, I LOVE caramel and chocolate!
My unboxing shares more about the box and you can view it right here in the post!
You can also find out more about the box, which is just $15.99 a month, by checking out the "How it Works" page on the Glitter Guilty site! With a low price, two polishes and a special treat. I think Glitter Guilty is a fantastic box for someone wanting a new nail polish every month along with some extras!!