Disclaimer: I was sent this StarLooks LooksBook in order to facilitate my review, no other compensation was gained in writing this post. 🙂

For my Holiday Gift Guide this year, I also got a second look into the makeup subscription service that is the Starlooks LooksBook. For $12 a month you get a one of these purse sized books with 3-4 (sometimes up to 6!) 3/4 sized makeup items that let you try the newest in makeup trends, or even something up and coming!

From the get to my StarLooks Revival book looked like it was going to far more outgoing makeup wise than I am used to. I was right! With a purplish/pink and green eyeshadow duo "Agave", "Flora" mascara which is tealish, and a bright pink lip that is "Rwar"!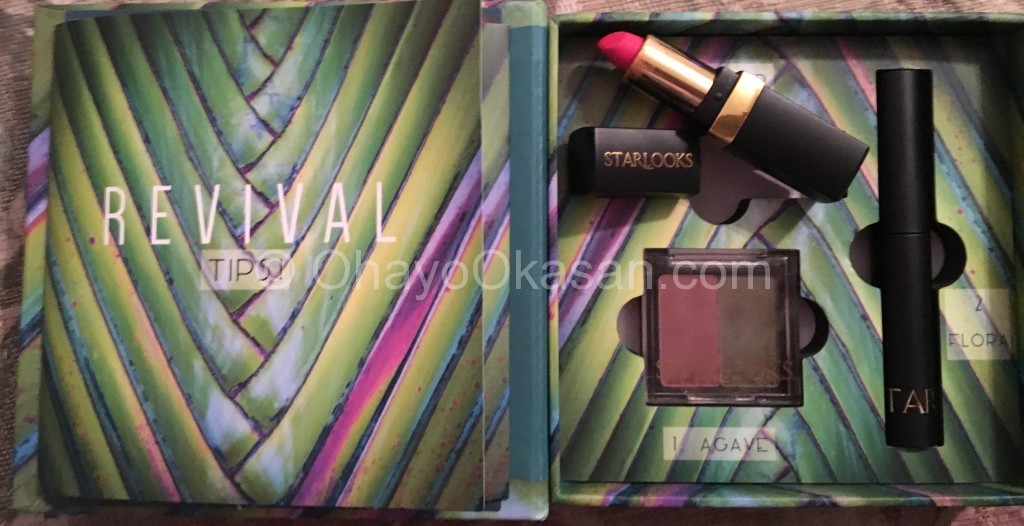 For me the colors seemed, intense, I wasn't sure I would look good in Rawr and I've never worn any color of mascara other than black! But… it's okay, because I couldn't tell much of a color when it was on my eyelashes anyway. Maybe because of the color of my lashes? It looked just fine to me thankfully.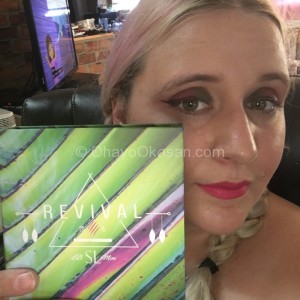 I would say the only thing that disappointed me about the Revival StarLooks LooksBook was that in their pictures of the Agave eyeshadows, they were shimmery! They looked awesome on their model. Mine… were not shimmery. So, did they use a shimmer sheer eye shadow OVER the Agave? or… what happened? 🙁 I don't know, but I was kind of bummed that might was just a flat color without shimmer. It made the look not as pretty as it did in the pictures.
In the end I did manage to survive wearing this for a few hours before I got self conscious. I think for me, I'd need something just as amazing to wear with these colors aside from what I was wearing. My favorite grey shirt and a black shirt. Still, they were good for a pop. Perfect if I was to get to go to Karaoke again. I'd get attention in this style for sure!
My little sister says I sorely need some bangs though. I think I agree, I don't like seeing my forehead and this makeup just seemed to somewhat highlight the fact that I hate my forehead. At least to me. XD My mom LOVES the lip color, and.. surprisingly I do too considering how… very… RAWR it is! Hah.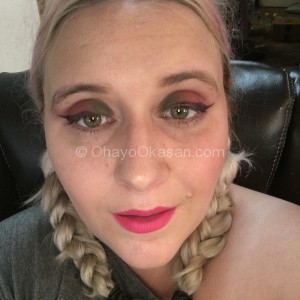 Between the two StarLooks LooksBooks I've experienced so far, I am pretty happy. Still bummed about the eye shadow though (it sorta makes me look like I've been punched in the eyes I think.. o.O;;;)  But happy with Rawr and Flora. Which my mom is happy to have found because she loves colored Mascara. So figure.
Look for this StarLooks LooksBook used the items in the book, as well as a Starlooks eyeliner that I got a bit ago. I'm still not great at it, but I managed at least… somewhat? 😉
You can check out Starlooks for yourself and subscribe! $12 a month (free domestic shipping!) gets some great makeup to your door every month!