Disclaimer: I was sent the NewAir AH-470 Space Heater in order to facilitate my review. No other compensation was gained in writing this post, all opinions are my own unless otherwise stated.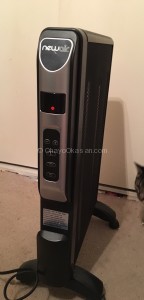 As the cold weather comes and slams me with all the force of a truck, my aches and pains tend to go up. My bedroom is the coldest bedroom in the house, due to the small size of the heater vent for the regular house-wide heater. So I've been using a different space heater, it's loud, the type that blows warm air and all that, which is annoying when your someone with sleep issues enough already.
So when I was offered a NewAir AH-470 Space Heater to review? Well, of course I wanted to give it a try! I'd never tried a Micathermic space heater before! So I wanted to experience one for myself.
I would consider my bedroom to be about medium sized, I guess, and when it's cold in there it's a lot harder to sleep. I don't turn the heater up too high, usually about 67.5* F, and it's nice that the NewAir AH-470 Space Heater allows you to set the temperature in 0.5* increments. It allows me to get the temperature just perfect for me!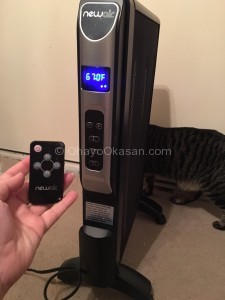 The included remote means I don't have to get out of bed if I'm too cold, or too warm, and just too tired to get out of bed. As someone suffering from Fibromyalgia I need sleep at night, not to be getting in and out of bed messing around with a heater! Now, I personally keep the NewAir AH-470 Space Heater with the little Micathermic panels facing towards my bed. It seems to warm up better that way, and I don't have to see the light on the panel.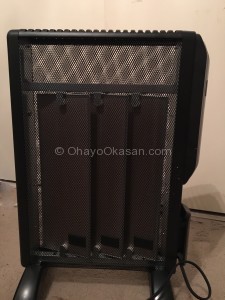 Usually, this is how I see the space heater at night. I like it just fine this way, and it suits my purposes perfectly.
On the picture above you could see that the NewAir AH-470 Space Heater has buttons on the panel, as well as a place to wrap up the cord when not in use. The wheels on the legs (that you need to screw on yourself, but it's not difficult!) make it easy to move the heater from one room to another. It's light weight, and if I am cold out here by my desk (sometimes no matter what I wear, I feel freezing!) I can manage to bring it to me and plug it in and get it going in no time.
You can see my little YouTube video about the NewAir AH-470 Space Heater here!