Disclaimer: we were provided with two complimentary tickets to Legoland California and the Legoland Sea Life Aquarium. I did have to purchase a 3rd ticket. All opinions are our ownunless otherwise stated.
Our arrival in California had been marred by a flight landing late, a missed connection, a new flight, and a bad map to the hotel on my cell phone. Still, after getting some pizza and then a good nights sleep in our hotel, it was on to our first destination!!
In this case our first destination just to happened to be Legoland California! Now, there wasn't a Legoland anyplace back when I was a kid living in California (I'm originally from Bakersfield, CA) so as someone who has loved Legos since she was little, this was going to be fun! Even if just visually, as I wasn't sure if I'd fit on any of the rides at my current size.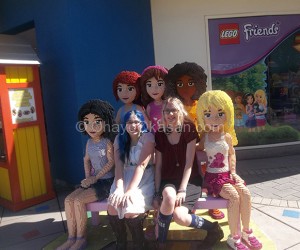 When you first enter the gate into Legoland California you'll see these girls off to the side. Lego Friends weren't a thing when I was little, but they are currently something Lisari loves, and I am sure Risi will too once she's big enough to play with normal sized Legos.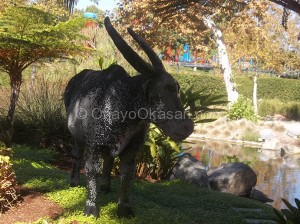 From there, you'll see an amazing display of all sorts of creatures and statues made purely of Lego bricks! I took a ton of pictures, but had to try and limit myself as to not overload the post too much. So only my absolute favorites are included here. Look at this guy above! He's awesome!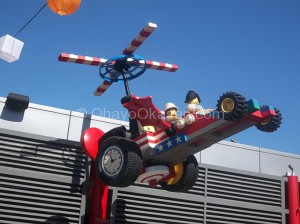 Lego structures all over the place, even up in the air like this flying car/plane with giant Lego people. We figure they've got to glue these things together with something pretty strong to withstand being up all the time and the elements. Thankfully the day we went the weather was positively beautiful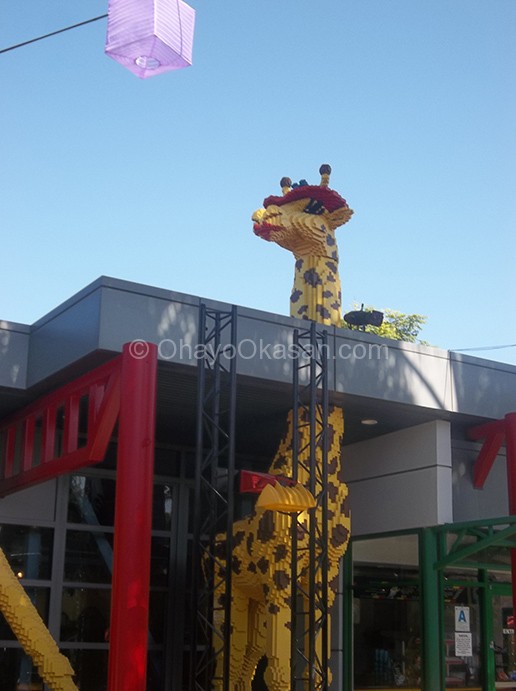 Quickly, the girls pointed out that the head on this giraffe structure was moving! Indeed the head went from side to side as if it was attempting to look around the park after poking its head through the ceiling! Everything I've seen so far really made me want to sit down with a giant pile of Legos and just build/play.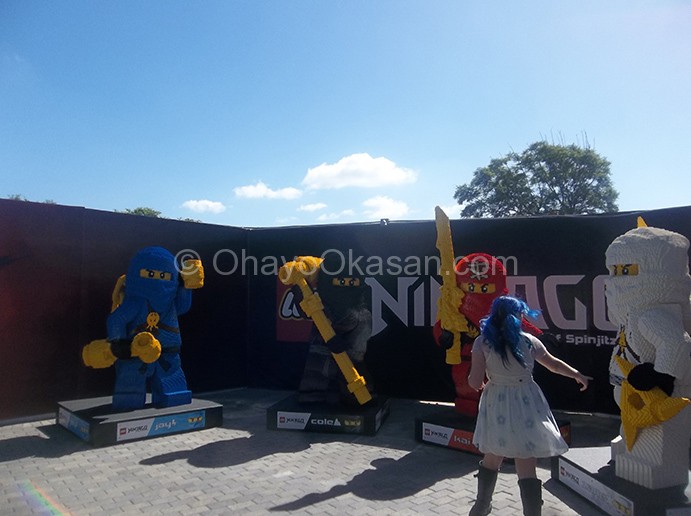 You can see the Ninjago guys at Legoland California, and as you can see above Sisi is pretty excited about this guy here. You know why?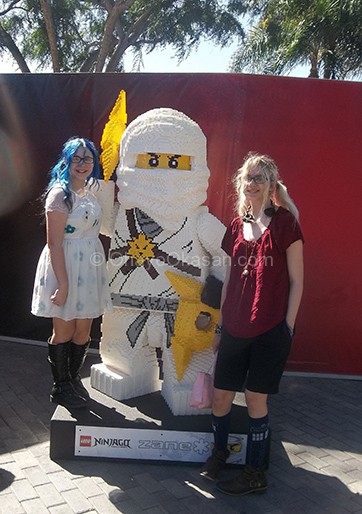 His name is Zane! Sisi just so happens to have a friend with the same name, and he LOVES Lego! So we thought it was pretty darn cool to see a Zane, in Lego form. Of course you knew I had to take a picture of this one!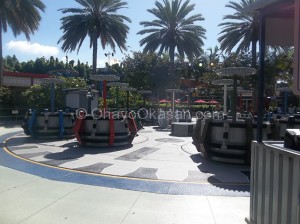 Our very first ride was the BIONICLE Blaster located in the Imagination Zone! This ride spins you around when you spin the metal disk attached to the pole in the center. I always have a hard time with rides like these, as I never seem to be able to pull/spin the disk enough to get a fast spin. With the girls though, we were able to spin and really go for it!
From there we went on the LEGO TECHNIC Coaster, which Kat was a little nervous of (she's not an overly thrill ride type, which is why I thought Legoland would be great for her!) and actually enjoyed it a fair bit! It's not an overly thrilling, fast, scary type coaster, but it was enjoyable in its own right. Just perfect for littler kiddos and those who aren't into the overly high-intensity things. I didn't get any pictures of this ride, because the line moved quickly and we were in and on the ride in no time!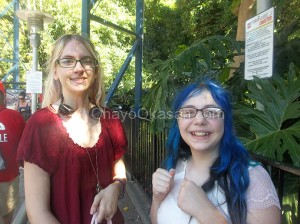 Next it was over to the Land of Adventure, and a wait in line to experience the Lost Kingdom Adventure. Where you sit in a car with blasty laser guns and attempt to hit little targets during the trip! I think on this one Sisi ended up getting the most points. 😛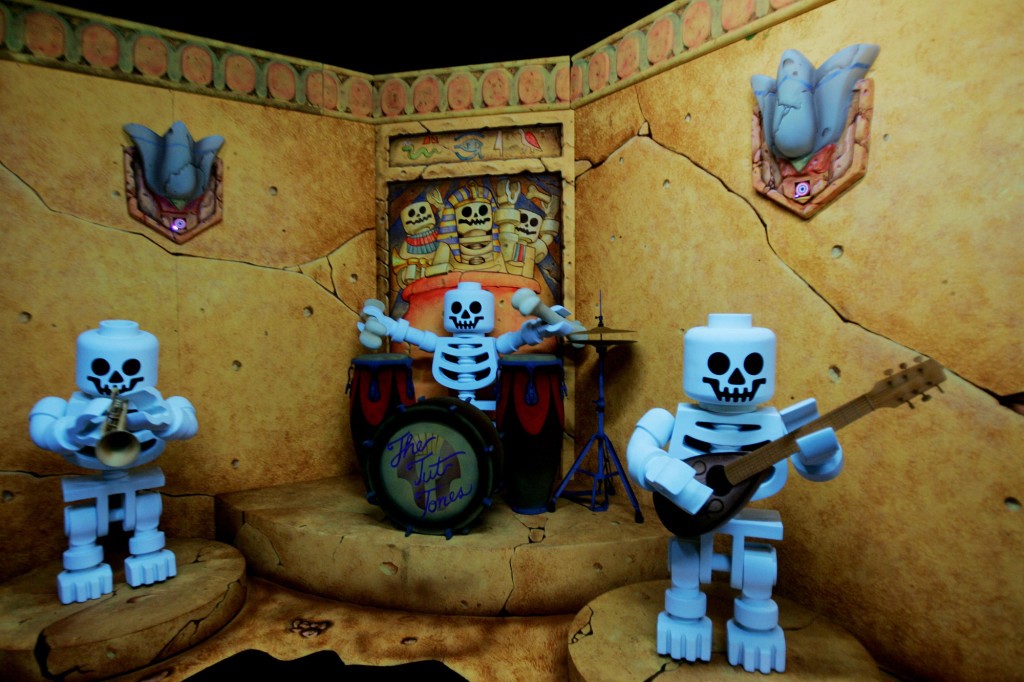 Inside you see some cute little sights, like thsee guys playing some musical. You can see the little targets over by the decorations at the right and left. The targets are small, which added a bit of a challenge!!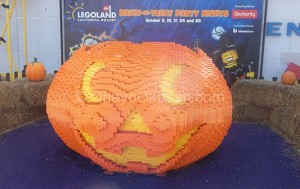 As it's October, Legoland California is decorated with many Halloween themed things. Like this giant pumpkin!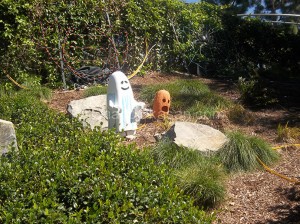 As well as the large sized Lego Ghost guy!
We rode a few more rides and from there decided to check out Miniland USA, which was awesome!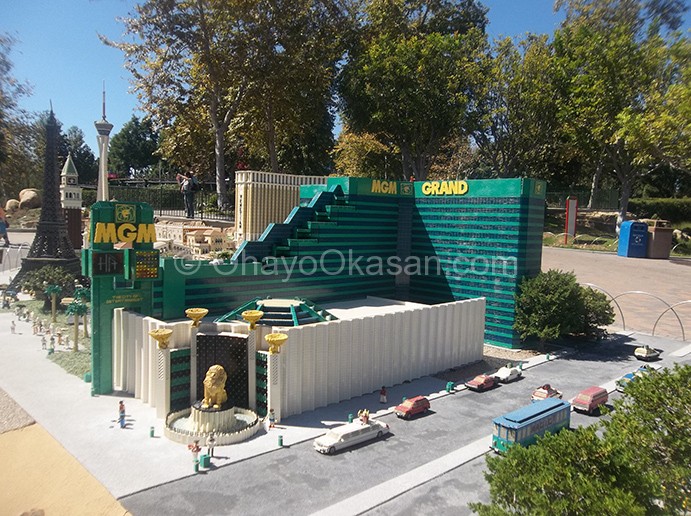 You can see Miniland Vegas!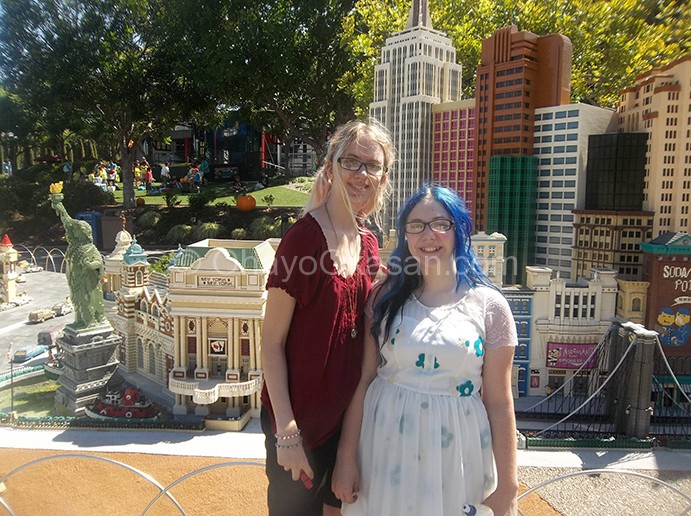 Miniland New York!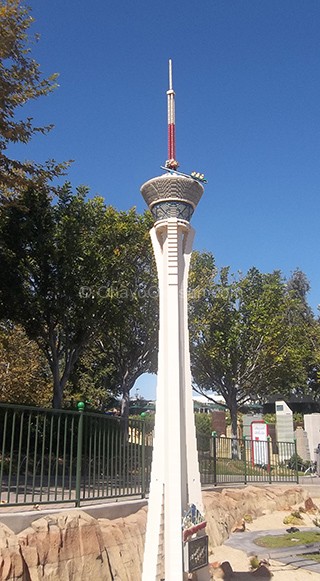 I forget exactly what the above is, but up on the top point, part of it went up and down. Which I thought was awesome! So many things to see in Miniland. Including little trolley's that moved, boats you could control (and some that moved on their own), lego people in all shapes and sizes!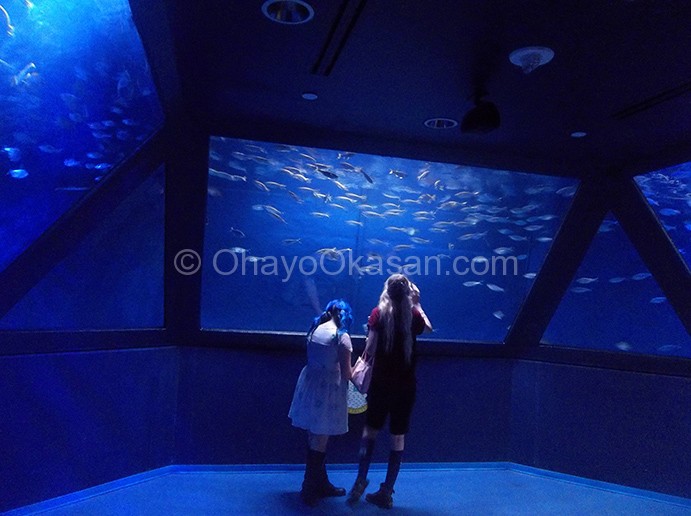 Our tickets also allowed us to go view the Legoland California Sea Life Aquarium. Our nearest Aquarium is clear over in Seattle (about a 6 hour drive) so we tend to REALLY love going to aquariums whenever we have the chance! I think for Kat that this was the highlight of our adventure in Legoland. Why? Sharks! Black tipped sharks are one of her favorites.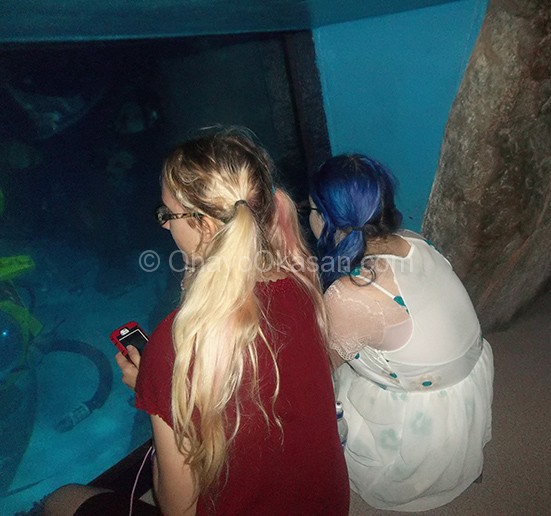 We spent a long time in the Aquarium, lots of it watching the sharks and rays.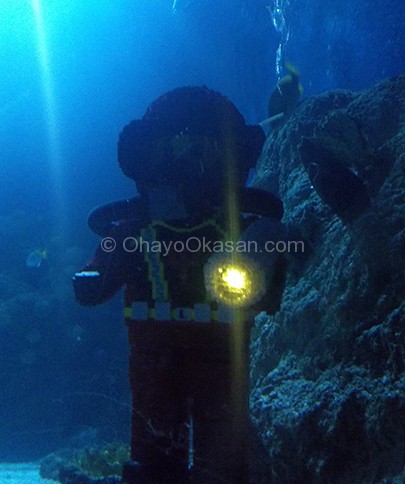 Of course there were Lego figures and structures even in the aquarium, which the sea creatures never seemed to mind. Of course they're probably all used to it.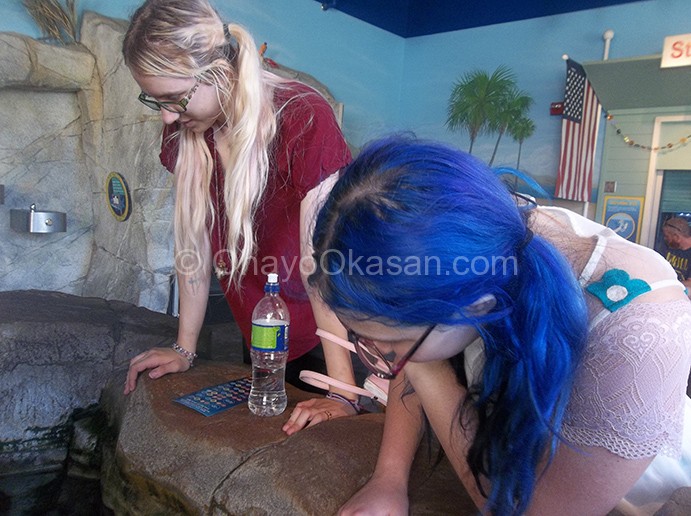 The touch tank area was another favorite! Lots of creatures to touch *GENTLY* and Sisi seemed particularly in love with this section.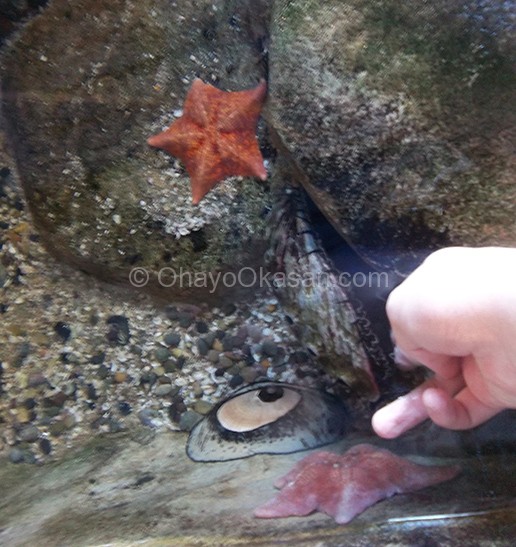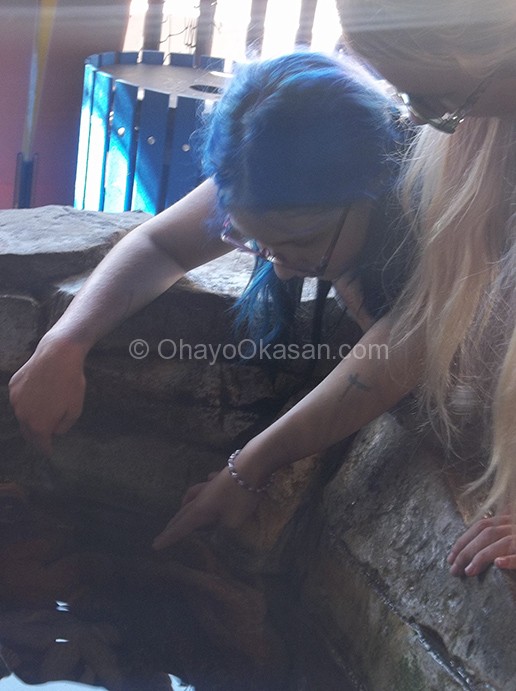 Of course, Kat loved it as well, me too… I did touch things. Even this it was kind of strange at first. 🙂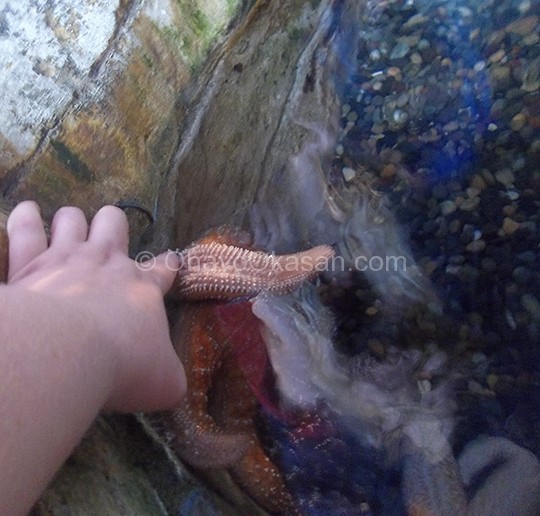 This Starfish eventually put out one of it's arms and let us touch the underside. Which was strange, somewhat sticky, and moved a little as we touched it. If you hold a finger there long enough it will attempt to grip it!
Our time at Legoland California was so much fun, and I am glad we got to come. Of course, next year Var and Lisi are wanting to go as well. So I'll be travelling down to Southern California again to take them to fun places like I took Kat and Sis. I think they'll enjoy Legoland a ton and can't wait to visit again in 2016!