Disclaimer: I received the following items in order to facilitate my review.
Another month, and another box of delicious goodies from Gourmet Gifter!
This month I received Cinnamon Sugar Sensation popcorn from Colby's Kettle Corn, A Caramel Crisp Treat, another PurEarth Nutrition Bar, and Butter Toffee Peanuts.
Can you guess my favorite? 😉

 I'll start with the Caramel Crispy, basically a rice crispy treat with caramel, this was surprisingly good considering I am severely picky on my rice crispy treats. Lisi loved it the most so she ended up finishing it off. 😉 Ah well, such it is!
---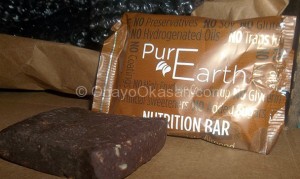 I'm starting to just think that nutritional bars aren't for me. I didn't like this one, and I did try and give it a shot. This is the Pur Earth Cherry Chocolate Almond bar. I'll pass on this one. The texture is strange, it's a little gritty, and even though there are times I like cherries in things, this is not one of those times.
---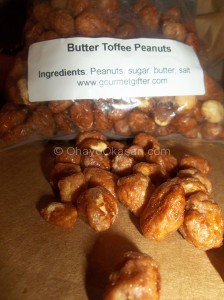 If you guessed that THIS was my favorite, you'd be spot on! I don't really eat peanuts that often, as I prefer almonds, but hmmm… these Butter Toffee Peanuts from Gourmet Gifter are DELICIOUS and worth every last cent.
$6 for an 11oz bag isn't all that bad either if you ask me. Yummy. I refused to share these ones because I loved them that much!
---
 For something with Sugar within its name, the Cinnamon Sugar Sensation fell… flat. There wasn't really anything sensational, and every piece just tasted like popcorn with some cinnamon (and no sugar?) sprinkled on.
In the end the flavor was underwhelming, flat, with no sweetness. I even made sure to shake up the bag before I opened it to try some. Var liked this though, and so has everyone who has left a review on the Gourmet Gifter website!
Overall, remember that my opinions are just that… mine. I may not love things that other people absolutely love. That's okay, that's life and being human and having differences in tastes! There are a lot of great things in the world that I love that other people don't find great, and vice versa. 🙂 Perhaps you'd love the cinnamon sugar sensation popcorn! It has great reviews on the Gourmet Gifter website. 🙂