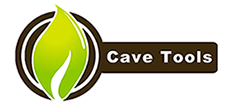 Disclaimer: I was sent the following product in order to facilitate my review, no other compensation was gained in writing this post. The Amazon link is an affiliate link, so if you purchase through Amazon I would make a small amount and be grateful!
One thing that has been a problem for me when I'm cooking is worrying about temps of meat. I have a regular meat thermometer… well I did, until it fell and no longer worked. I don't know how it broke so easily. Or why it was put in a careless spot. Or who got at it. But there you go. Plus, digital is so much quicker. Yeah?
Somehow this little tiny thing works so amazingly well! You can order the Instant Read Digital Cooking Thermometer both on the Cave Tools website, using the first link I posted. As well as on Amazon!
Here is a little about their instant read thermometer and why it's considered the best!
4 – 6 Second Read Times So Your Food Never Gets Cold
Accurate Within 1°F So You Always Have the Exact Temperature
Re-Calibratable So Your Thermometer Stays Accurate For Years To Come
100% Stainless Steel Design Is Shatterproof & Waterproof…It Will Not Break
Fits In Your Pocket For Convenient Use and Easy Storage
Replaceable Watch Battery With Auto Off After 10 Minutes For Long Lasting Battery Life
Large Digital Display – Buttons Spaced For Big Fingers – Max Temp Recall And -40 – 450 °F Range
This thermometer isn't just used for meat. I haven't tried it in candy yet, but I think the temperature goes up high enough that I could easily use it for candy without issue. Plus it's calibrated and ready to use right out of the box!
Here is what I think are the pros of this thermometer based off my use.
Super fast! It seemed like it only took two seconds before I had a reading of the temperature of the ribs I was making. I ended up somehow with them cooking to a higher temp than the package said, even though I followed the directions. When I tested this with ice water I got an accurate reading too. Not just in hot products.
2. Protective case protects the insertable tip, and has a pocket clip so you can keep it with you when you're grilling. No worries about setting it aside and losing it. >.>
3. Large LCD display that can be clearly seen even though I'm without glasses right now. The numbers are large and it even specifies on screen if you're looking at temps in Fahrenheit or Celsius.
4. Easy to touch, well spaced buttons mean you're not accidentally pressing something you don't mean to touch! I hate trying to press a button on something and ending up with the wrong button being pressed. I'd say it's 'fat fingers' but my fingers are pretty normal sized I think. 😉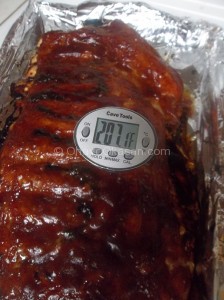 I am very impressed with the Cave Tools Instant Read Digital Thermometer, and look forward to many other uses of it in the future.