The Born Pretty Store offers an amazing array of products, from Jewelry and Accessories to nail art supplies, makeup and more.
Disclaimer: we were sent the following items in order to facilitate this review, all opinions are our own and no further compensation was gained in writing this post. Links are affiliate links, meaning I'll make a small commission if you purchase the items linked.
Kat really loves to wear all sorts of necklaces and jewelry, and I knew that we could find all sorts of beautiful things on the website that would suit her. The first of which being this Dual Layer Pearl Necklace Water Drop Pattern Metal Chain Posh Sweater Necklace.
It's a big chunky necklace as you can see, but Kat rocks it along with her other beautiful necklaces and things that she wears pretty much daily. She switches between this necklace I got her from the Born Pretty Store, and one that she got locally at the mall.
The price for this necklace was well worth it, and the quality is astounding considering the price point!
The second item we got was this lovely 2Pcs/set Water Drop Crystal Earring Shining Rhinestone Ear Cuff Ear-hook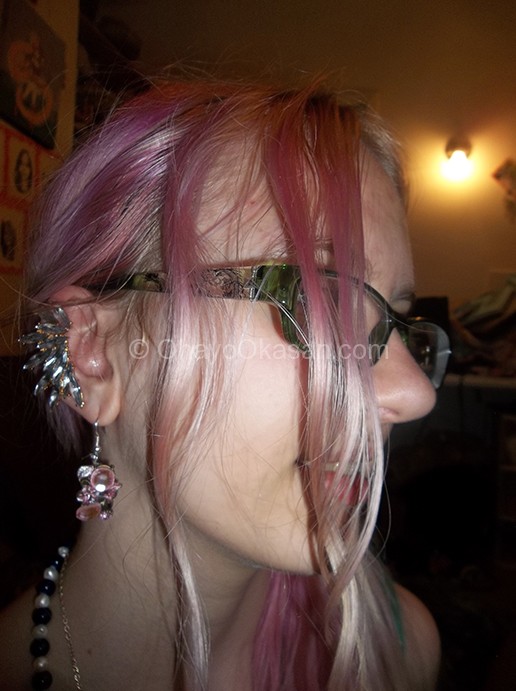 It did come with a small second earring, but Kat was already wearing her earrings so I didn't make her change for the picture. When I wear this, I wear with the little stud earring that goes along with it. If you want to wear this on both ears, you'll need to purchase too sets. Still, at the prices offered, it's a great deal!
With my special code you can get 10% off any non-discounted items that you order at the Born Pretty Store!
They also offer FREE shipping WORLDWIDE. So no matter where you are in the world, you can get your items without worrying about the expense of shipping to you.