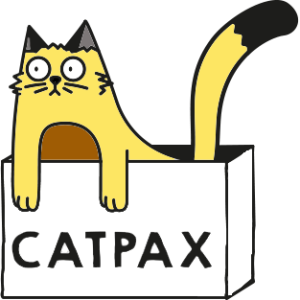 As I've mentioned before, we love subscription boxes. Even the kitties deserve subscription boxes. CATPAX is one such box, and of course the kitties are always happy to get some neat mail. 🙂 More so when mom opens it up and it's for them!!
Disclaimer: we received the following item in order to facilitate my write up, no further compensation was gained for writing this post.

One of the great things about subscribing to CATPAX is that the fine folks behind the box give 10% of their proceeds to help cat shelters and rescue groups. That's a purrfect reason to give some love.
This box featured four items, the favorites of which were the Catnip Ice Cream Cone, and the Garlic Chicken Jerky.
You can find the two etsy shops at the following:
Catnip Ice Cream Cone via Etsy: https://www.etsy.com/shop/forpawsandhome
Dexter's Chicken Jerky: https://www.etsy.com/shop/DextersChickenJerky
In the end, I accidentally forgot to put the chicken jerky in a safe place the second time I gave some to the kitties. Kimi got at the bag, drug it into the kitchen, and tore it open. So the cats all enjoyed a feast of delicious chicken jerky compliments of their CATPAX box.
Overall this is another good monthly subscription box to enjoy with your feline family members. 🙂