This is a sponsored post with Mums the Word Network and Amwell. All opinions are my own.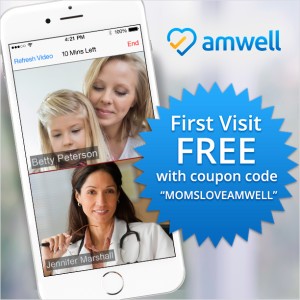 I've never actually considered going to a doctor online before. I mean, perhaps it is the way of the future. But I'd never really thought of it being too possible… you know? Then I heard about Amwell, and well I was surprised at how awesome the experience truly was!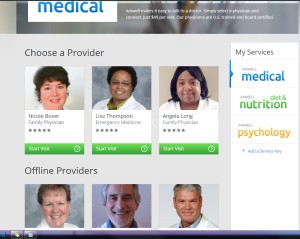 First things first was the experience of getting to choose a provider for my needs.
Risiel has eczema and is usually just fine, with maybe a patch or two that comes back. But just yesterday ended up with a rash all over both legs that left me wondering what are my options over such a large area! You know? She's my only kiddo to ever have eczema. So I wasn't sure what to do.
It's hot, so it might have just been a heat rash. I wasn't even sure how often I SHOULD be putting moisturizer on her.
Instead of calling and trying to get an appointment, driving there, and having Risi scream at having a doctor touch her. I was able to go on Amwell, find a doctor who could look at her over web cam.
Which is an interesting experience for sure!
I picked a Family Physician from the Medical services offered. As you can see they also offer Diet & Nutrition Services as well as Psychology services through Amwell. Super cool! They take all kinds of insurances, and even have the ability to prescribe medications to a local pharmacy!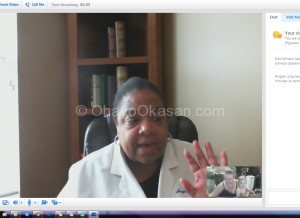 Doctor Angela Long was the Physician I selected for my appointment for Risi. Instead of having to leave the house, deal with the hot cat, traffic and everything else. I just had to talk to Angela via webcam, and then hold up Risi so she could see what I was talking about. Risi handled it well, which is great considering how she USUALLY takes to going to the doctor.
You can use Amwell on your cell phone, tablet or computer, and connect via video to a doctor who can help you with all sorts of things. I didn't feel rushed, even though our appointment length was only ten minutes. I finally feel like I have good answers to what to do with Risi, and suggestions that'll be easy to take care of her Eczema should this occur again.
Dr. Long was able to prescribe a low dose steroid cream to help get Risi's rash under control and I'll be able to go pick it up when she's down for a nap (no I am not leaving her alone! She has older siblings home.) In no time, just a snap!
You can use the code in the first picture of my post for a FREE visit through Amwell, and then the following code: LOVEAMWELL10 for $10 off a visit that is $39. You put the code in after you've selected the provider of your choice, and get to the payment method part. It's a coupon code. 🙂
Dr. Long was very friendly and my experience using Amwell was great! I will for sure be using the service again for other minor appointments in the future and looking into what my insurance covers on it for things that I myself need.
Here's a cute little video from Amwell, that shows pretty much how I feel about loading up for a quick visit to the doctor! Do you feel the same?