Oh hello summer!!
While we have a small swing set with a slide in our backyard, as well as an above ground pool, sometimes it's just a lot more fun for the kids to go out and play with other kids they're not related to. Plus.. well… one of the nearby parks got a massive upgrade from what it used to be. It now includes many play structures, two swing sets, a pretty decently sized splash pad, and an area that even Risi can enjoy! It's perfect for helping us enjoy summer break! I just need to get myself to get the kids out and about to enjoy it more. Though with my 'one hour minimum outside time' rule. That wont be too hard!
This post is sponsored by the Voice of Play.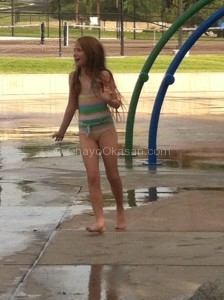 Now that it's summer and the temps are climbing like crazy (it's going to be 108 F here on Sunday!!) getting out and having fun in the water is one of those things I'm glad we at least have the option for. Last week I took Lisi and Risiel to this newer park, and let them first play in the splash pad, which Lisi loved and Risi wasn't so sure of, and then change into normal clothing to play on the regular parts of the playground.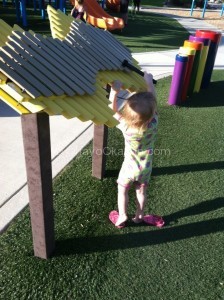 The smaller kids area for ages 2-5 (Risi is the size of a 2 year old.. so.. I let her play, and I've seen younger kiddos there too..) includes musical instruments like the marimba type one you can see Risi playing above! The ones you see in the background? They're drums!
There is free parking at the park as long as you're going to be there two hours or less. Usually after about an hour and a half I'm at my limit of time spent in the presence of the public (my anxiety hardly even allows that sadly!) and the kids are sufficiently worn out!
I can't wait to take the kids to spend some more time at the park so they can run out some energy and get to enjoy the lovely weather! We'll be packing lots of water and perhaps some snacks next time of course!
Do you have a favorite community playground or school playground where you live that you'll be enjoying this summer? I wish we had public pools here. The lake is usually busy with tourists this time of year… but at least we have this park so far!!