On the 7th, Var turned 10 years old!
Yep, he finally turned double digits, and somehow we've survived it. 😉
I even survived the 14+ hour work on making an Ender Dragon Pinata!!
I was in charge of making the Pinata for all the bigger kiddos. It was also very highly requested that I make sure it was SUPER sturdy. As it was going to be being beat up by the bigger kids.
So to make sure the pinata was strong enough to ensure that everyone would have fun as we said happy birthday to him, I was told to use duct tape.
Yep, an Ender Dragon pinata, and it's HUGE!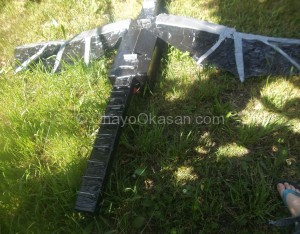 So I did! In fact this used almost 14 ROLLS of duct tape! It is also over 6 feet long, and was heavy as heck even before the candy! Also, I would have to say that the things were the worst part of making the Ender Dragon! Really, I ended up having to try and make a fabric of sorts out of the duct tape, but not doing very well at it! I ended up using an entire roll to make a rectangle and then I had to try and make things work shape wise based off of what I saw on this picture of the darn thing!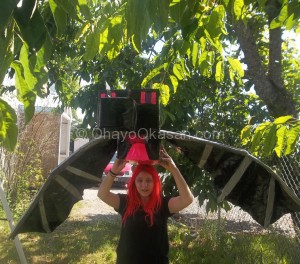 As you might be able to tell, I actually messed up on making the left wing look the same as the right wing. I was so tired, and so fed up from going to a store time and time again because I kept running out of duct tape!
Officially, the Ender Dragon doesn't have a pink stomach, but I decided that since Var REALLY likes pink. Plus I wanted to make his birthday a happy one, I had to add some more pink. So there I did it! The belly, a small bit of the neck, and down the tail I had some nice pink duct tape!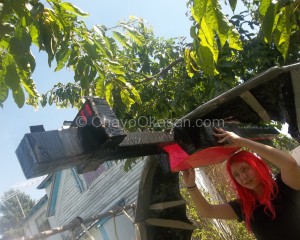 In the end I do believe had a happy birthday! His gift from his sisters was a bag of his favorite snacky junk food. BBQ Wavy Lays, Flamin' Hot Cheetos, Little Debbie Brownies, Chocolate Poptarts, Sour Patch Kids, and Sour Skittles!
From Aussie and I he got two Minecraft plush.
He ended up with two $20 Steam GC's which is awesome because he REALLY wanted GC's
Plus two of the Peashooters from Plants Vs. Zombies! Which you can purchase from Amazon, this thing is cool!
He also got a headset from his friends, sadly it didn't end up being one that worked mic wise. :/ Darn, bad luck there. But it was sweat of them to bring him things (they gave him one of the GC's and the headset.)
All in all I'd say he had a great day! We took awhile, but I did manage to get all the kids out for birthday ice cream as well!
Have you ever tried to make a Pinata before? I've got to say that after the Ender Dragon here (which by the way the kids had to resort to stabbing it with a stick and then finally just ripping to shreds because no one could best him!) I am not sure I ever want to make one again!