The Northwest contacted me to be part of my Best of 2015 line up! I accepted, and am so happy to share with you the awesome Pikachu blanket I got for Sisi!!
Disclaimer: we were sent the following product in exchange for our honest opinion, no further compensation was gained for this post, and all opinions are our own.
The Northwest is known for producing the best blankets in the game and offers items in a variety of themes ranging from sports to entertainment, such as the popular hit Frozen. Whether you are trying to keep warm during the cold winter months or relaxing by the pool during the summer, The Northwest has you covered.
One thing I like to make sure of is that the kids are happy when it comes to what they have for bedding. Hey, you have to be happy where you are sleeping, and having bedding that fits you is pretty important. At least to me anyway!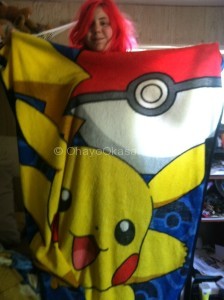 So I was intensely thrilled with the fact that The Northwest offers such a great variety of blankets for so many different likes! They even offer a My Little Pony throw blanket that is fantastic and features five of the "mane six" though I am not sure why Raritry isn't there. They also have a Rainbow Dash hooded throw blanket that is positively adorable!
It's not exactly very easy for me to find Pikachu bedding and things as Pokemon has moved on to newer creatures and you can find a lot of them, but not as much of Pikachu as there was back in the day when Pokemon first came to the states (I remember the days) and so many (like me!) were Pika-pals! Err… fangirls… fanboys… obsessives! Hah. >.> No, really, I loved Pikachu (okay okay still do!) back in the day.
Sisi loves Pikachu too, and thankfully is small enough that a throw sized blanket, which in this case is 46″x60″ is a pretty good size on her. Thank goodness for being relatively short eh Bear? 😉
The blanket is so soft I almost wanted to take it, >.> but I have my own comfy blanket even if it's not cute with Pikachu. >.> Sisi is a blanket hog, do her having another cuddly soft blanket, more so with how could it can get up here in the Inland Northwest like we have, is a good idea!
The Northwest offers a wide variety of sports themed products that aren't just throw blankets. They have things for your car, your bathroom, and some rugs too! I wish they had a Pikachu rug, or Hello Kitty rug. I still want to Hello Kitty up our kitchen!
Do your kids have favorite characters that they have in their bedding and other items? I've never really been one to wear character themed clothing, or clothing with too much in the way of designs or anything like that. Though my kids don't seem to mind it!