This easy dollar store craft is perfect for ambient lighting at a party or just to put in any space to add a touch of warmth and prettiness.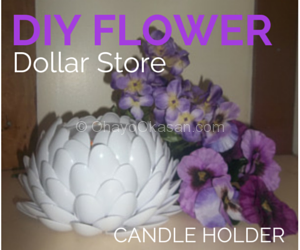 My first Tutorial Tuesday in foreeeeeeeeever! I really have got to stop slackin'!
Sometimes, craft inspiration comes from the most unusual places. I saw a video on Facebook of someone using part of a plastic water bottle, plus some plastic spoons to make a pretty lamp. I decided to do my own take on it, but I didn't want to use a lamp that had to be plugged in.
While I was at Dollar Tree recently picking up some birthday bags and other little things, I remembered that video.
Then I realized that this was the perfect dollar store craft idea!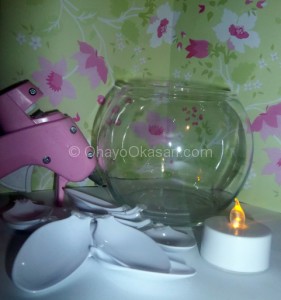 For this craft you'll need:
Hot Glue Sticks
Hot Glue Gun
Glass Bowl
96 Plastic Spoons
Battery Powered Tea-light.
Scissors
Candle
Lighter
The Glass Bowl, Plastic Spoons and Tea-light are all from my local Dollar Tree. You can buy bags of 48 plastic spoons there, putting the total price for this craft at $3.50 +tax. The tea-lights come in a pack of two, so I only count half the price per. I already had the glue gun, sticks, scissors, candle and lighter.
You might be a little confused on why you need a candle and lighter. Or maybe you get it already.
Cutting plastic spoons is not a good idea unless you soften the plastic! Trust me, I tried and had plastic spoon bits and heads flying off randomly. Not a good idea. Plus the shards were annoying as heck. No no, there had to be an easy way to get this craft idea to work out for me. Without plastic shrapnel!
This first part will require patience, a well ventilated area… or heck, do it on your porch. It STINKS!
You'll want to hold your spoon over your candle but only melt right where it is starting to bend into the head of the spoon. Like it shows at the picture. Once your spoon head starts to 'bow' and the neck there is soft enough, you have to pull it out of the flame and give it a quick cut.
Don't worry if your spoons aren't perfectly cut or straight down there, it really wont matter.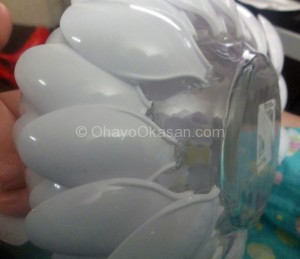 Once you have all your spoons ready you'll start at the very top of your bowl/dish. You'll go around in rows. You'll put the base of your spoon head (the neck area) for each row starting in the 'gap' of the row before it. Layering it. I tried to show in the picture (I actually had to take mine apart because I forgot to do pictures!)

Okay, so the picture at the side should give you a good idea of what I mean. You'll be doing this for every row. Just remember they don't need to be super tight as you don't want them to overlap each other as they're side by side. You'll be doing pretty even rows to be honest.
After awhile, and tons of hot glue, your pretty blooming flower candle holder will be ready to use! Pat yourself on the back! It was time consuming but now you have a pretty dollar store craft!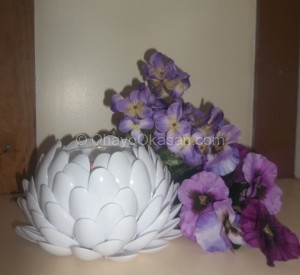 One note, DO NOT be stingy on the hot glue, otherwise you're just going to be fixing this sooner than you'd like. So much sure you have enough hot glue to really get them on there. You'll be gluing the necks on, and don't worry if it's kind of ugly under the flowers. No one has noticed the amount of glue I've used for each spoon head!
I've considered using colored spoons, but they're much more expensive. Another idea is perhaps painting the inside of the bowl with watercolor paint to give this some color. I could have also tried spray paint, maybe. I don't know. My mom suggested the battery operated tea-nights with the colored flame, so that would probably be the EASIEST option here.
In the end I decided I like mine just how they are, no color needed. In the end I was pretty pleased with my simple, but pretty dollar store craft.