It's almost summer time! You know what that means, right? Perfect weather for ice cream! Unilever Ice Cream covers names such as MAGNUM, Good Humor, Klondike, Pipsicle, and Breyers!

Disclaimer: I was send coupons that covered the price of the items we tried for this review, no other compensation was gained for writing this post.
Of course around here we have bad weather about half of the year. I'm never going to exclude ice cream just because of that though! So of course these treats are going to be AWESOME all year round!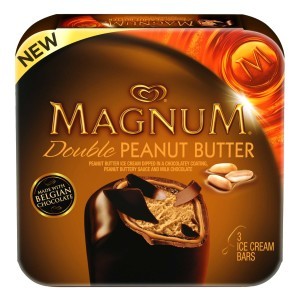 I've seen commercials for the new Magnum ice creams, and thought.. "no way is an ice cream that good that there should be this level of commercial!" That was until I took my first bite of a Double Peanut Butter Magnum – One of Unilever Ice Cream's newest offerings.
This delicious ice cream bar is made with amazingly rich peanut butter ice cream, a layer of chocolate, peanut butter sauce and then more chocolate. Not just any chocolate, Belgian chocolate.
I was stunned, from the gold wrapper down to the delicious smooth perfect taste of every last bite of these bar from start to finish. I was in LOVE.
I hope some day these come in boxes with more than three. I prefer even numbers of things so it was kind of hard at first to buy a box with three things inside. Maybe someone from Unilever Ice Cream is listening? 😉 Even numbers please!
Of course you know I love Breyers delicious Gelato. I finally was able to find the new Mint Chocolate!! Yeessssss, I love this one even more than I love the Triple Chocolate flavor I got to try earlier! You can see that review by clicking here.
Other new flavors include Chocolate Caramel, Strawberry Truffle and Cappuccino!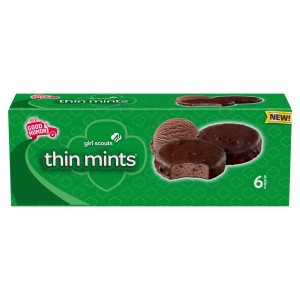 From Unilever Ice Creams Good Humor line, I got to try the Girl Scouts Thin Mints ice cream. Normally I don't love things without a stick since they tend to break and just make a mess, but this one was worth it! Risi seemed to like it, as she made a big mess of herself. Though she didn't eat the chocolate shell. Ah well, all for me!
This treat combines mint chocolate, cookie pieces and a chocolate coating with the perfect thickness and melt to it. 

Klondike has also come out with a new flavor, and it's actually the first NEW stickless Klondike variety that Unilever Ice Cream has brought out since 2012!
Cookie Dough ice cream with a swirl of cookie down and a thick delicious chocolate coating. Sadly I couldn't find this one in any of the three stores I checked. But sometimes we take a little long to get things I've noticed. Maybe it's just a downside for living in Northern Idaho?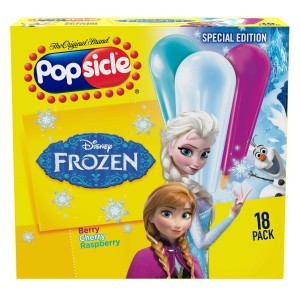 Last up for me to mention, though certainly not the least is Popsicle's new Disney Frozen ice creams!
This has to be the best combo of flavors that Unilever Ice Cream has ever come up with as far as Popsicles go! Berry, Cherry and Raspberry! Finally a box that we'll all enjoy without someone being bummed to get the least desired flavor. It happens all too often when you have five kids you know?
You can find Magnum, Klondike, Breyers, Good Humor, and Popsicle all on twitter as well!
Magnum Twitter: Click Here
Klondike Twitter: Klondike Twitter
Breyers Twitter: Click Here
Good Humor Twitter: Click Here
Popsicle Twitter: Click Here
What is your favorite frozen summer treat? Do you have a particular favorite from Unilever Ice Creams line up of brands?