If you're like many moms have that embarrassing and frustrating issue of Light Bladder Leakage. So what do you do to combat it? Use regular period pads? Why not try Poise's pads designed for LBL by picking up a Free Sample of Poise!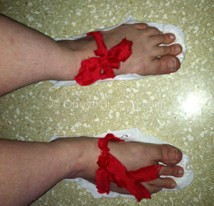 Then why not try a fun craft with your period pads that you picked up but maybe no longer need? I did, and so did many others! I decided to make silly little slippers designed to pick up any spills in the kitchen. Of which there tend to be many… because kids… and cats, you know? Hah!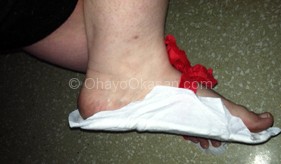 Of course, I could always just use them when I do get my period.. yanno..
But it's still nice to have something that isn't a full on period pad to help with my LBL.. which I've had since I was a kid due to a weak bladder. Yes, it's been made worse since having kids. Having five kids means it's a bigger problem than it ever was before!
So what's the big deal about getting a free sample of poise and LBL?
WHAT IS LBL?
-One in three women experience Light Bladder Leakage (LBL) – little leaks that can be triggered by everyday occurrences like coughing, sneezing, laughing and exercise.
-Weak pelvic floor muscles, pregnancy, childbirth and weight gain are just a few LBL contributors.
WHAT CAUSES LBL?
Just as no two women are alike, there's no single reason that LBL happens. Some of the most common things that lead to uninvited leaks include:
•Physical changes from childbirth, pregnancy, hysterectomy or menopause
•Being overweight
•Complications from surgery, stroke, or chronic diseases like diabetes, multiple sclerosis (MS) or Parkinson's disease
•Bladder or urinary tract infections
•Bladder irritants (certain foods and beverages)
HOW CAN I BEST MANAGE MY LBL?
Women deserve the best options for managing LBL. Whether you leak a little when you laugh, or sometimes have a sudden urge to go, Poise gives you one less thing to worry about any time of day or night. Our pads and liners are specifically designed for LBL, which makes them an easy choice for the 1 in 3 women with light bladder leaks.
FIND YOUR PERFECT PRODUCT
Stay fresh and confident with Poise® pads and liners. They're designed specifically for Light Bladder Leakage (LBL), which make them an easy choice for the 1 in 3 women who experiences LBL. You can get a free sample of poise today on their website, and experience it for yourself.
POISE THIN SHAPE PADS
Designed to move with your body, new Poise Thin-Shape pads feature Super Absorbent Material (SAM) and a Thin-Flex design for extraordinary protection that's still 3x drier than period pads† to help you take care of leaks with confidence.
Don't forget to get your free sample of Poise today!