Yesterday was a busy busy day! It also marked Kat's 1 year checkup for her spinal fusion due to her scoliosis.
It took awhile to actually have the doctor come in the room. Thankfully she brought her 3DS and played Animal Crossing? While we chit chatted and waited. Not like it was going to be a long appointment.
These appointments are always kind of plain actually! Go in, have x-rays, see how her scoliosis is doing, if any changes and things like that. She's a year out from surgery tomorrow (April 30th) officially, but the appointment was yesterday.
It's amazing how quickly we went from her being diagnosed with having Scoliosis, to getting surgery done! It was less than a year between the two, but her spine wouldn't stop shifting and getting worse. Plus with her losing the ability to balance without severe difficulty and being in pain all the time sucked a LOT.
So here we are. I swear sitting in the waiting room while they worked on her spine was one of the most difficult things I've ever experienced. Below are her X-ray's from right before surgery, 6 weeks after, 6 months after, and then finally 1 year (aka yesterday Tuesday April 28th)

She was standing a little different for yesterdays picture compared to the one at the 6 month post op. While it looks like the bottom curve is worse than it was before, it actually hasn't shifted at all. They didn't fuse her down to the bottom of it as it would have taken away her ability to bend at the waist. Which I understand why they didn't do that one.
She had (obviously) an S-curve for her scoliosis, being 38* and 47*. I think the surgery did a lot for her! Ask her on a day that's not overly cold and she's in no pain. Yes, having metal in your back is going to make you a little more sensitive to cold. But she's not the only person I've met with this type of surgery that says the same thing.
After a very brief talk with the surgeon who did her surgery, he took a look at her scar, had her bend over so he could see her back, and then allowed me to look at the X-rays and take a picture.
The care coordinator then followed us out and chatted, asking if Kat would be willing to talk to other kids having to go through the same thing she has. Of course she said yes, because she's awesome like that. She could have said no. I mean it's got to be a bit of a pressure to try and help someone through this kind of thing. I don't know, I know that I had the hardest time handling the very idea of her having scoliosis and then needing surgery!
Though here we are, a year out. The lovely folks at Shriners Hospital for Children in Spokane, WA did a fantastic job of taking care of her both before, during and after the surgery. We're truly lucky that they're only about 40 minutes away from us.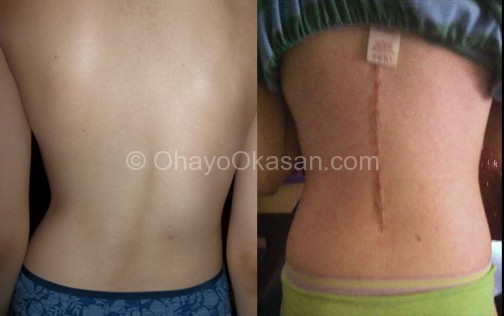 Just for reference, the picture above shows Kat's back both before and shortly after the surgery. You can see how crooked she was, and then how much better the surgery really made things!
Of course the scar has faded, and all that jazz. So many people have various suggestions for tattoos she could do eventually to cover it of she wanted. Kat doesn't care who sees this scar. Why would she? This scar is proof of her strength despite being only 13 years old at the time of a very major surgery. Scoliosis is scary, surgery is scary, but it's not the end of the world and if it's affecting your life as bad as it was affecting hers, then surgery is something that if your doctor suggests. Is probably the best course of action.