As part of our Best of 2015 showcase I would love to introduce you all to G.H Cretors Chicago Mix Popcorn!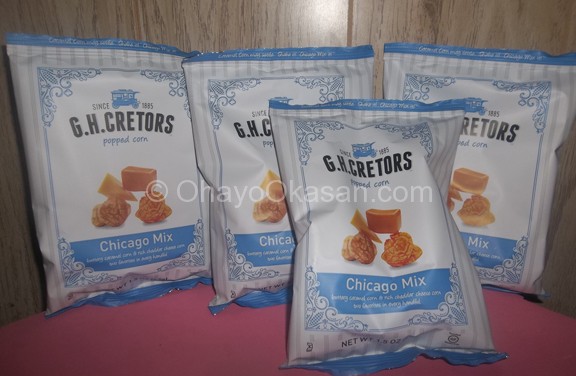 Chicago mix…? Say what??
I have to admit when I was first introduced to the idea of a mix of Cheddar and Caramel popcorns… I wasn't very sold on the idea. These two flavors did not sound like an appetizing mix to me. But.. after some discussion with Cid, I decided. Why not? Let's go for it!
Disclaimer: We were sent the G.H Cretors Chicago Mix Popcorn in order to try it and give our honest opinion. No other compensation was gained for writing this post. Thanks!
This mix is made with Brown Rice Syrup, has no artificial flavors or colors, and is Certified Gluten Free! Whew! Which is good, considering we're trying to move into eating gluten free to see if it helps with the skin problems for Cid, Sis and Risi, as well as the weight gain and behavior problems with Var.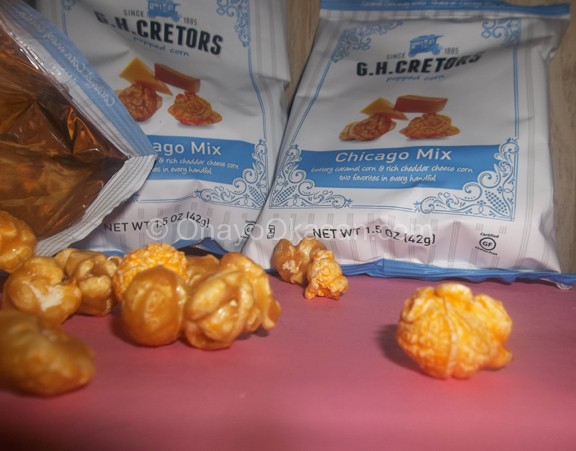 I was surprised when everyone ended up liking this popcorn. Only because to my brain the idea was just… so… out there. You know?
I will admit that for me, unless I eat a piece of the caramel corn with the cheddar corn, it's just too strong on it's own. The popcorn has very powerful flavors, but I like them more together than I do as t heir own separate flavor. Maybe because my brain is expecting the combination… actually, that is very likely it!
Happily, there are no products in them that Var's vegetarian friends cannot have. So I was even able to test them out on two additional people! This product got a thumbs up from the 12 people (eight live here, four are friends) that have tried this popcorn.
Thank goodness we were sent a large box with lots of perfectly portioned 1.5oz bags. The bags each contain 140 calories, and are perfect for tossing in a lunch bag or just backpack for a midday snack.
G.H Cretors has gained some new fans with their Chicago Mix for sure!
Have you ever tried Chicago mix? Or even just tried mixing together cheddar and caramel popcorn? What did you think?