Hey guys! I used to do a whole lot more creative and crafty stuff, and I am trying to get myself to get back into the habit and remember how to be… well… me who isn't stressed out and feels like she has no time or willpower to do anything like that. You know? Fun stuff, crafty stuff, even if it's stuff that no one else really cares about… ahem
Like Spiderman or Pikachu wrappers on full sized candy bars for Valentines day.
Anyway!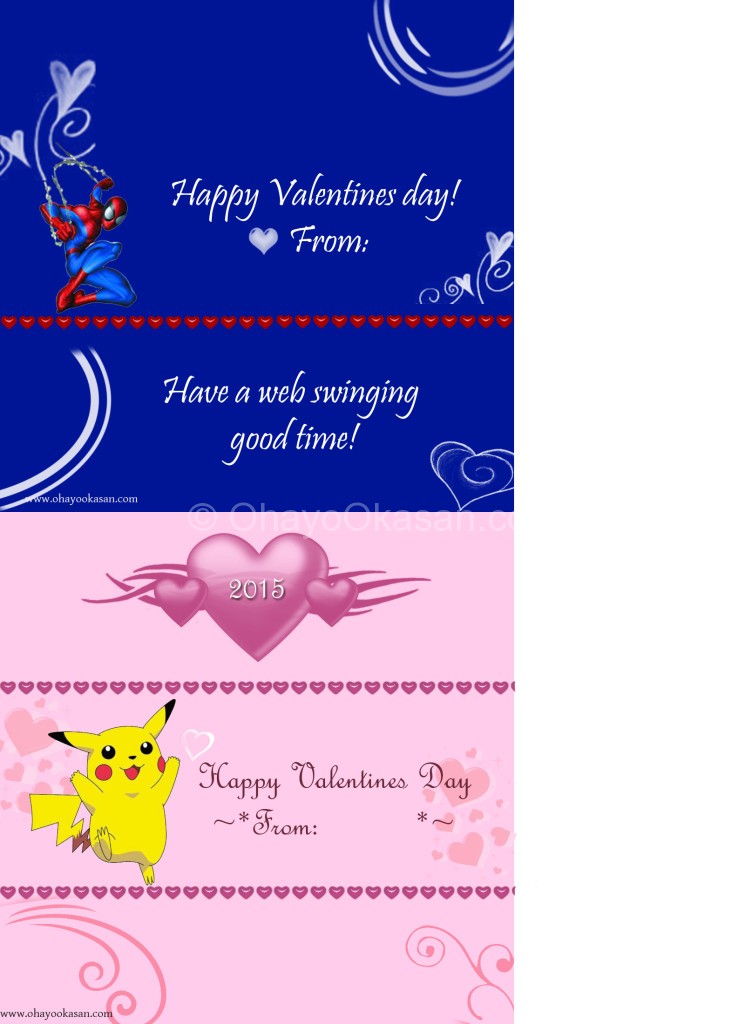 Back in 2009 when I had only Kat and Sisi in school, I did special Valentines Day wrappers for their Valentine! We used regular sized Hershey's bars… the ones with Almonds or maybe it was the Cookies and Cream type… well, I remember it fitting both anyway. I took off their names, and the original date for the Pikachu one, the Spiderman ones didn't have the year just the name. Then I thought I'd share it with anyone who might be interested! They print two per standard 8 x 11 inch piece of paper. 🙂
The girls were pretty happy, and they said that their friends loved them too.
You can easily download them right here!
Download:
SpiderMan Valentine Candy Bar Wrapper
Pikachu Valentine Candy Bar Wrapper
I hope you enjoy! I can easily change the background color on the Pikachu (or Spider-man) if requested. Let me know if anyone wants me to do that. 🙂